By Paul Strauss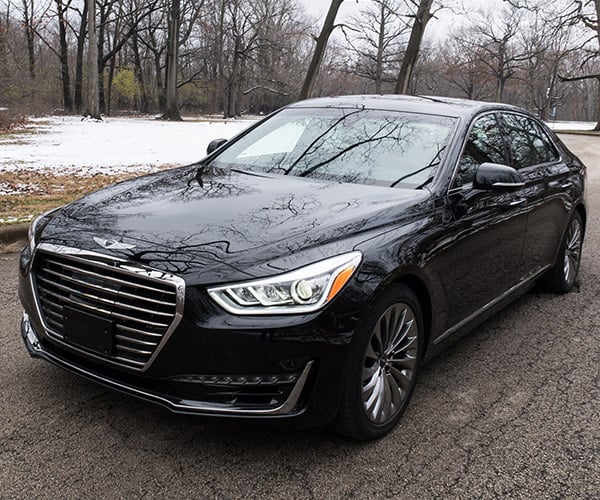 A couple of years back, I had the opportunity to test drive the car then known as the Hyundai Genesis, and I thought it was an absolutely brilliant premium mid-size sedan. Hyundai had such confidence in the new Genesis that it recently spun it off into its own brand, focused exclusively on luxury vehicles. The Genesis, now known as the G80 has recently been joined by a big brother, the G90, a serious executive sedan with its sights set on BMW and Mercedes-Benz, among others.
I'm happy to report that the G90 could go toe-to-toe with its European luxury competitors, offering tremendous comfort and capability, along with the excellent value that Korean automakers have been associated with.
The Genesis G90 is a serious fat cat sedan, offering the kind of luxury appointments normally associated with cars with six-figure price tags. However, the G90 starts under $69,000, and tops out at about $73,000, fully loaded. There are just four configurations – a "Premium" 3.3-liter turbo 6 making 365 hp and 376 lb-ft. of torque, and an "Ultimate" 5.0-liter V8 that makes 420 hp and 383 lb-ft. of torque, each available in either RWD or AWD. The V8s have a few extra niceties over the V6s, mostly in terms of the adjustability of the seats and LED vs HID headlamps. Otherwise, all four variants are totally tricked out.
From a styling perspective, the G90 exudes class both outside and in. It's elegant, but not flashy, and has serious limousine potential with its impressive 204.9 inch overall length. This car is so long that it took some getting used to in order to fit it into parking spaces without hanging out of the front or back. Fortunately, there's an on-board 360º surround camera to help keep you between the lines. From the side, it's every bit as sophisticated as an S-Class, though not quite as sporty in its aspirations. From the rear, the G90 bests others in its class, with just the right mix of straight lines and curves, and some of the most beautiful looking taillamps on any car.
I'm not quite as bonkers about the front end, but not for the reasons that some have disliked the massive Genesis grille. I really like its looks and prominence. However, there are two practical issues which greatly detract from the design – the plastic cover over the front safety sensors, and the front license plate bracket, which is a sad necessity in many states. I have a tendency to prefer grille designs that do a better job taking these sort of things into account.
The big V8 under the hood of the G90 Ultimate offers incredible power, rocketing this 4700+ pound ride from 0 to 60 in just about 5 seconds, all while keeping the driver and passengers in the lap of luxury and comfort. The cabin is impressively quiet, and the adaptive suspension soaks up bumps brilliantly without being spongy. The 8-speed automatic shifts smoothly and helps with efficiency too. Given the size and weight of the G90, I was impressed that I managed to achieve slightly better than the sticker-rated 19 mpg combined fuel economy in mixed driving.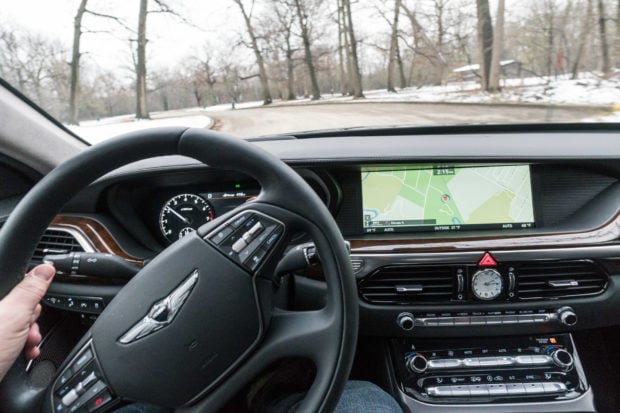 I was especially pleased with the steering and overall handling of the G90. Having taken a brief ride in the boat-like Kia K900 – which shares some of the same underpinnings – I was concerned that its ride might have the same floatiness. But the suspension tuning on the G90 makes it much more pleasing to drive. There's some desirable softness and body roll in the comfort-oriented "Smart" mode, and things firm up nicely in "Sport" mode, which also increases throttle response and tightens up the steering. It's this sort of thought about the driving experience that elevates the G90 beyond the realm of other executive sedans seem solely designed for the pleasure of rear seat passengers.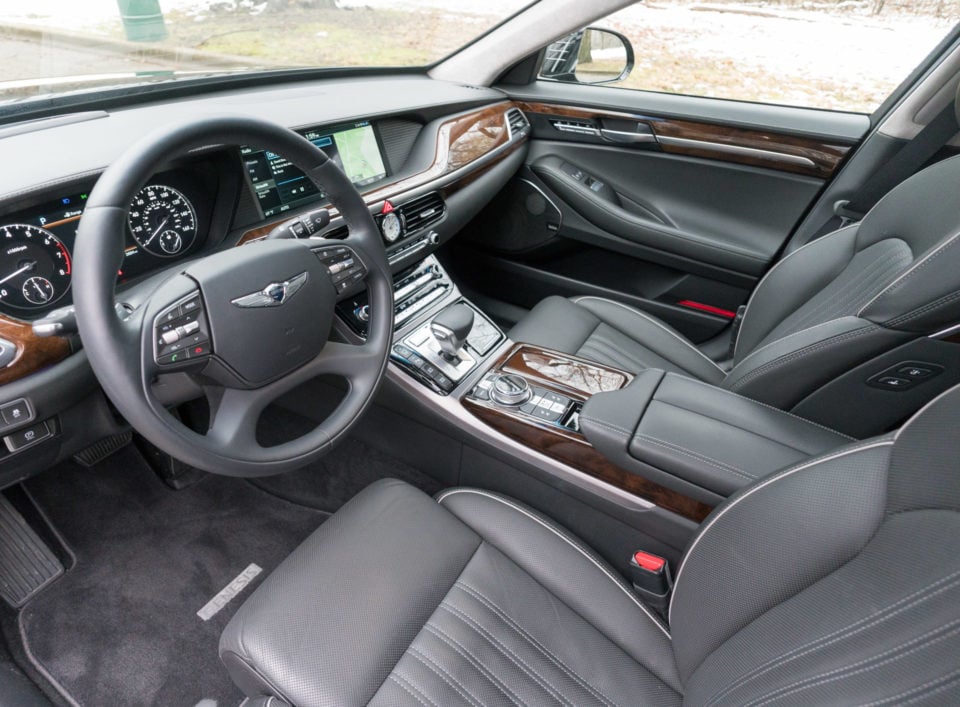 That's not to say the passenger experience falls short either. Both the front and rear seats are extremely comfortable, with soft Nappa leather surfaces. In the V8 Ultimate, all four seats get heat and ventilation, while the driver seat gets a whopping 22-way adjustability. Even the angle of the headrest and leg bolster are adjustable via the controls.
Rear seat passengers also benefit from the ability to recline and make numerous other tweaks for personalized comfort, and get a rear armrest packed with controls for rear climate control, seat position, and even can take charge of the sound system (which the driver can lock out.)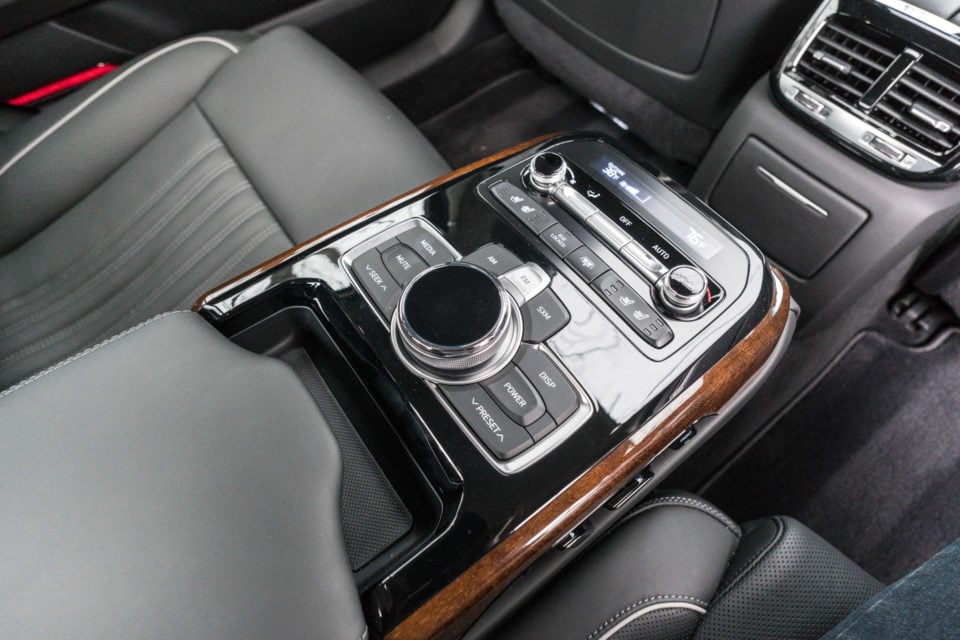 There's ton of legroom for all occupants, and plenty of space to stretch out. But if you want to go into full executive chauffeuring mode, the front right seat can be pulled all the way forward and folded out of the way to make even more space for the right rear passenger – all from the rear seat control panel.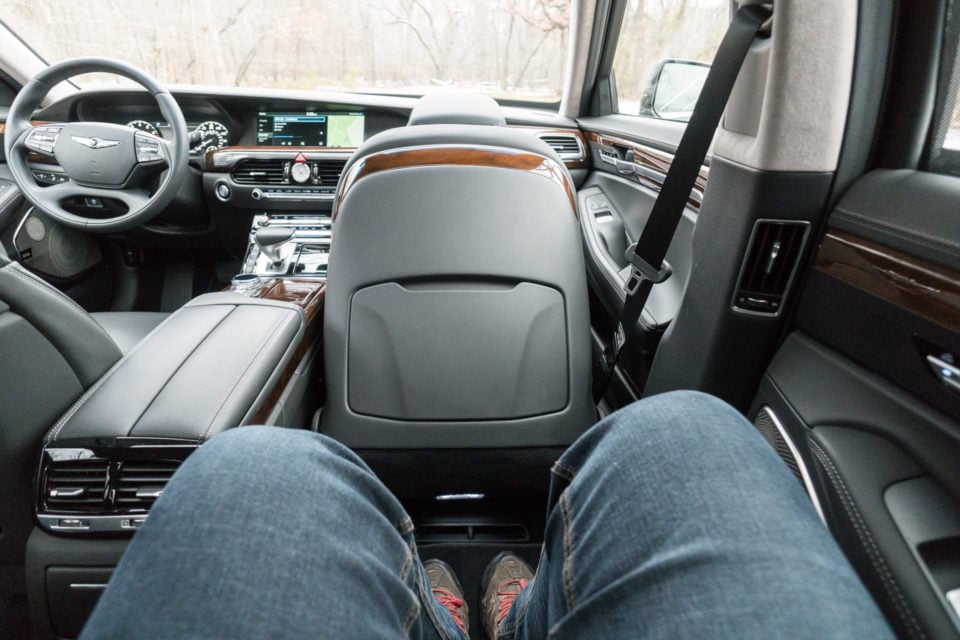 The entertainment system up front offers a large 12.3″ widescreen display, which can display media and navigation information side by side, and has a well integrated traffic service which displays color-coded roads just like you're used to seeing in Google maps. Unlike Hyundai cars, there's no touchscreen, and all input is done using a scroll wheel. For the most part, I found this to be intuitive and simple to get around the interface. Sadly, Apple CarPlay and Android Auto are absent, but I'm hopeful these will appear in the next model year.
Audio comes courtesy of Lexicon and a 17-speaker 7.1 surround sound system which pumps out excellent sound quality with plenty of power. It offers such niceties as Clari-Fi, which can help restore dynamic range to digital recordings, and Quantum Logic Surround which can increase the perceived size of the soundstage. The swanky metal grilles on the speakers are reminiscent of the uber-pricey Burmester systems found in the Mercedes S-Class and Maybachs.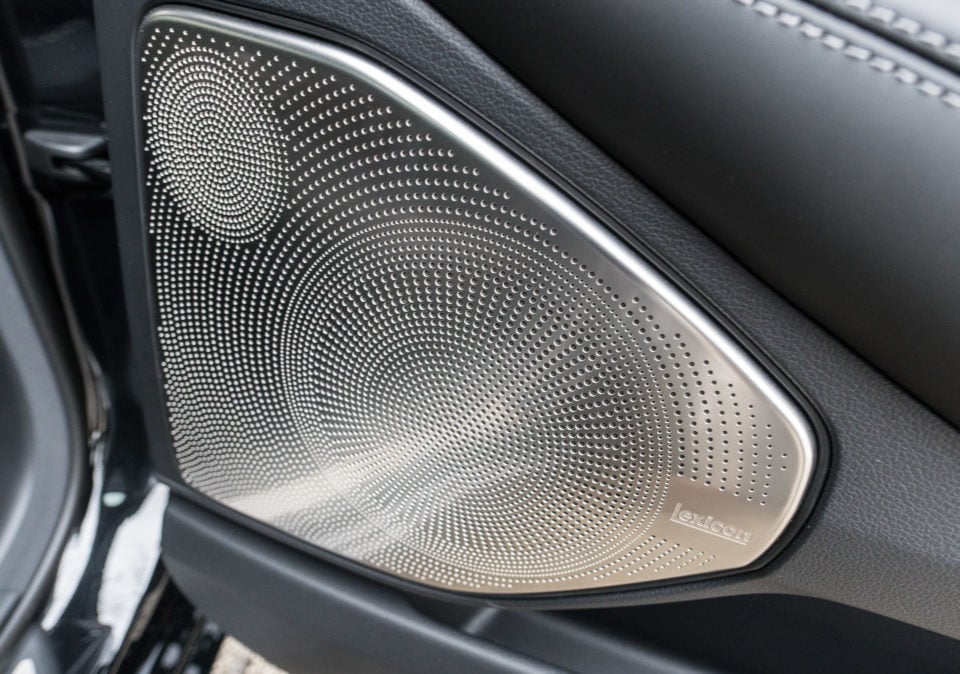 Along with the fancy speaker grilles, there's lots of other attention to detail in the cabin, from the real wood and aluminum trim and stitched edging on the dash and doors, to the crystal-shaped LED ceiling lights, set into a rich microsuede roof lining. It all adds up to a very elegant and upscale environment.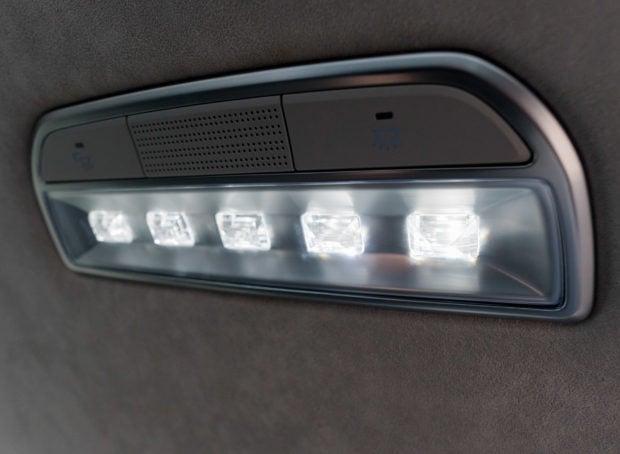 There are tons of other bells and whistles that come standard in the Genesis G90, not the least of which is the great adaptive cruise control system, along with lane-keep assist that's so good that it could almost steer for you (but don't try that.) There's the aforementioned surround camera, along with front and rear parking sensors, blind spot monitors, rear cross-traffic alert, a heads-up display, Qi wireless charging, a heated steering wheel, full LED lighting inside and out, color ambient accent lights, heated power mirrors that automatically deploy when you approach the car, and a trunk that automatically opens when you approach with the key fob in your pocket. I also appreciate the Auto Hold feature which holds the brakes for you when you come to a full stop. There's so much content in this car that I'm sure I'm missing something.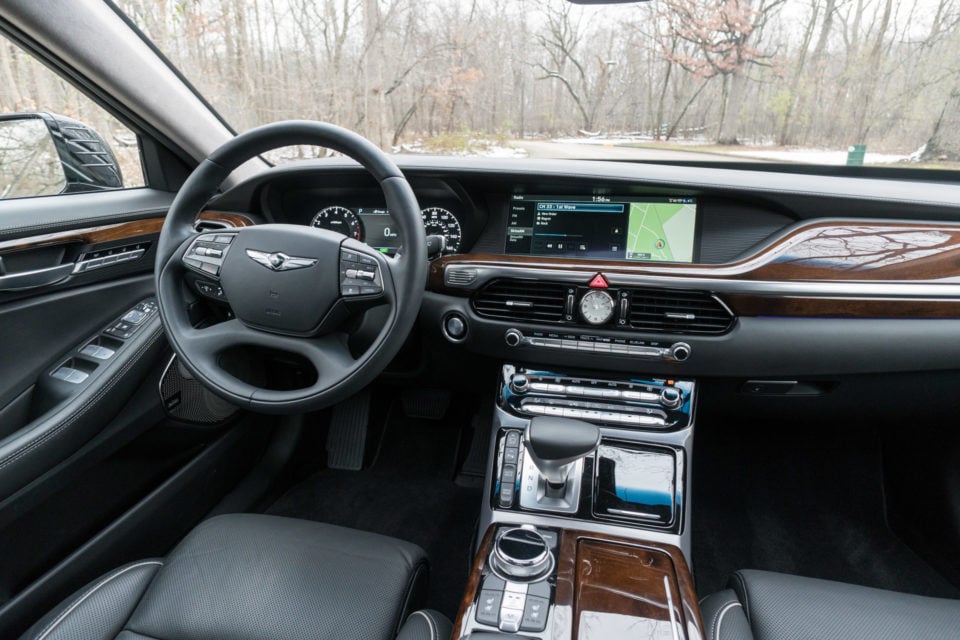 With a price tag that's about $24,000 less than the base price of a Mercedes S-Class Sedan, and $8,500 less than the cheapest BMW 7-Series, the Genesis G90 offers some serious value – without compromises. Sure, there are a handful of options available in those other cars – like a panoramic roof, massage seats, and silly aromatic systems, but I can't imagine those are worth that much more money. You're really just paying for the name.
On the other hand, the G90 is the sensible man's executive sedan, offering a great ride, plenty of power, tons of tech, and an impressive list of creature comforts. The icing on the cake? The G90 gets free maintenance, a 10-year/100,000 mile powertrain warranty, roadside assistance, and a whole array of connected services that other manufacturers normally charge extra for, like remote start and lock/unlock, destination searches, and emergency assistance.
Source:: 95 Octane