By Paul Strauss
A few months back, I had the privilege of spending a few days with the Alfa Romeo 4C Spider, and had a blast driving the 2-seat drop-top that I referred to as a "tiny monster." While the 4C is astoundingly fun to drive, it's not exactly a practical car. On the other hand, the new 2017 Giulia Quadrifoglio is both an impressive sports car, and 100% liveable as a daily driver too.
The Quadrifoglio is the top of the line of Alfa's latest sports sedans, a series of cars that starts with the $37,995 Giulia RWD, and tops out with this $72,000+ model. While the base Giulia offers a 2.0L turbo-4 engine with 280 hp and 306 lb-ft. of torque, the Quadrifoglio does nearly double the horsepower, with a 2.9-liter twin-turbo V6 that pushes out 505 hp and 443 lb-ft. of torque between 2500 and 5500 RPS. This very special engine is said to draw inspiration from Alfa's former sister company, Ferrari.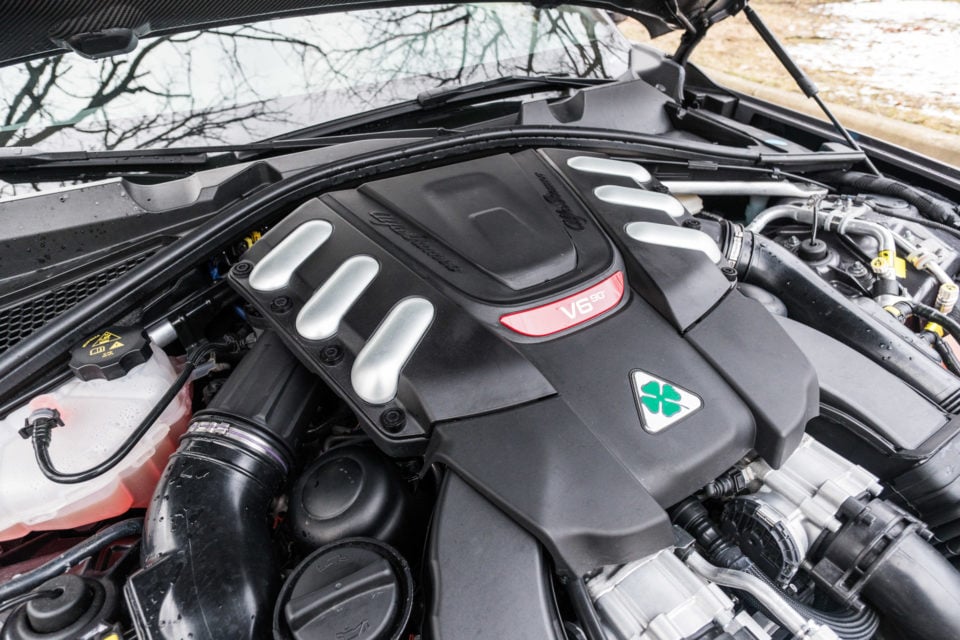 All Giulia models share similar exterior traits, and other than the iconic four-leaf clovers on the fenders, side and hood air intakes, and a few subtle bits of carbon fiber, you'd be hard-pressed to tell the difference between the base model and the Quadrifoglio from the outside. Not that it's a bad thing. No matter which Giulia you buy, you'll get a great looking vehicle, with beefy, athletic looks, highlighted by a distinctive front end that encompasses Alfa Romeo's trademark "trilobe" grille.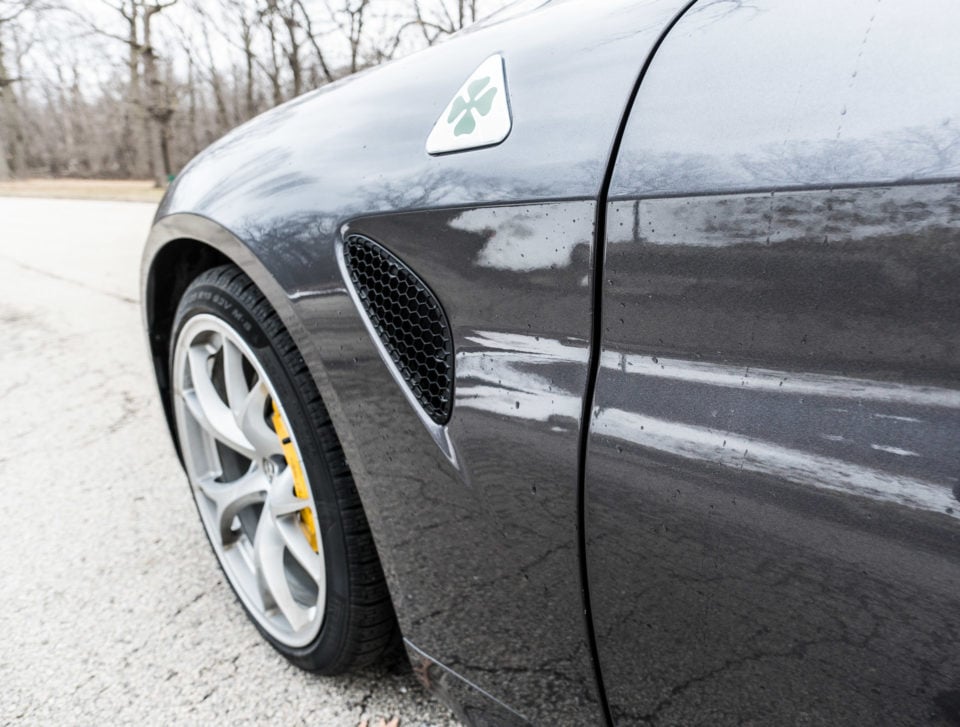 Alfa equipped the Quadrifoglio with numerous other upgrades which help it achieve its extraordinary performance, including a 3.8 second 0-to-60 time, and a top speed of 191 mph. There's a lightweight carbon fiber hood and roof, and an all-aluminum suspension which helps both reduce weight and improve overall balance. Up front, there's an optional active carbon fiber splitter which automatically opens when cornering or braking to provide the car with up to 220 lb. of added downforce.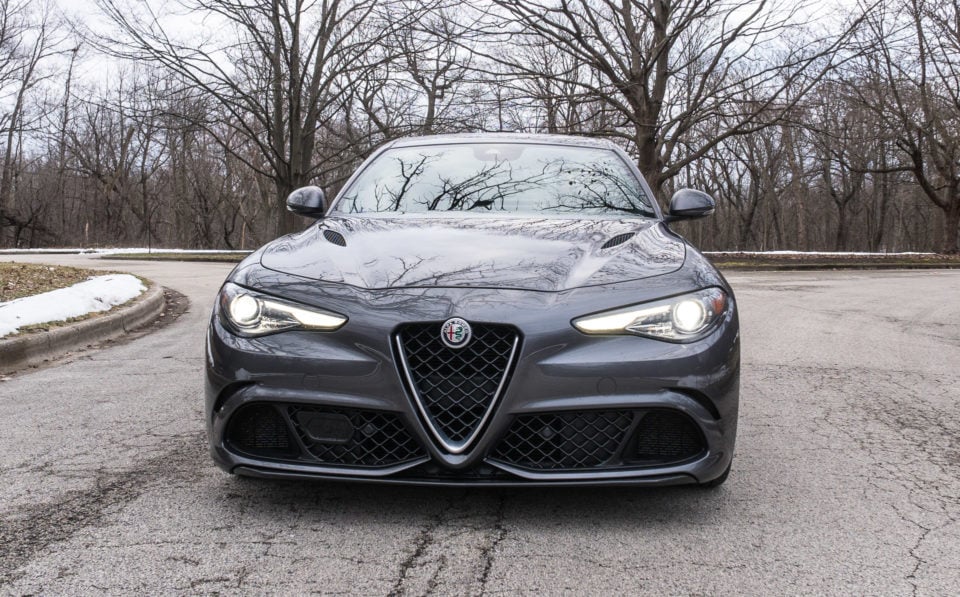 On first start, the Quadrifoglio's engine sound and exhaust note seems subdued, but switch it into Race mode, and it roars to life like a tiger, and with your foot on the pedal, the sonic symphony just gets better, producing an ample quantity of pops as its revs climb toward the 6,500 RPM redline. It's especially satisfying as the speedy 8-speed automatic gearbox downshifts.
In the everyday "Natural" drive mode, the Quadrifoglio is responsive, comfortable, and surprisingly quiet. In "Dynamic" mode, it comes to life faster, a little louder, and feels tighter overall. There's also an "Advanced Efficiency" which enables cylinder deactivation for increased fuel economy, but to be honest, I had little interest in spending my time in this mode. Like many other cars these days, the Giulia has an eco stop/start function which shuts off the engine when stopped. Thankfully, this can be disabled with the flick of a switch, because it's pretty noticeable with an engine this powerful.
Conversely, it's "Race" mode where the car transforms from speedy everyday sports sedan into a true beast. All the nannies get disabled, torque output capabilities are pushed to their ceiling, the intensity of the note increases dramatically, and the suspension and steering tighten even more.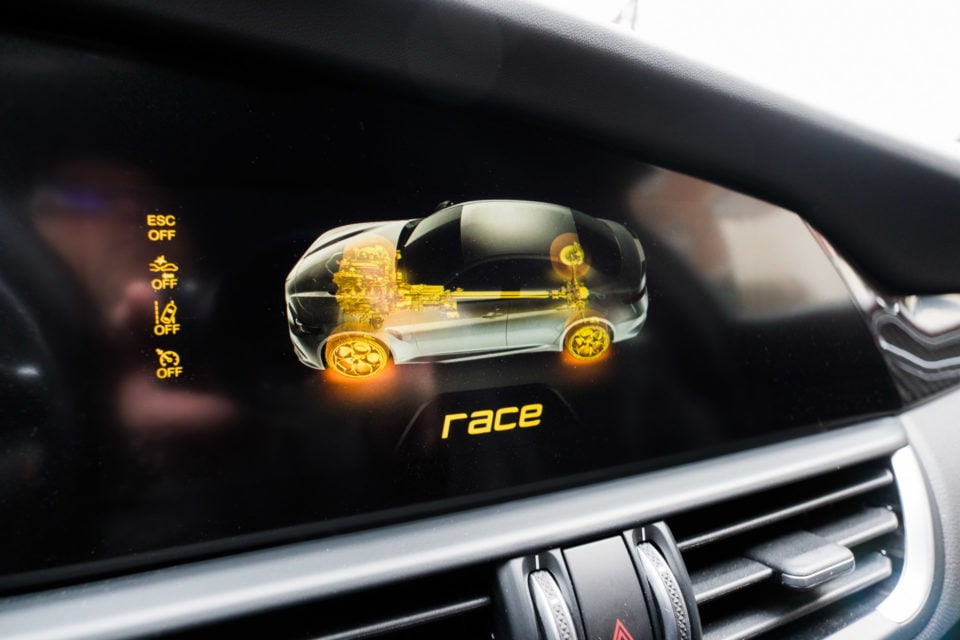 Regardless of mode, the Quadrifoglio offers a rewarding driving experience, and is more adept at changing its character than most other cars with a mode switch. But if the Quadrifoglio simply was fast or loud, that would just make it another muscle car. But this car handles phenomenally too.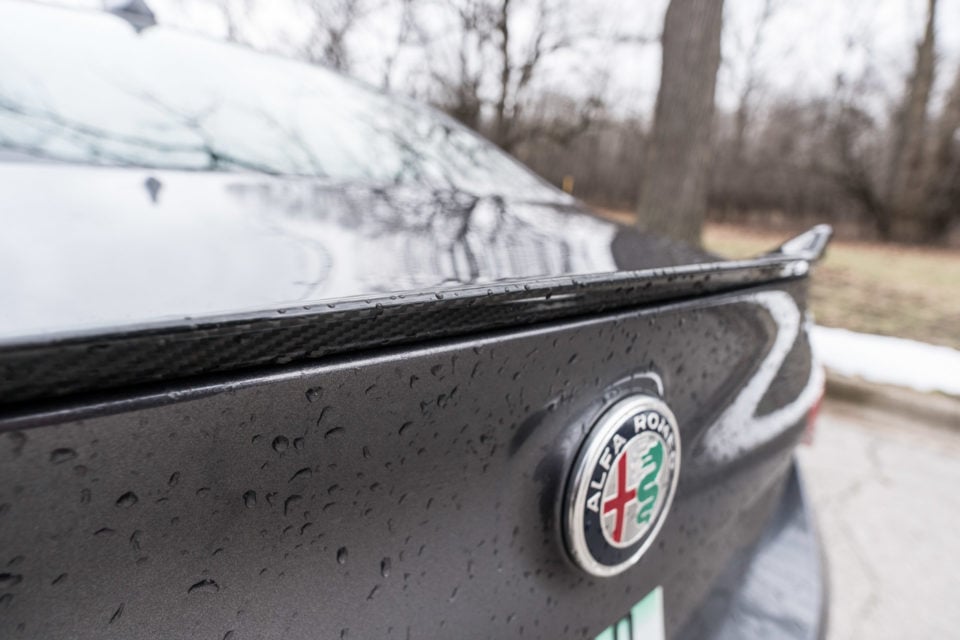 Its chassis is remarkably stiff and composed. With a near-perfect 50/50 weight balance, excellent steering, and an adaptive suspension, the Giulia goes EXACTLY where you want it to go. I can count the number of sedans I've driven that are as agile as the Quadrifoglio on three fingers – this car, the Cadillac ATS-V, and the Jaguar XE 35t. The Giulia definitely handles and feels better than its biggest competitor – the BMW M3, which feels less surgically precise when steering.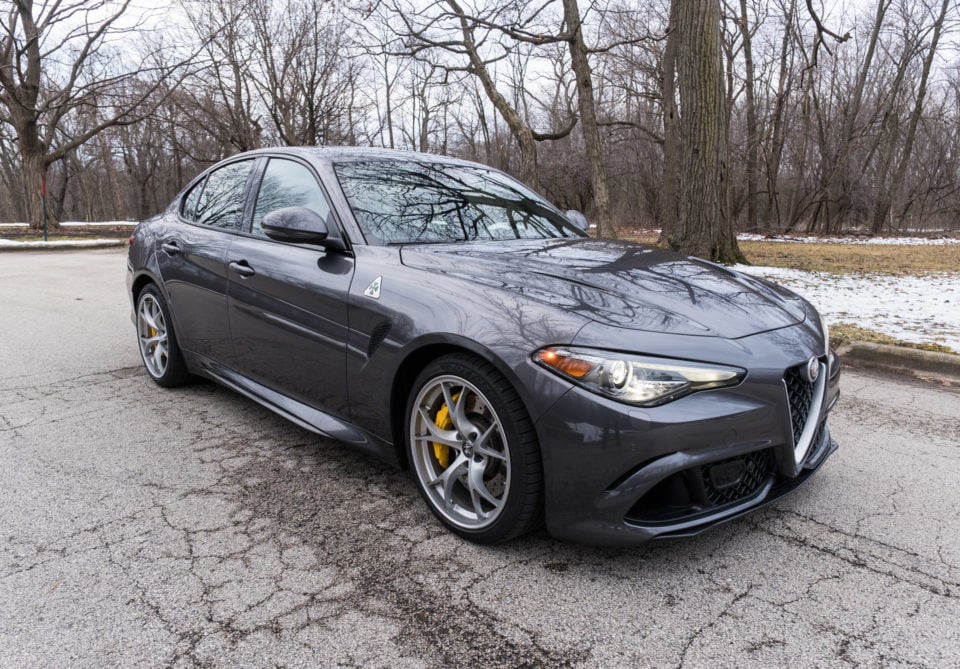 Alfa Romeo bestowed the Quadrifoglio with a torque-vectoring differential, which I'm sure is part of why cornering is so good. This technology dynamically adjusts the amount of torque going to the rear wheels while turning, which allows the car to pivot on a dime. It's not as sharp as a four-wheel steering system, but it's the next best thing.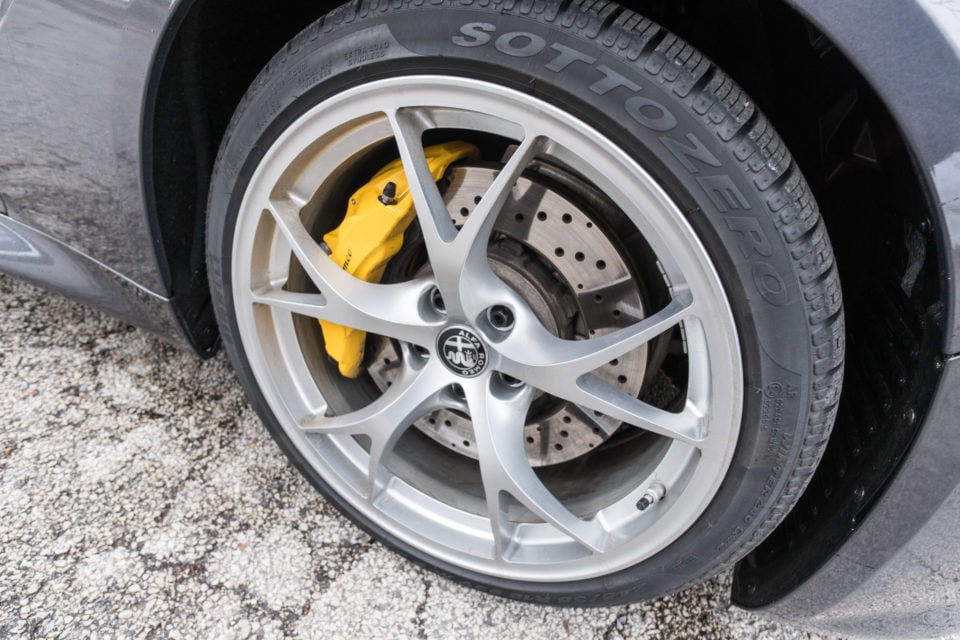 Stopping power is excellent too, with Brembo disc brakes at each corner, helping to bring its big tires and staggered width 19″ wheels to a stop quickly and sharply. Due to the cold weather and a bit of snow on the ground, I didn't get to drive with the grippy summer Pirelli P-Zero tires, but instead was on Sottozeros, which provided better traction on the cold and damp roads around Chicago. Launching without a little fishtailing was tricky in Race mode, but in Dynamic or Natural modes, the stability control system sorted things out without feeling intrusive at all.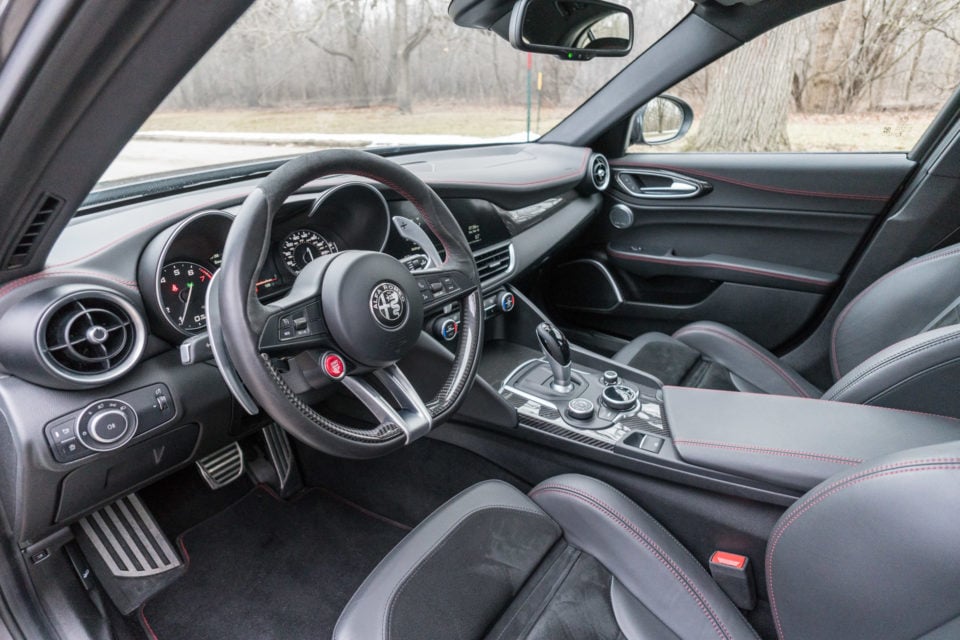 Inside, the Giulia Quadrifoglio is a very nice place indeed, offering a good blend of performance and luxury styling elements. The seating is leather-trimmed, with red stitching, and sueded surfaces to keep you from sliding around, and offer good side bolstering and back support. That said, I would have liked just a little softer seat cushion. The seating position is dead center and well suited to performance driving, though the dead pedal was a little goofy. Occupying the space intended for the clutch pedal in some European Giulias, the aluminum-embellished dead pedal offered plentiful space for me to plant my jumbo size 13 left shoe, but it also wiggles around a little bit, as it seems to be attached to the carpet, and not directly to the floor of the car. It's a tiny quirk in an otherwise exceptional interior.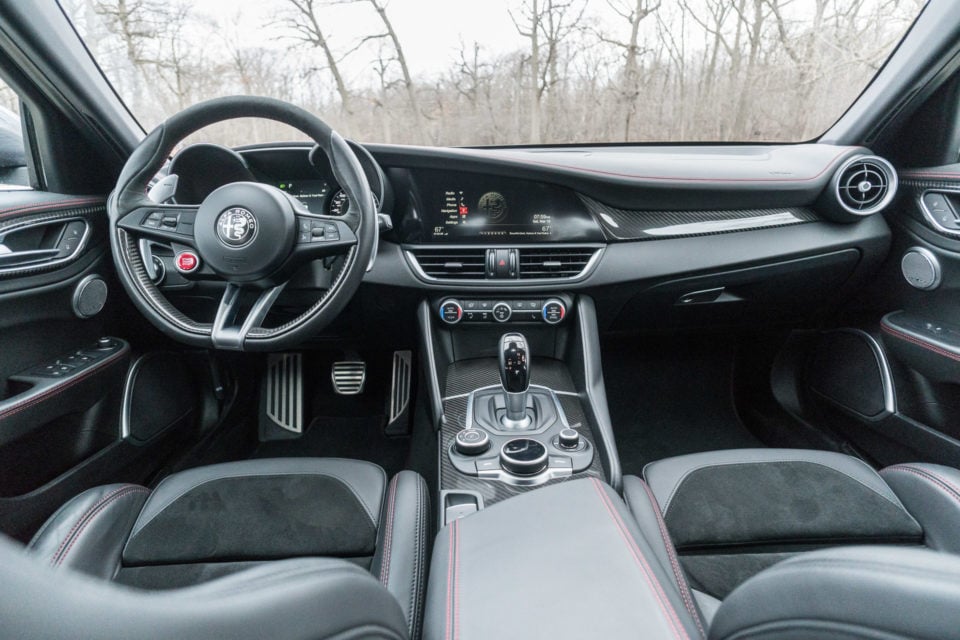 The interior is loaded with real carbon fiber trim, with the lightweight and sporty material turning up on the center console, dash trim, and even on the steering wheel. I especially love the large fixed position aluminum paddle shifters, and the big red start/stop button on the wheel, which is reminiscent of the setup on Ferraris, Lamborghinis, and other supercars. Other controls are well placed and intuitive, and Alfa's in-house infotainment system is nicely integrated into the dash, with a big 8.8″ screen, and is easy to use from its scroll wheel controller. It's not the most robust or sophisticated system, but it's clean, modern, and works well. The upgraded 14-speaker Harmon Kardon premium audio system offers big, clean, and dynamic sound.
Lest I forget that the Giulia is a sedan, it does in fact have a back seat, which offers seating for three adults. Headroom is good, but with the front seats in a comfortable position for taller people, legroom is tight back there, but it's usable thanks to the knee cutouts in the seatbacks. The tightest area for me were the footwells under the seats, but the rear seat definitely has enough room for kids or smaller adults.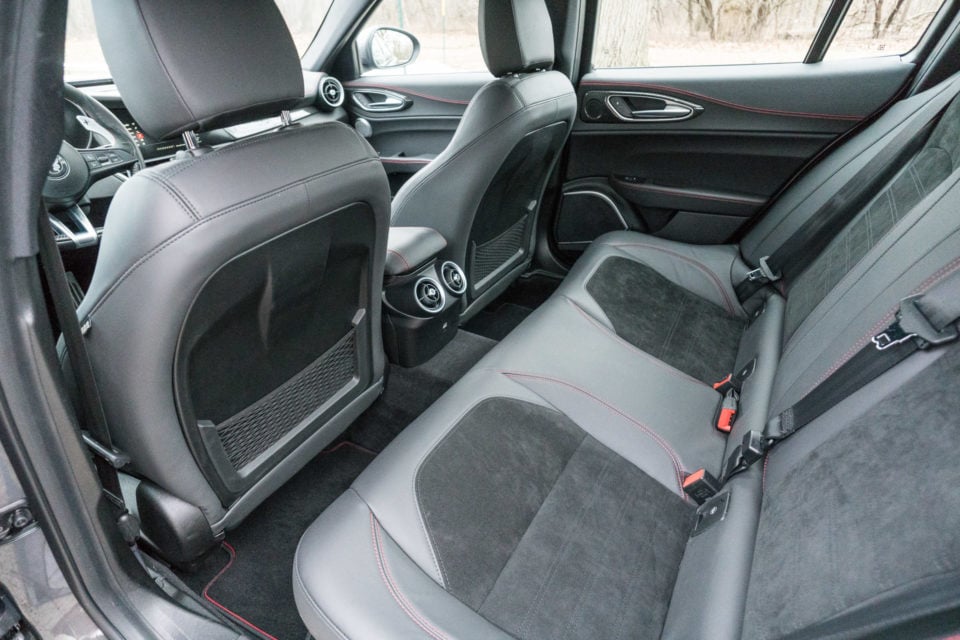 Alfa also packs the Giulia Quadrifoglio with a variety of safety and convenience technologies, including remote start, front and rear parking sensors, a backup camera, rain-sensing wipers, blind spot and cross-path detection, forward collision warning, automatic high beams, lane departure warning, and an infrared windshield for cutting down heat in the cabin on hot days. Adaptive cruise control with full stop is also available, though my tester only came with standard cruise control, so I couldn't test this feature.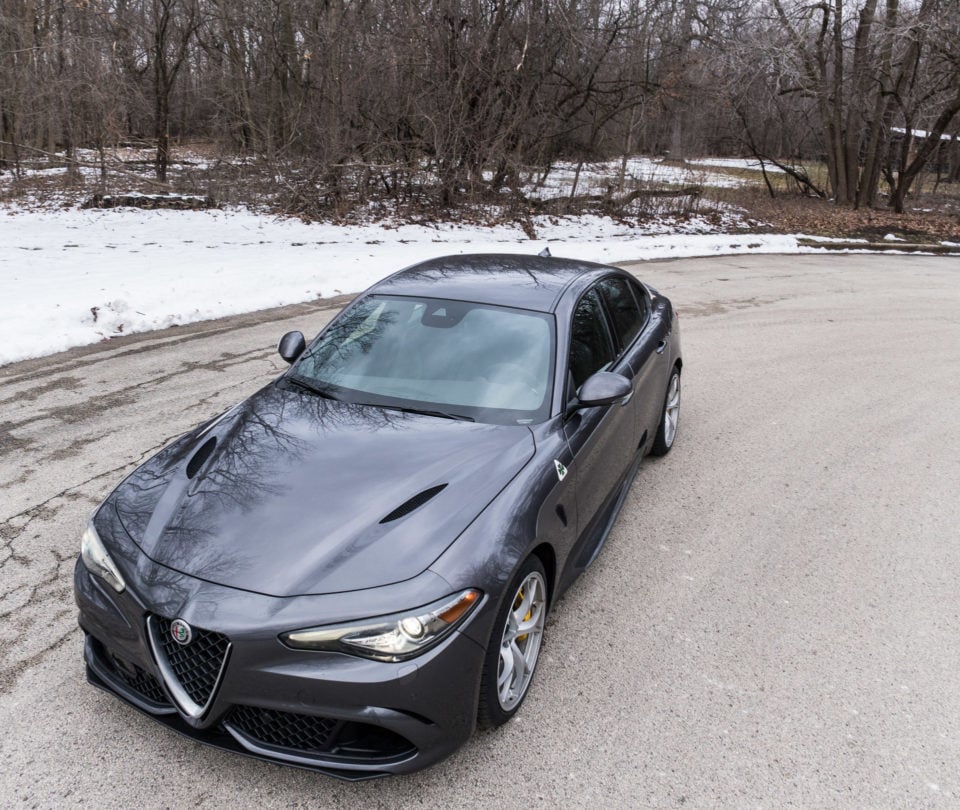 When I first laid eyes on the Alfa Romeo Giulia Quadrifoglio, I thought it was a very good looking car, and its performance numbers were impressive. But frankly, I had assumed it would be a handful to drive, and perhaps possess some of the quirks Italian cars are often associated with. Instead, I found a car which handles among the best sports sedans out there, has a comfortable and stylish interior, and drives equally well to the grocery store, through curvy backroads, or zipping past slower cars on the highway. I'd be thrilled to have a Quadrifoglio in my garage, as it's one of the best cars I've driven in the last year.
What's perhaps just as exciting is that the other, more affordable Giulias share the same great exterior styling and the same core platform as this car. I'm really looking forward to driving a Giulia or Giulia Ti later this year to see how it drives. Hopefully, those cars will preserve some of the great handling characteristics of the Quadrifoglio, though I'm sure I'll miss the crazy horsepower and exhaust note.
Source:: 95 Octane