By Paul Strauss
With cars like the 500 Abarth and the 500X, FIAT has been making a reputation for itself for making fun, small vehicles with Italian design flair, and great maneuverability. They're not concerned with power, but there's no question they're entertaining vehicles to drive. FIAT recently expanded their line by adding a roadster which takes its inspiration and its name from the classic FIAT 124 Spider.
I've never had the opportunity to drive an original 124 Spider, so I'll leave any comparisons on that subject to others. What I do know is that the modern 124 Spider is an enjoyable little 2-seater, thanks in large part to the work that Mazda did on the car's chassis, which is shared with the superbly fun ND MX-5 Miata. But rather than spend too much time comparing the 124 to other cars, I wanted to review it on its own merits – and they are plentiful.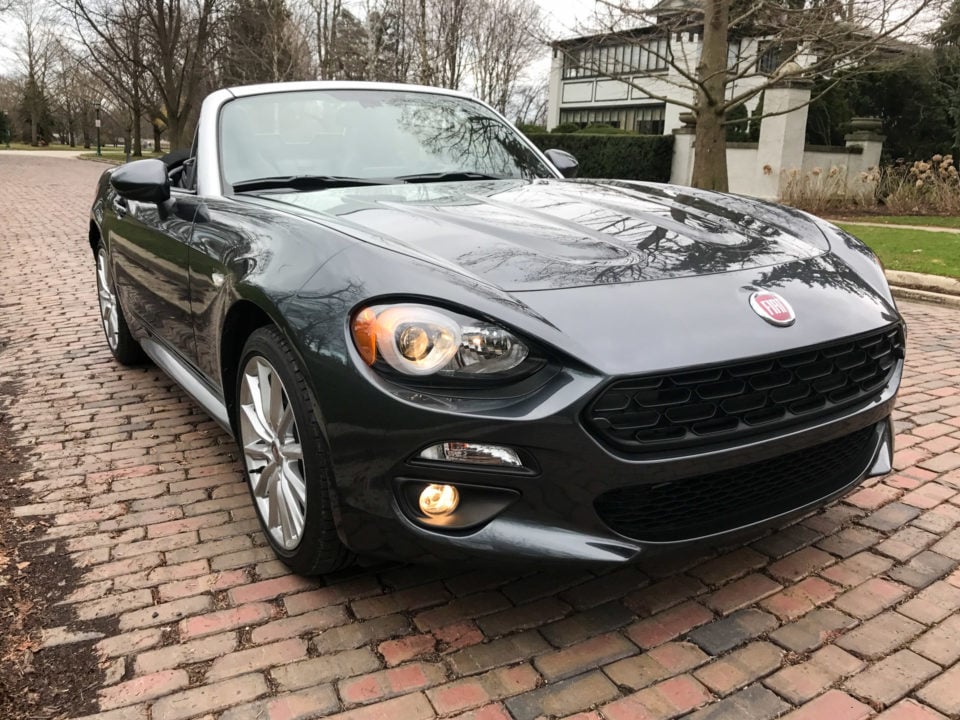 For starters, the 124 Spider is a very attractive car – with a distinctively European front end that pays tribute to the original 124, while being distinctive and timeless in its own right. In the sophisticated Lusso trim that I drove, there are also cool accents like the bright aluminum finish around the windshield and the roll bars. On the entry-level Classica, those are body color, and on the sporty Abarth, they're black. I rather like contrast of the Lusso's look.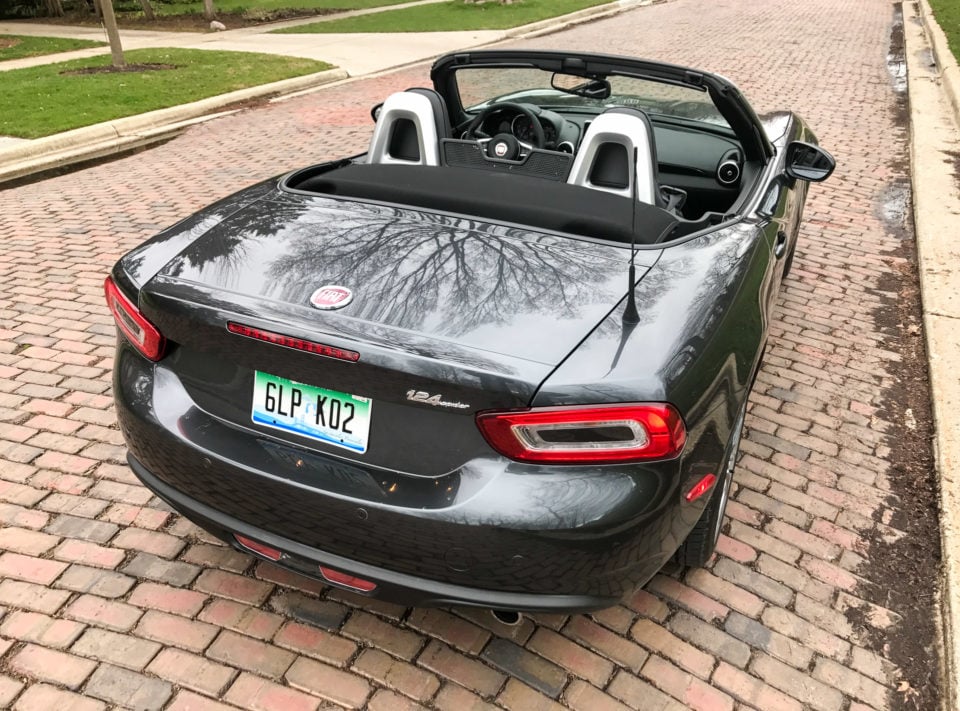 Around back, it's not quite as exciting to look at as the front or profile views, but I do like the taillamps, which are a very subtle nod to the rectangles on the classic car. From the side, it looks great, with the proper long hood and short tail which you want in a sporty roadster. Like most soft-tops, it looks best with the top down, but it's still eye-catching either way.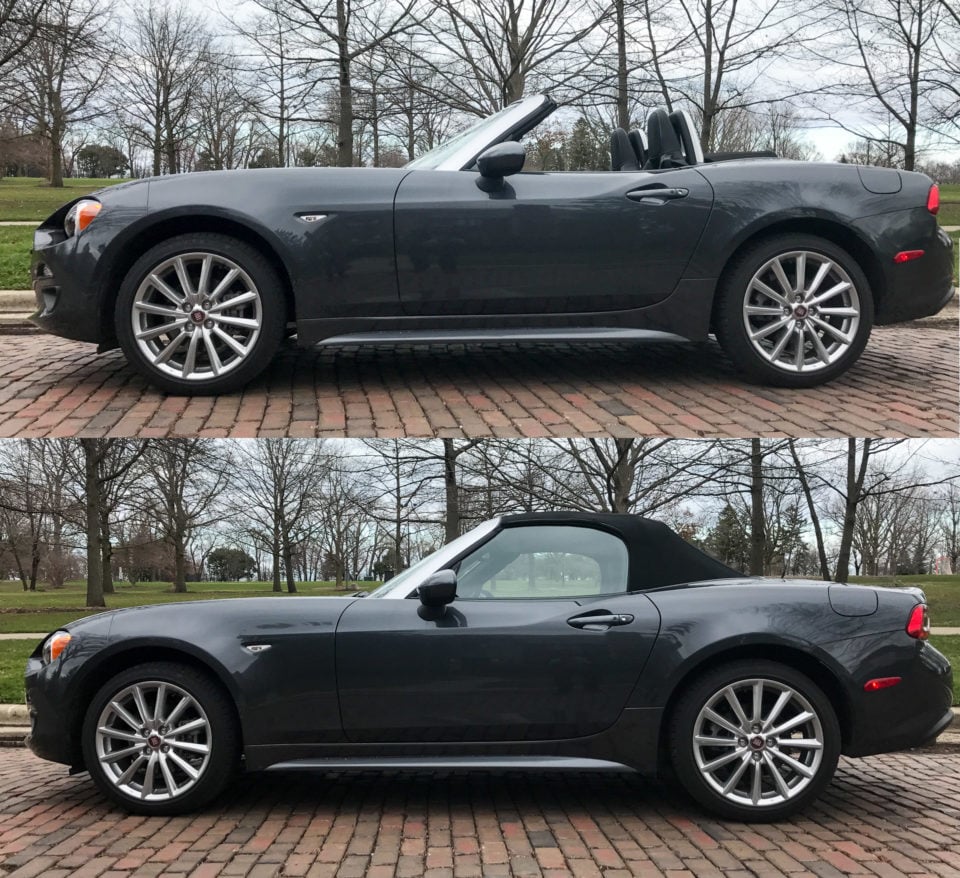 Under the hood, there's a 1.4-liter MultiAir turbocharged engine – which shares elements with the one in the 500 Abarth, 500X, and the manual Jeep Renegade. With 160 horses and 184 lb-ft. of torque, it's not a monster by any means, but it offers enough power to take the 124's svelte 2400-ish pound weight from 0-to-60 in about 6.7 seconds. If you want a tiny bit more pep, the Abarth has 4 more horsepower, but the real advantages of that car are the suspension and exhaust upgrades.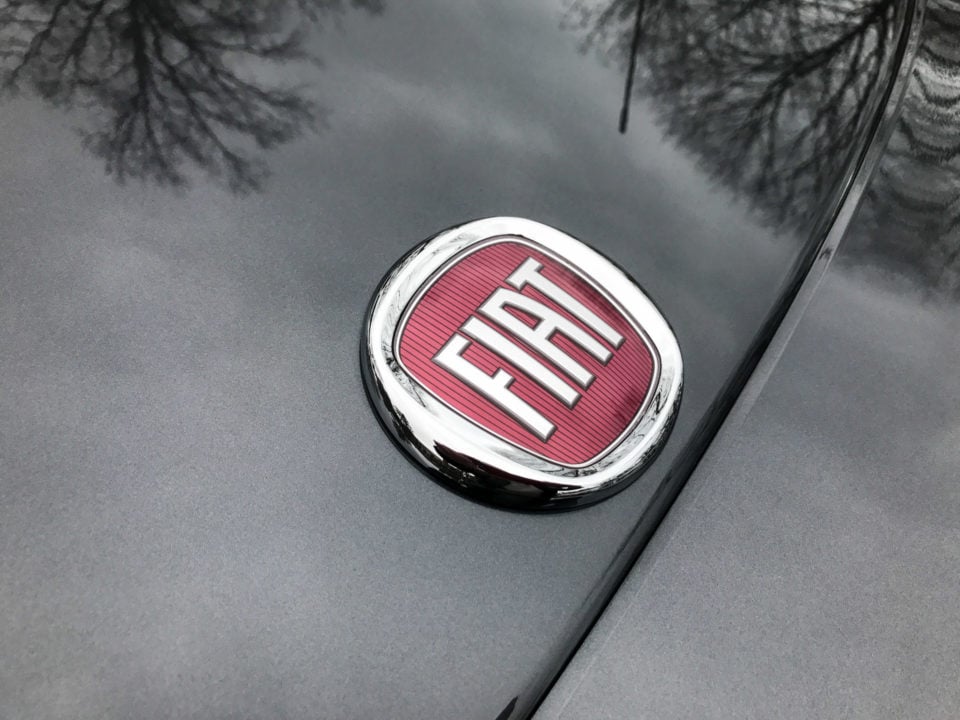 Paired with the six-speed manual gearbox, it offers an engaging drive, though there's just a tiny bit of turbo lag as you launch – something not present with the naturally-aspirated engine in the Miata – but overall it's pretty happy once you get it between 2,000 and 3,000 RPM. There's also a six-speed automatic available, but this is one car where I bet the manual outsells the automatic, even here in the U.S.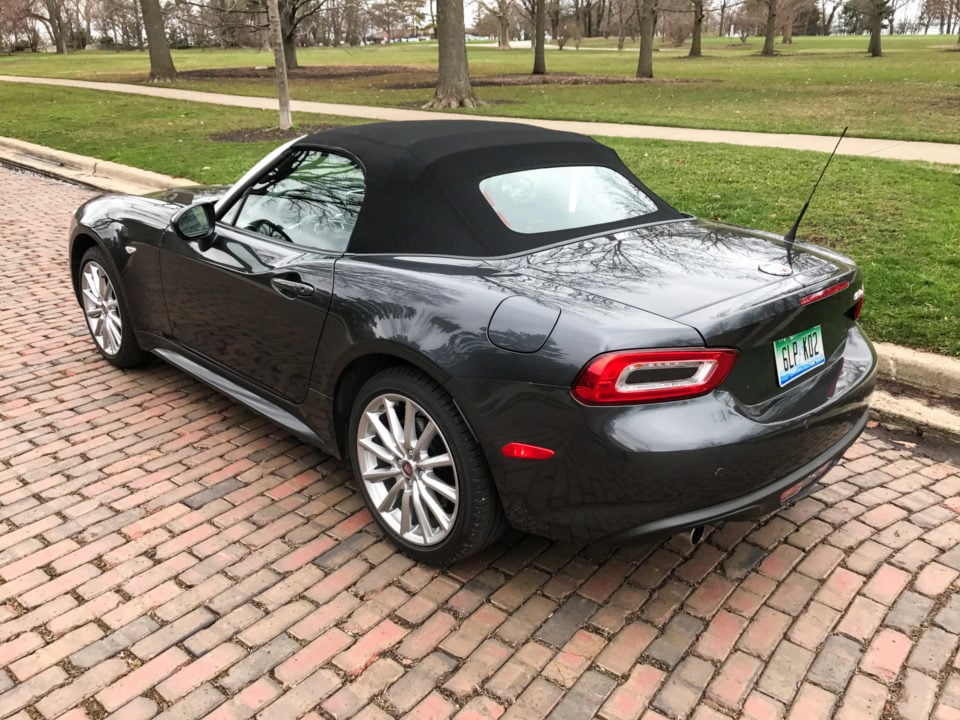 Coming out of first into second and beyond, it's peppy enough to keep you amused, and as you get into the corners, that's where it really shines. With such a low center of gravity, a fairly soft suspension, and direct, but light and easy steering, it's a fun and tossable car in the bends. Some body roll is present, but in a thrill ride sort of way, and not in a "I'm gonna roll this thing" sort of way.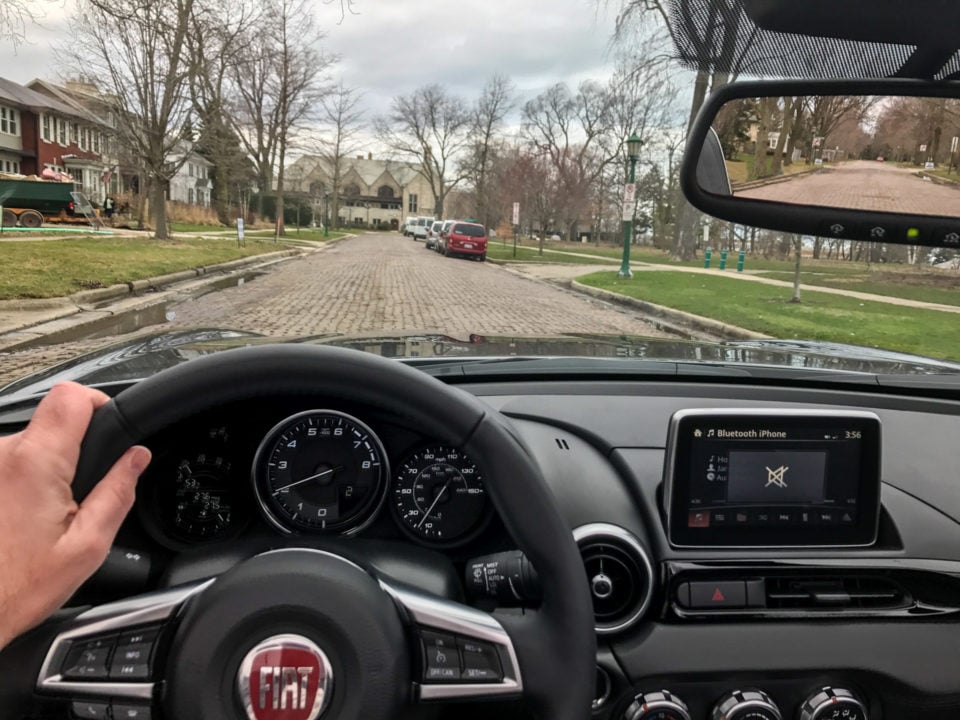 If the interior of the 124 Spider looks familiar, that's because it's extremely close to the one in the MX-5. It's a fairly spartan "driver-focused" cockpit, with reasonably comfortable sport seats – both with heat. Here, they're covered in leather with horizontal stitching, and there are a few extra soft-touch spots inside which make it feel a little more refined than its Japanese cousin. To the untrained eye, it's virtually the same – save the replacement of the body colored door armrests with soft-touch materials. The passenger seat is definitely cramped for those with long legs, and I found myself with my knees touching the dashboard when I sat on that side.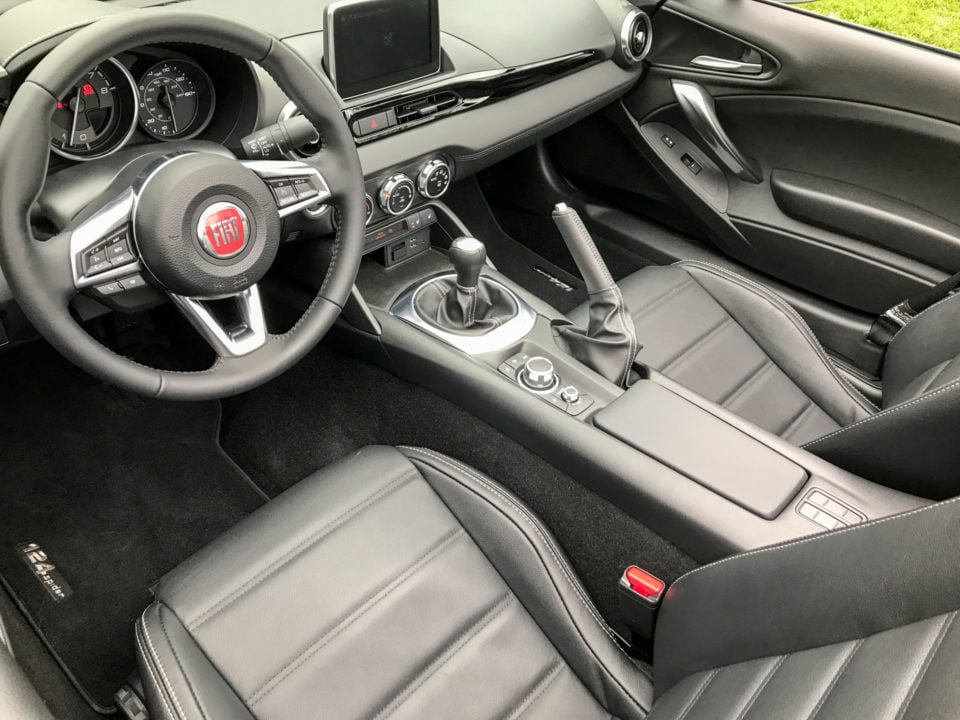 Controls are well placed and easy to access, and the infotainment system is a simple affair that gets the job done without offering much in the way of bells and whistles. That's okay with me though – the stereo sounds good, and has speakers in each headrest so you can listen to your favorite tunes – even with the top down. That's all you really need with a car like this. My car came with a couple of nice safety features too, including blind-spot monitors with cross-path detection, and rear parking assist.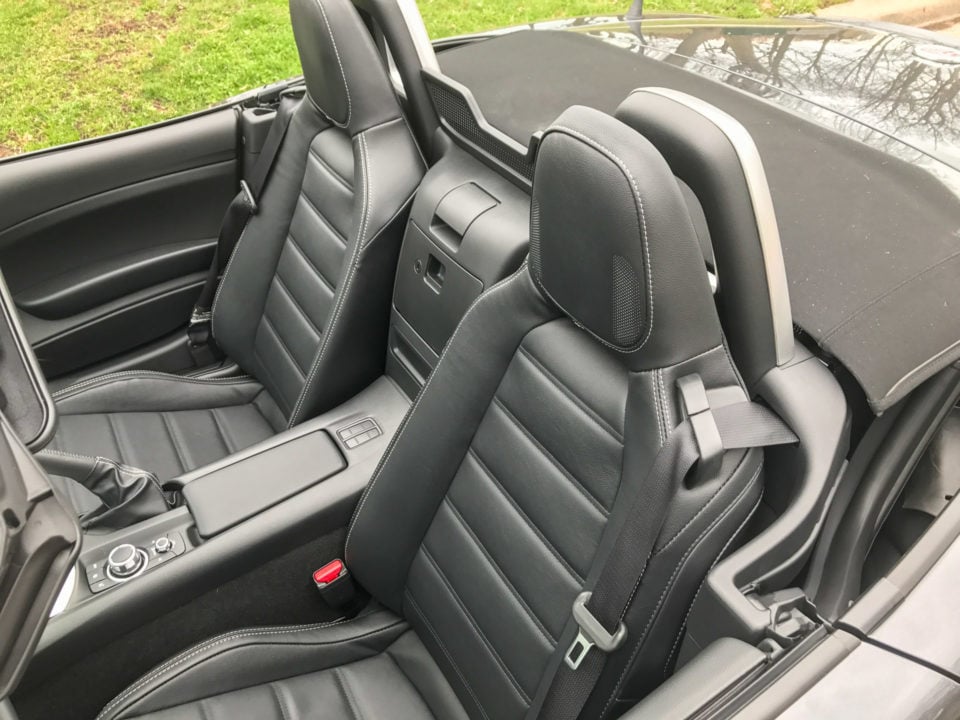 With under 5 cubic feet of space, the 124's trunk is very small, but thanks to its depth, it's actually good enough for a couple of backpacks or weekender bags. And don't be looking around the cabin for extra storage. For all practical purposes, there is none. Not even a glove box.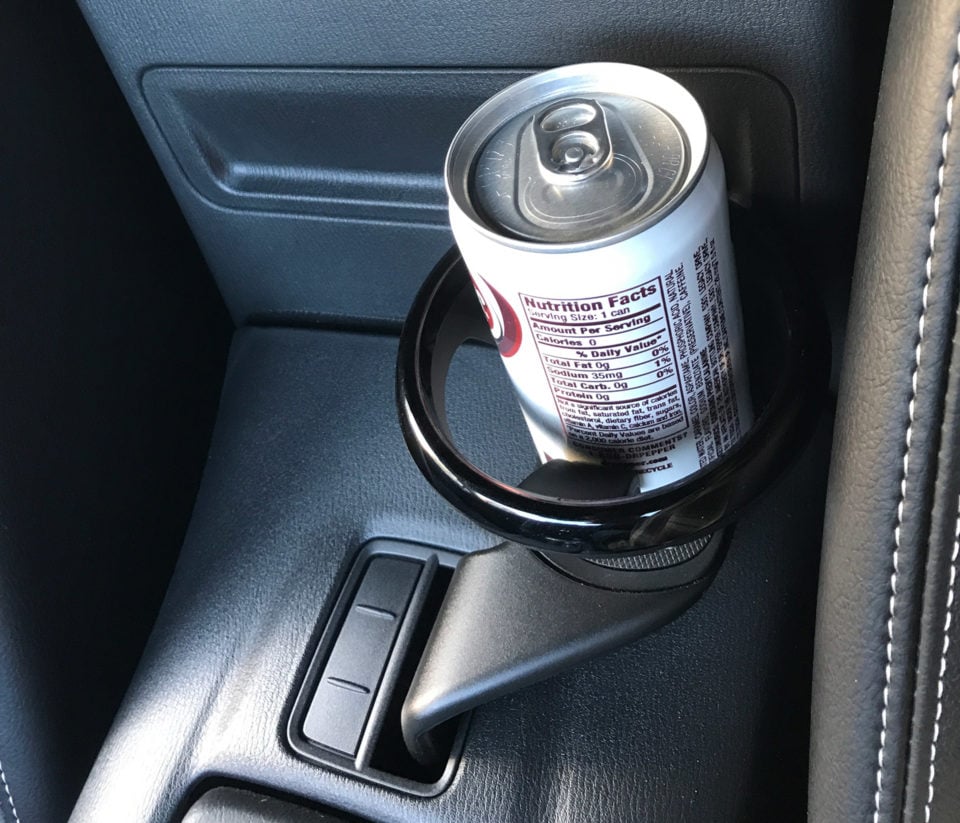 To make way for your right arm while shifting, even the cupholders have been relegated to being snap-in accessories that you place awkwardly at the back of the console. You should be focused on driving anyhow, and not sipping your coffee, right?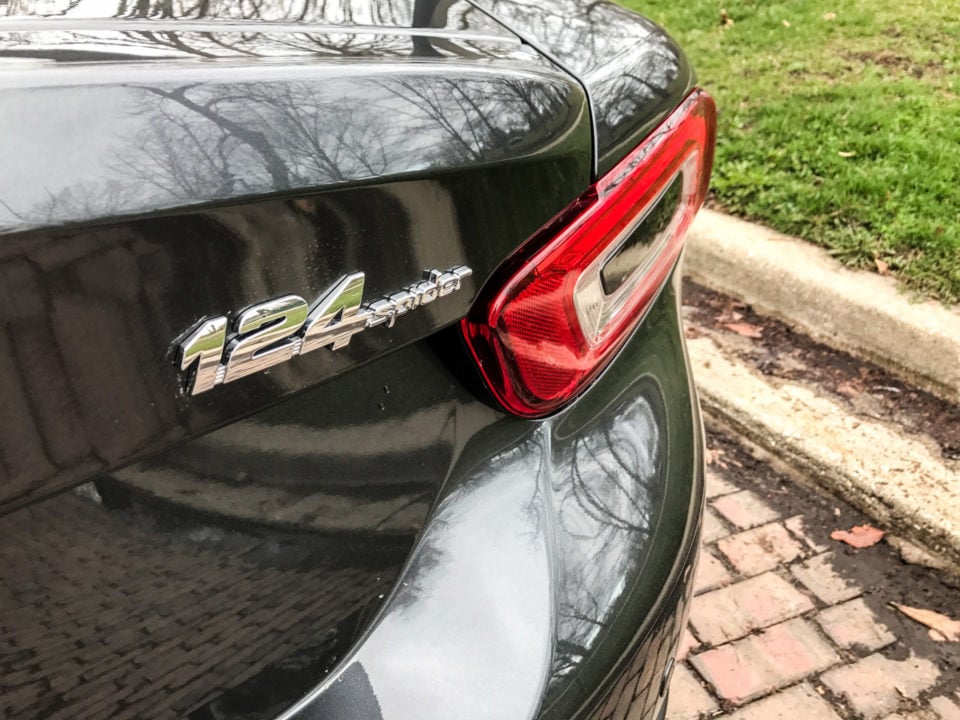 So is the FIAT 124 Spider worth buying? If you're looking for a fun 2-seat roadster for kicking around on the weekends and short road trips, I say yes. But given the fact that it does share quite a bit with the MX-5 Miata – and is built on the same assembly line in Japan – I think your decision should ultimately be made on the basis of aesthetic preference. Sure, there are some differences in their drivetrains, but they're fairly negligible in practice. Both cars offer a tremendous amount of fun without breaking the bank, and you'll be happy with your purchase either way you go.
Source:: 95 Octane