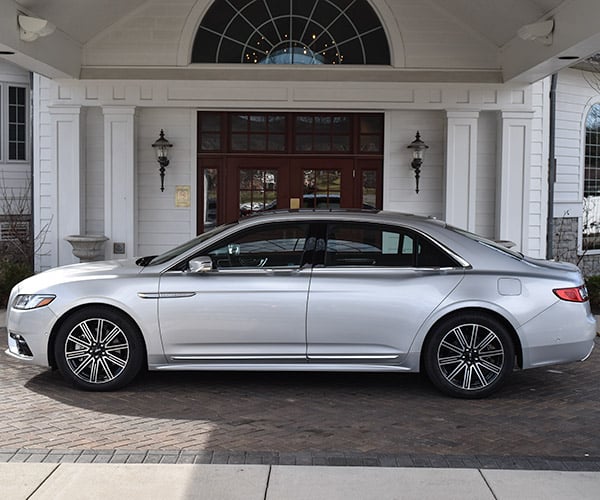 It's been a long time since we saw the Lincoln Continental at dealerships. The last time a new Continental was on the road, George W. Bush was President, a musical won the Oscar, but it wasn't La La Land, it was Chicago, Friends and ER were dominating Must See TV, and Netflix wasn't even a thing. So clearly, it's been a long time. Fast forward 15 years and there's a new Continental on the road.
The new 10th generation Continental represents so much for Ford's luxury brand. It shows that despite some down years in sales, and continuing struggles, that the Lincoln brand is still producing viable, well-made American luxury cars. And the Continental is Lincoln's new (and improved) flagship. The large, luxury sedan market has hefty competition, including German and Japanese rivals, not to mention a domestic rivalry from Cadillac. So then, why bother making something so big, in such a dwindling consumer market? The answer is because they needed to make it.
Ford had to show that they weren't abandoning Lincoln and that they were investing in it. Thus, they hired an Oscar-winning pitchman in Matthew McConaughey and sales jumped for their entire product line. Who can forget the bull in the road for Lincoln's MKX? Now the six-foot-tall charming actor is back in a beautifully shot commercial starring the Continental where McConaughey sits and ponders life in his southern drawl, legs crossed comfortably in the back seat of the full-size sedan.
The entire ad campaign is brilliant for Lincoln, but don't think that it's just a gimmick without any real substance, because the Continental is a stunning, viable luxury sedan.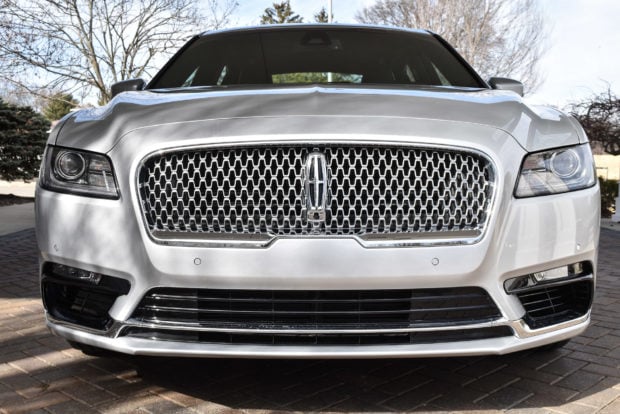 The Continental's looks are elegant. As evidenced in the McConaughey commercials, set against an Icelandic backdrop. A streamlined look shows off the Continental's elegance. The understated grille also tips off that this sedan is more about sophistication and comfort, and less about exhilarating driving. The five LED head lights are underlined by a Nike-like swoop which gives the Continental a modern look and a great distinctive appearance at night. There's nothing aggressive about the Continental. It's luxuriously unassuming. The same can't be said for some of the German competitors or Cadillac.
The old Continental was long, boxy and boat like. Though the 10th generation is still big, at more than 200 inches long, it's more angular and not at all boxy. The backend indicates that as much as anything with its sharply sloping C-pillar. The sleekest thing of all are the door handles and their placement along the side panels. Far too often car designers have to "work around" functional, but ugly door handles. On the Continental, they're a design feature and truly look like part of the car.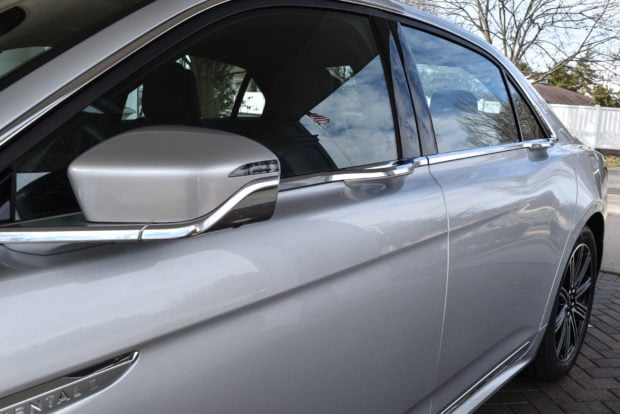 The Continental is not the car for those who want a rumbling, growling engine or true driving exhilaration. Rather, the Continental is all about cruising and comfort. Don't get me wrong, the Continental has enough power to make driving enjoyable. In fact, there are three V6 engine options for consumers to choose from: A 3.7-liter V6, 2.7-liter twin turbo V6, and a 3.0-liter twin-turbo V6. All come with a six-speed automatic transmission. Both all-wheel drive and front-wheel drive are offered.
My tester was the 2.7-liter turbo with 335 horsepower and 380 lb./ft. of torque. The 3.0-liter is the most powerful at 400 horsepower, with the non-turbo 3.7-liter offering the least at 305 hp. With the 2.7-liter, the Continental is quick off the line. It's not going to blow you away with its 0-to-60 time, but that's also not the point or intent of this car. The Continental is meant to be an excellent commuter or executive car. And as that, it accomplishes that in spades.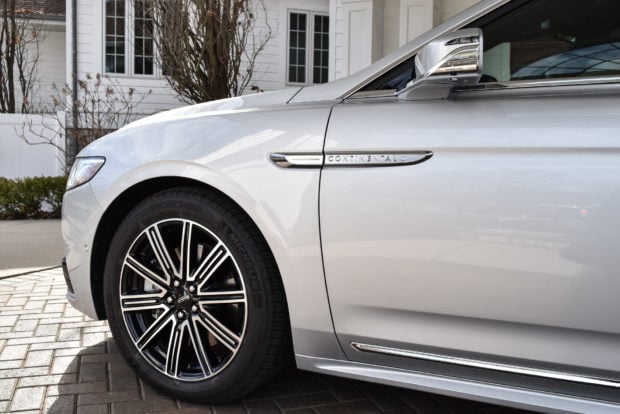 If you're comparing the Continental to anything, it's more like the Acura RLX or Cadillac XTS in performance than a BMW 6 series or Audi A7/A8. The Continental is more conservative in its performance and focuses more on refined comfort and handling than anything else.
Fuel economy varies slightly across the engines and drivetrains. My FWD 2.7-liter tester had the maximum fuel economy with a rating of 18 mpg/city and 27 mpg/highway. In a week's worth of mixed driving, I averaged just over 21 mpg. Other engine configurations all have lower fuel economy, although it's negligible and it certainly would've been fun to experience the 3.0-liter turbo and its 400 horsepower.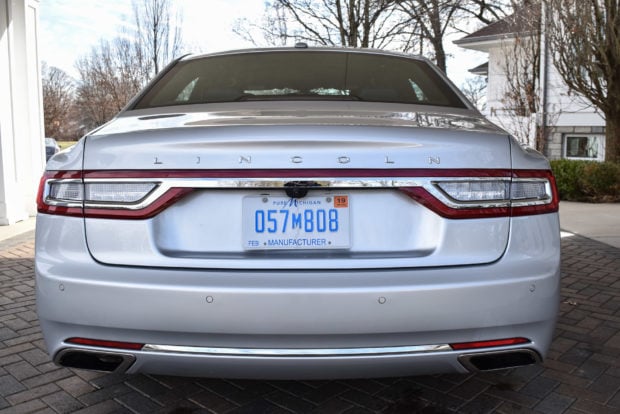 Inside, the Continental's luxury focus is on full display. Real leather and wood trim have an interior designer's touch. There's no conservative approach to the styling inside the Continental, but it's also not garish or over-the-top. Modern flare like the swirling design pattern over the speakers on the door panel and ambient lighting that can be changed across a full color palette are just some of the modern touches added.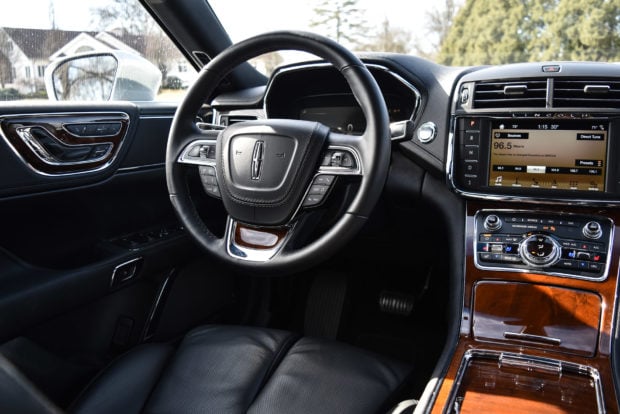 The phenomenal interior of the Continental wraps everyone in comfort with no road noise at all, thanks to triple door seals. In fact, the doors are self-sealing and self-shutting to help block out exterior sounds.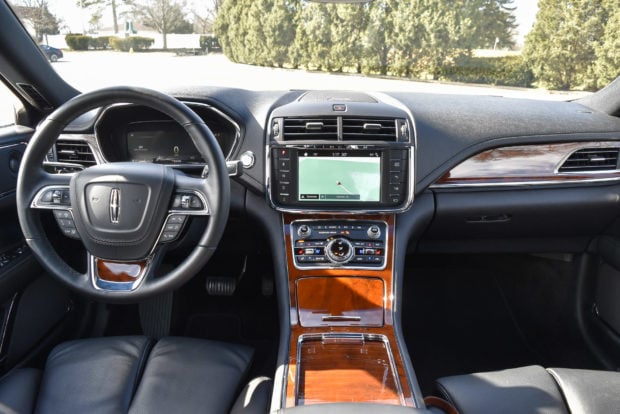 The 2017 Continental doesn't look or behave anything like your grandfather's Continental of the past. After all, Grandpa didn't have massaging seats or a 30-way adjustable seat that pivots upward, outward and even adjusts the headrest inward and upward, along with leg extensions for shorter people.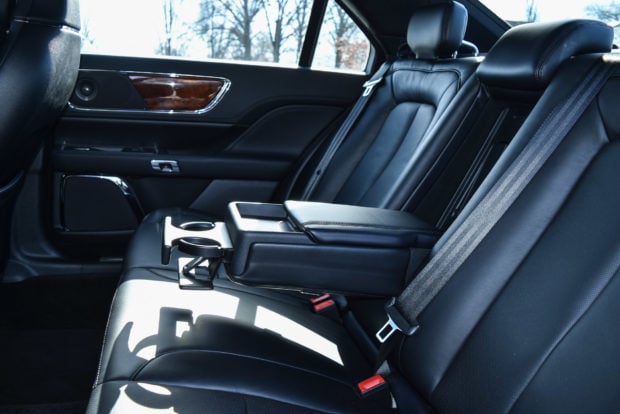 As evidenced in the McConaughey commercial, the back seat is cavernous. Rear passengers have incredible legroom, to the tune of 41.3 inches. And despite the slope of the C-pillar, headroom isn't interfered with, at 37.7 inches. The trunk, which has a pass through, offers a sizeable 16.7 cubic feet of space.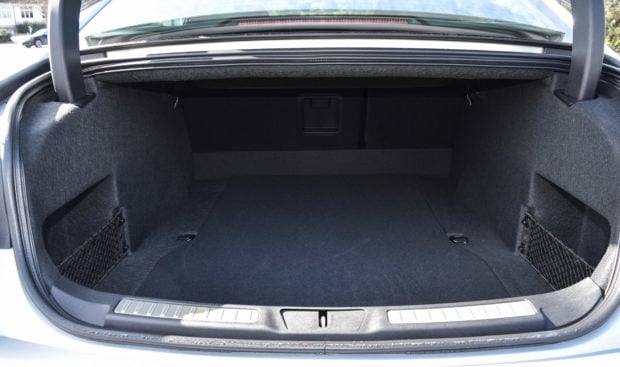 Ford's new and improved Sync 3 system helps add to the technology in the Continental. There's an 8-inch touchscreen that controls all of the infotainment, climate systems, as well as pressure and location of the massaging front seats. Apple CarPlay and Android Auto help integrate smartphones, and there are two USB port connections.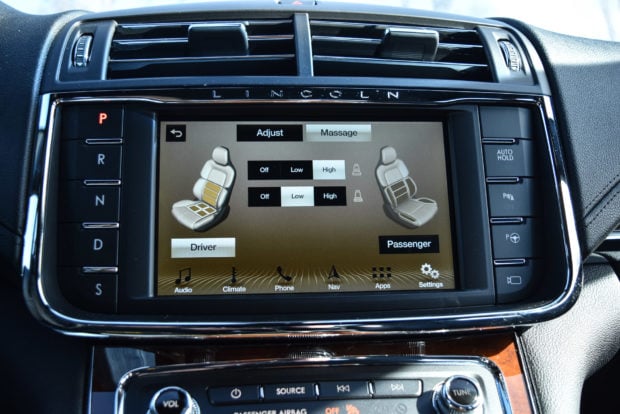 The Continental has four, elegantly-named trims, all which seem apropos of its upper-crust heritage: Premiere, Select, Reserve and Black Label. My tester was the Reserve trim. Plenty of features, including tri-zone climate control, blind spot monitoring and advanced navigation system are all standard at this trim level. Starting price for the Premiere trim is $53,915. With several other options including an advanced audio system, technology package and comfort package (which includes the massaging seats and the 30-way seat adjustment setting), and my tester had a final MSRP of $61,270.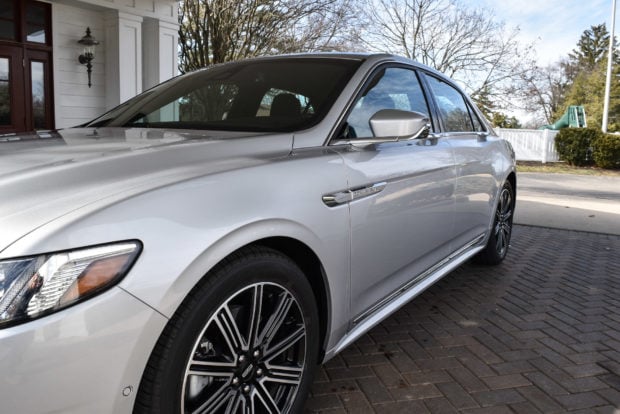 Other than the name, there's virtually nothing in common from this new Continental to the one from 15 years ago. The name may live on as well as its upper-echelon heritage, but the 2017 Continental is thoroughly modern with just enough flash and power to keep it relevant and exciting. It doesn't need a sexy pitchman to show off its qualities, but it doesn't hurt either, as the Lincoln brand needs all the push and promotion it can get.
Source:: 95 Octane