By Paul Strauss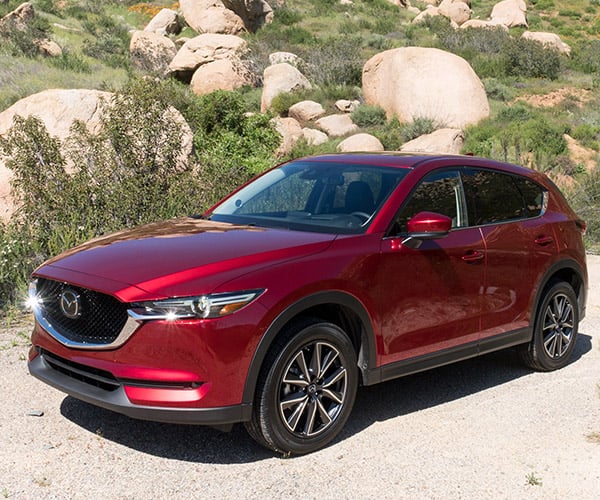 The Mazda CX-5 first launched just a few years back with the 2013 model year, and quickly rose to become the best-selling vehicle in the entire Mazda line here in the US. With over 370,000 global sales last year, and representing about 1/4 of Mazda's total sales, it's always a risky proposition to make changes to such a popular and important part of any manufacturer's lineup. But I happen to think the original launch of the CX-5 was the start of Mazda's current winning streak, so they're starting with an already very good vehicle, and just applying what they've learned in the last few years as they've gradually revamped their entire line.
From the outside, the 2017 CX-5 looks decidedly more refined than the outgoing model – which always seemed more playful in styling than the new model. Up front, the new grille is wider and more dramatic, and the chrome "V" that connects the sharp and angular new headlamps is especially eyecatching. A new, even richer and more reflective variant of Mazda's trademark red paint, called "Soul Red Crystal" looks especially great, and everyone who saw it in person was oohing and ahhing over it.
To help give the new CX-5 a sense of maturity, some of the more playful curves from the sides of the current model were removed out, resulting in a leaner look and more of a sense of movement along. Despite being virtually the same size as the previous model, the new CX-5 just looks more substantial and premium than before. The new wheels on the Grand Touring model are diamond-cut against a black background, making them seem even more substantial than their 19″ size.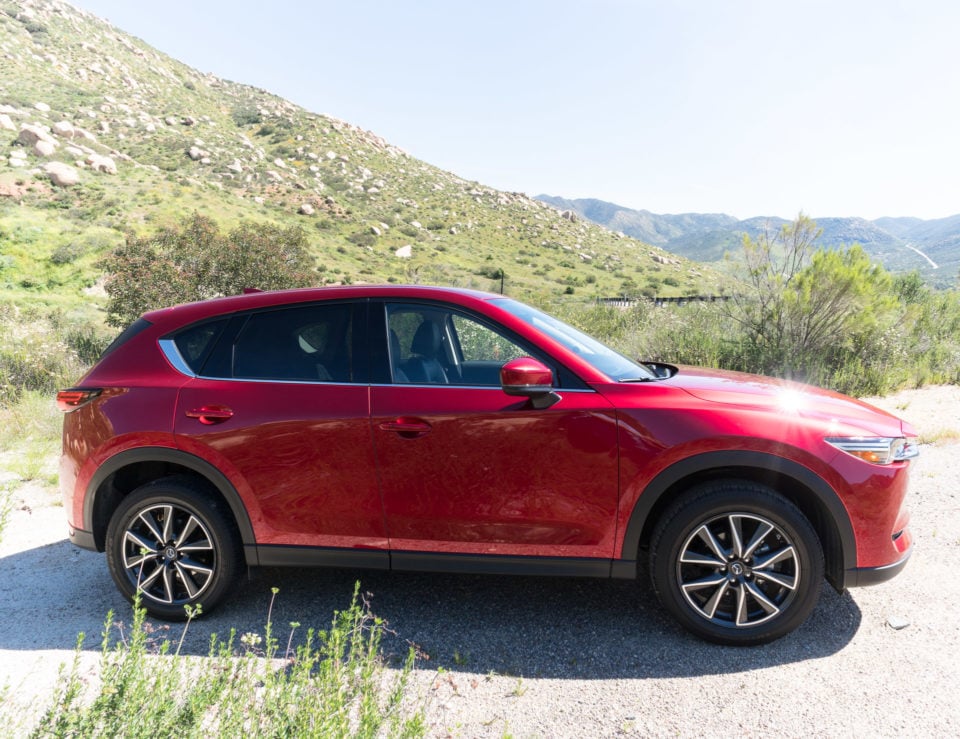 Around back, the 2017 model doesn't look dramatically different, though its taillamps are more streamlined and angular, the rear window has a flatter bottom edge, and there's now an available adjustable-height power liftgate. There are three primary trims for the CX-5, the entry-level Sport, midgrade Touring, and top of the line Grand Touring shown here.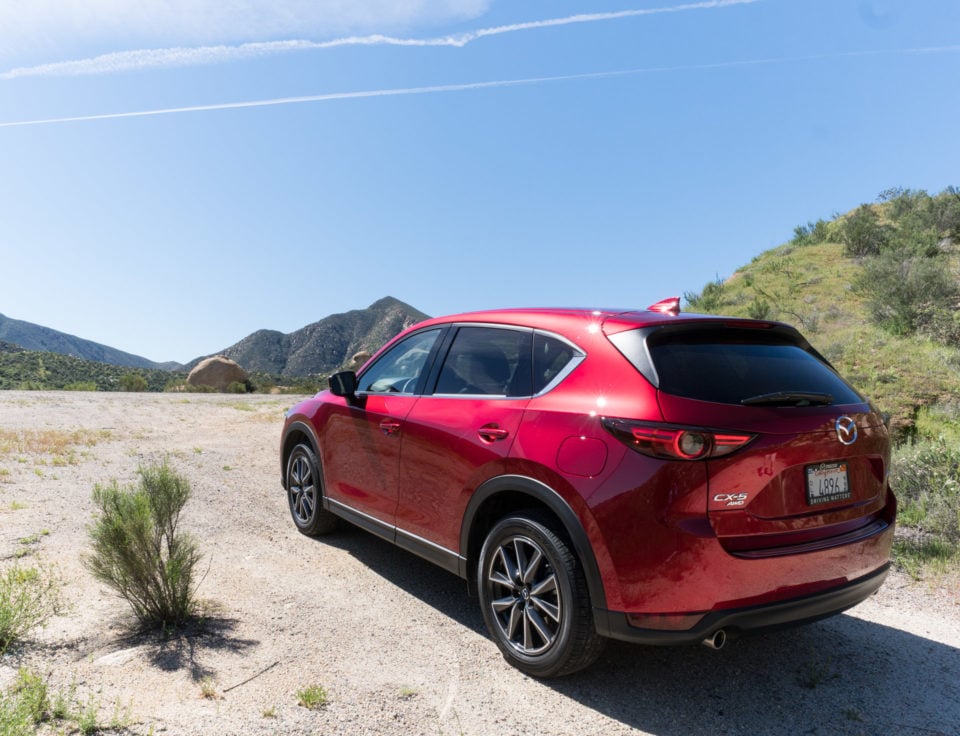 Mazda's mantra is "driving matters," and the CX-5 is the embodiment of that. It offers a seamless connection between the driver and the vehicle, from its perfectly positioned steering wheel and pedals, to its exceptionally smooth and lag-free acceleration. Mazda's engineers worked diligently to ensure that every little bit of your throttle input carries through to the engine, providing a wonderfully predictable behavior whether accelerating out of an intersection, or passing cars on the highway. Also new this time out is Mazda's G-Vectoring Control tech, which helps improve cornering and stability by varying torque distribution to the front wheels.
The 187 hp, 2.5-liter naturally-aspirated 4-cylinder engine is largely the same as before, but has had a number of small tweaks to help enhance acceleration smoothness – from miniscule tweaks to piston and gasket designs, to retuning of both the engine and 6-speed automatic transmission. I appreciate that Mazda refuses to give into the CVT trend, and continues to offer transmissions that are more satisfying and understandable to drivers. That said, I'm a little sad to see the manual gone in the US this time out, but they just weren't seeing the demand for it. There's also a diesel model on the way this Fall, so that should prove a great addition to the line for those seeking greater fuel economy and torque.
Mazda is offering a wide array of safety and convenience tech on the CX-5, adding radar cruise control that can automatically stop and resume, lane-keep assist, and traffic sign recognition this time around. That's in addition to smart emergency braking, lane-departure warning, blind spot monitoring, rear cross-traffic alert, high beam control, adaptive front lights, among other features. But Mazda stands clear that its vehicles are for people who enjoy driving, and they only want systems that intervene in true emergencies, and certainly aren't on the course towards autonomy like many other manufacturers. I'm also happy to see a true projector-style heads-up display, rather than the silly clear plastic thing that stuck out of the dashboard on some earlier Mazda models. The new HUD displays a variety of useful information, including speedometer, cruise control speed, lane departure, and blind spot indicators, upcoming navigation details, speed limit and traffic sign information.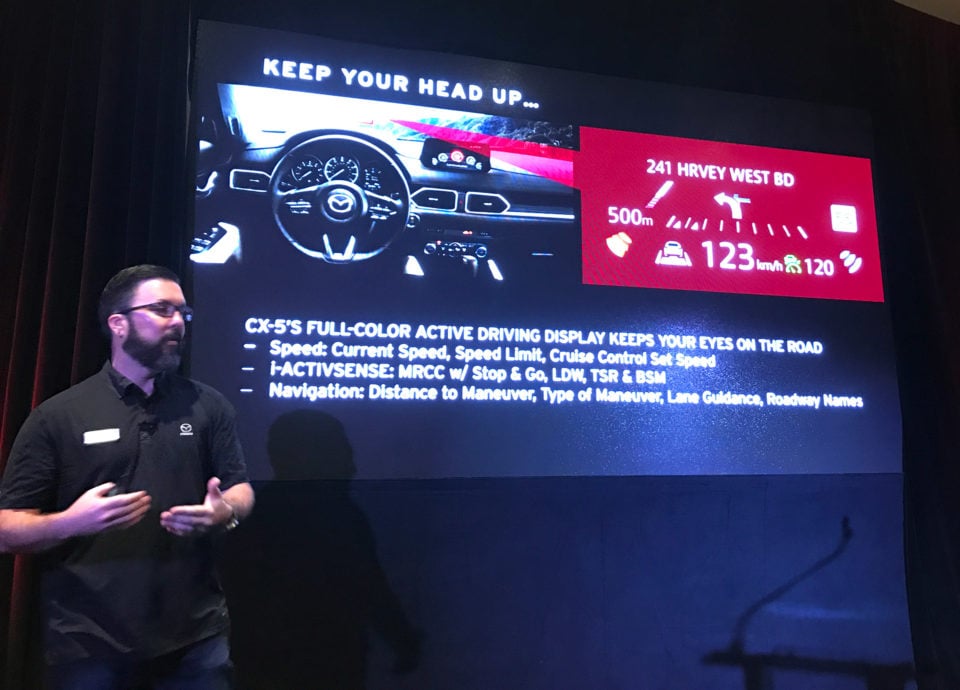 One of the big changes to the CX-5 is virtually invisible on the surface, but has a huge impact on the driving experience. A significant number of small changes were made to reduce noise, vibration, and harshness in the cabin. The changes range from miniscule tweaks to the position of the windshield wipers, to the reduction of reflective plastic surfaces in the cargo area. The result is a fantastically quiet and comfortable environment for driver and passengers alike. To my ear, the interior is every bit as quiet as much more expensive luxury SUVs. In fact, Mazda's internal measurements indicate better overall front seat noise levels than the 2017 BMW X1, Audi Q3, and Jaguar F-PACE.
Inside, the new CX-5 has an upscale and premium feel overall, especially in the Grand Touring trim that I tested out. Soft touch surfaces abound, and everything has a clean and linear feel to it. Even the typefaces match across every gauge, button, and screen, providing a clean and distraction-free environment.
Mazda also worked closely with Bose to enhance their premium 10-speaker audio system, changing the placement of speakers, and reducing the size of the drivers in the doors and adding a subwoofer in the back. The result is higher sound quality and better imaging for all occupants, and I found the overall audio experience to be clean and pleasing to my ear. The 7-inch touchscreen infotainment system is clean and easy to use, though Apple CarPlay and Android Auto are still nowhere to be found. Mazda says they are in the works though, and will be available as an upgrade at some point in the future. There's no word as to how much that might cost though.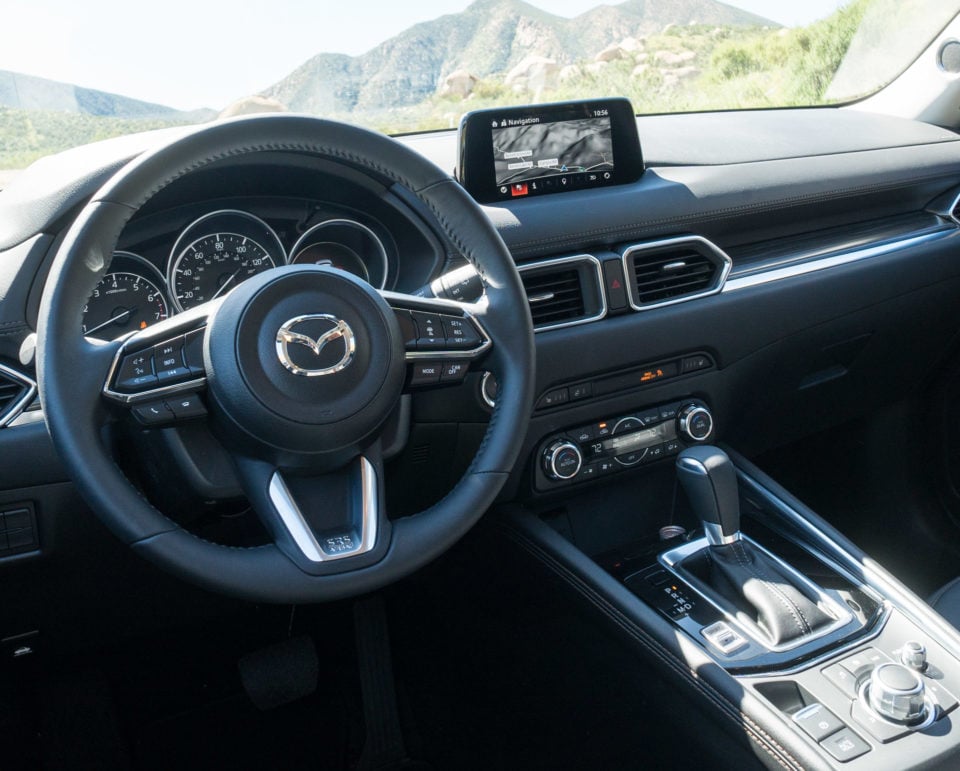 The seats are quite comfortable, no matter if you're in the driver's or any of the passengers' seats, and the front and rear seats, and steering wheel are available with heat. The rear seats also have a slightly more pitched angle than before, and the ability to recline from 24 to 28º for added comfort. There's still good headroom and legroom for rear seat passengers, and cargo space is solid at 30.9 cubic feet with the seats in use, and 59.6 cubic feet with the seats folded flat.
Mazda continues to impress throughout their entire line, with excellent vehicles that offer a great experience for drivers and passengers, and styling, materials, and features that outpace more expensive competitors. The 2017 CX-5 is no exception, doing a great job preserving the great driving dynamics of the previous model, while substantially updating its look, reducing cabin noise, and improving overall throttle response. It's a great everyday SUV, and should be on your test drive list no matter what other vehicles you're considering.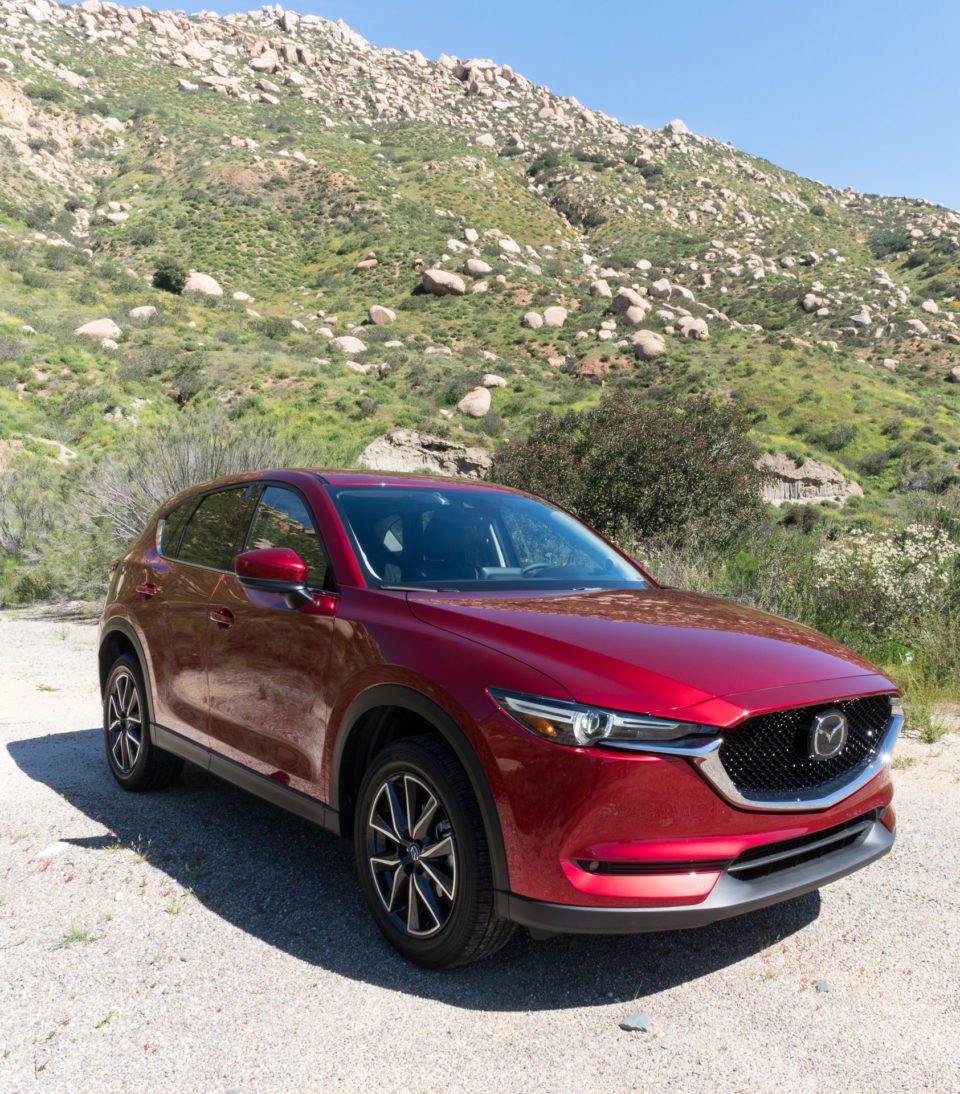 Source:: 95 Octane