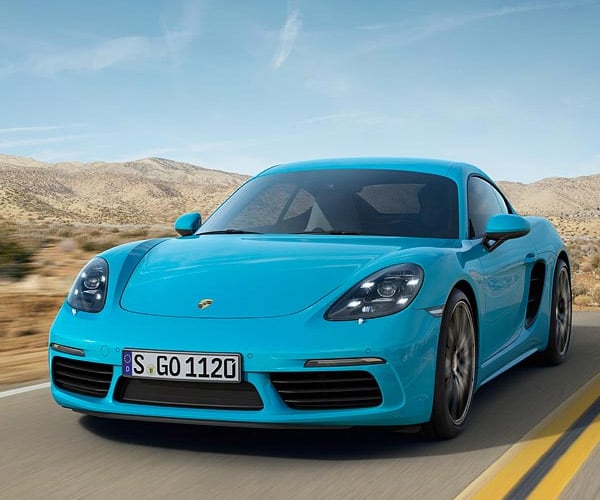 I think we were all a bit nervous when we learned that the Cayman would be moving from the classic flat-six engines they had offered since introduction to turbo four-cylinder engines. Porsche has now gone official with specs on the 2017 Porsche 718 Cayman and 718 Cayman S, along with full details on the engines. In both cases, the turbo fours offer better performance than their six-cylinder predecessors.

The standard 718 Cayman has a 2.0-liter turbo four and makes 300 hp and 280 lb-ft of torque, a 25 hp and 67 lb-ft. increase over the prior model. The Cayman S gets a larger 2.5-liter turbo four with variable turbine geometry tech used in the 911 Turbo. That engine makes 350 hp and 309 lb-ft. of torque, 25 hp and 37 lb-ft more than the previous model.
Porsche says that the 718 Cayman with PDK and Sport Chrono Package can reach 60 mph in 4.5 seconds. The 718 Cayman S can do the same feat in 4.0 seconds. Top track speed is listed as 170 mph for the Cayman and 177 mph for the Cayman S.
Cayman models now get a mode switch on the steering wheel for Sport Chrono settings. Brakes are upgraded to deal with increased power with 330mm rotors up front and 299 mm rotors in back. The Cayman S also gets four-piston calipers from the 911 Carrera with 6mm thicker front rotors.
The 2017 Porsche Cayman starts at $53,900(USD) and the Cayman S starts at $66,300, and are expected in U.S. dealerships this November.
Source:: 95 Octane