By Micah Wright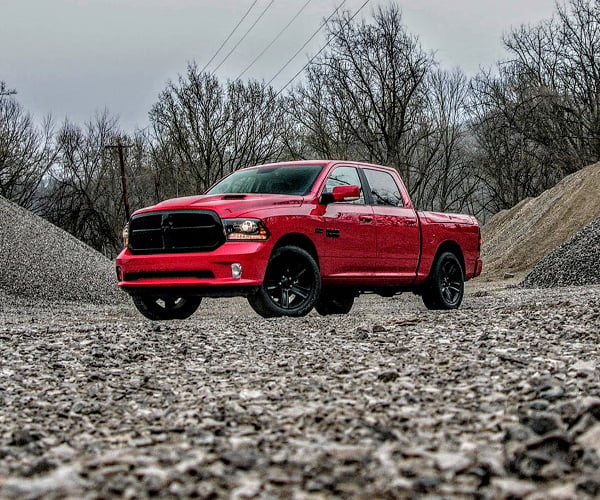 When the "Flame Red" Ram 1500 pickup arrived on my doorstep, I immediately knew that she needed a name, and with the help of my 4-year-old, we gave this lumbering lady the title "Hemi," which at the time seemed quite appropriate. Big, red, multi-talented, and fully loaded, our FCA female mud-wrestler proceeded to surprise with one of the most pleasant driving experiences we've ever encountered in a pickup truck. Outside of her inability to be parallel parked in certain spaces and sporting a few imperfections, Hemi was a joy to drive and to this day she remains sorely missed.
For those of you who aren't familiar with Ram's "Night Edition," it's an appearance package that takes the Sport platform and blacks out things like the truck's wheels, badges, RAM tailgate nameplate, and a set of bulging polished exhaust tips. While this may not be all that impressive to some, on a Flame Red truck it looks pretty damn good, and members of both sexes could be seen checking Hemi out as we thundered from point A to point B.

Aesthetics aside, this pickup really does offer a lot of desirable features, especially once fitted with a bevy of options. Our beloved Hemi had over $14,000 worth of work done to her, and we found ourselves appreciating every last little detail associated with these upgrades. Leather seats with vent and heat functions, rain-sensing wipers, an upgraded 3.92 rear axle ratio with an anti-spin differential, air suspension, park assist, and a Ram Box cargo management system all earned winning nods of approval.
While Hemi's trailering, traction, and rugged off-road features make her appealing to the average farmhand or gearhead, I found myself using her as a delivery vehicle as well, all in preparation for my little girl's birthday party. This meant I was able to take full advantage Hemi's auto-locking Ram Box cargo system, which proved to be a godsend, as everything from condiments and plastic cutlery, to coolers, bags of snacks, and party favors found a home within her cargo hold. It's a brilliant system that's easy to use, well-lit, and drains out excess liquids, so tailgating allows football fans to remain where they belong: On the tailgate.
Drive-wise, Hemi has the ability to be put in 2WD for improved fuel gains, 4WD auto for safety's sake, and either in 4WD Lock or Low for when Mother Nature tries to sucker-punch you senseless. She rides extremely well for being so cumbersome. The air suspension automatically raises once you crest 15 miles-per hour, and with the push of a button, both mirrors fold for narrow passage clearance or to avoid parallel parking mishaps. Another nice touch is Ram's Mopar catback exhaust and air intake upgrade combo, which lets out a refined roar under heavy throttle, but is not prone to drone on the interstate.
As for traction, even in heavy rain with just rear-wheel drive mode engaged, the clever anti-spin differential upgrade kept power pumping to the pavement. Off-road, we found auto 4WD to work flawlessly against mud, grass, and loose gravel alike. Sure, she may not have all of the traction settings found within a Trailhawk Grand Cherokee, but with coil-spring articulation at the ready it didn't feel like Hemi needed it either, especially once raised to maximum ride height.
Within the confines of the crew cab you'll find useful upgrades like the latest 8.4-inch Uconnect touchscreen, adjustable foot pedals, double stacked gloveboxes, and a heated leather steering wheel. There are also rugged cargo pockets aplenty, a power-sliding rear window, dual zone climate control, and a 9-speaker Alpine audio upgrade, complete with a subwoofer. It may not be the most spacious crew cab on the market today, but it's well thought-out, keeps practicality at the forefront, and retains just enough style points to keep it in the running.
So it handles surprisingly well due to an absence of leaf springs, has ground clearance options aplenty, can be driven in rear-wheel or 4×4 mode, and has a tastefully executed exterior, interior, and bed layout that are all pretty damn practical. What more could you want from a pickup?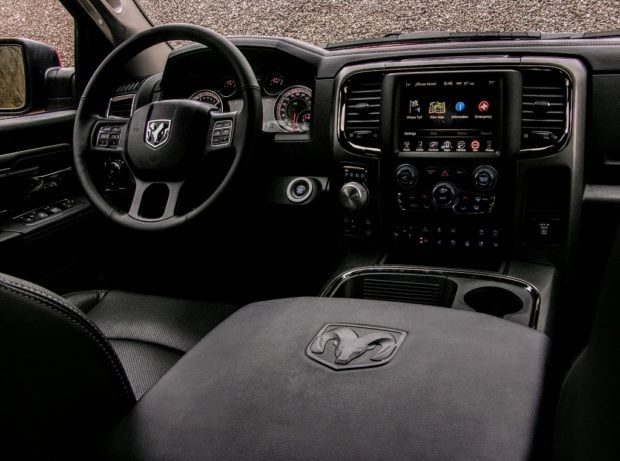 Unfortunately, there were a few notable issues with our precious Hemi that demand to be noted, starting with the truck's tech. The keyless entry couldn't make up its mind whether it should be unlocking or sounding the horn half the time, USB ports in the rear were nonexistent, 360-degree camera views aren't available, and 3D maps remain 2D at best. There's also the issue of limited blindspot visibility, and for as spacious as that crew cab felt it's still far from being the roomiest in the segment.
Other miscues are all the hard plastics designed for holding cell phones beneath the center stack, seat cushions that emanate a loud crunching noise, underseat fit and finish misses, and a rear LATCH tether that rattles against the glass once a child seat is attached. It also doesn't tow as much as equally equipped V8 Ford or GM trucks, and does not come with an integrated gooseneck attachment like the Nissan Titan.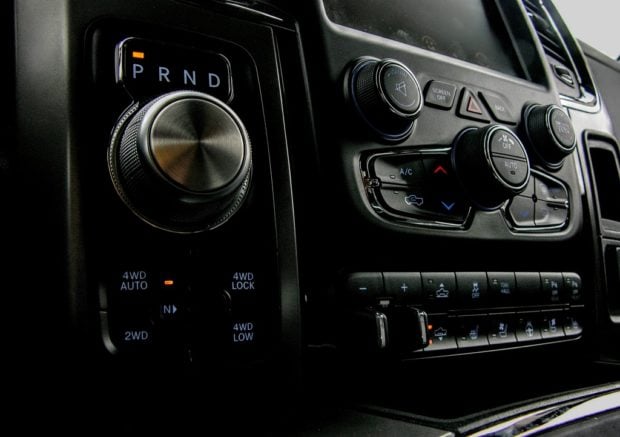 But all of these complaints are just a drop in the bucket against Hemi's selling points. Take the loaded 8.4-inch Uconnect system for example. Over the course of the past few years FCA has turned its infotainment setup into a fantastic piece of technology, and to this day it remains one of the easiest to use and most responsive units on the market.
We also found ourselves obsessing over Ram's customizable 7-inch "Multi-View Cluster," which is brimming with pertinent driving specs and vehicle maintenance minders. Cycling through its vibrant spec sheets and useful driving details you get the feeling that Ram has pulled playing cards from the Challenger deck and is trying its own hand at becoming a digital encyclopedia.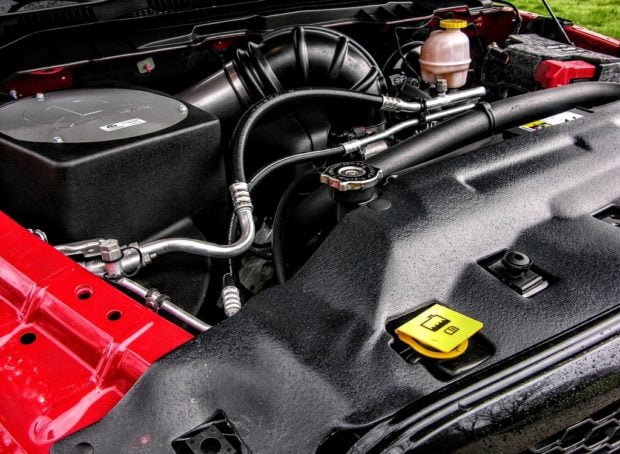 Once properly equipped, this truck can tow up to 10,700 pounds, and will automatically close its front shutters and lower itself for increased fuel efficiency at higher speeds. This pickup is equal parts potent and efficient, and while it may not be as speedy off the line as other V8 competitors, we didn't find ourselves pining for Scat Pack power all that often.
We have to admit it; to this day, Hemi is sorely missed. With the right off-road rubber and wheels, a Mopar brush guard, and a set of side steps for easier entry, we feel that a Night Edition of the Ram 1500 would be damn near ideal as both a daily driver and as a weekend warrior. The only dilemma at that point would be its price, because for $57,395 would you rather have Hemi here, or a well-equipped Ford Raptor?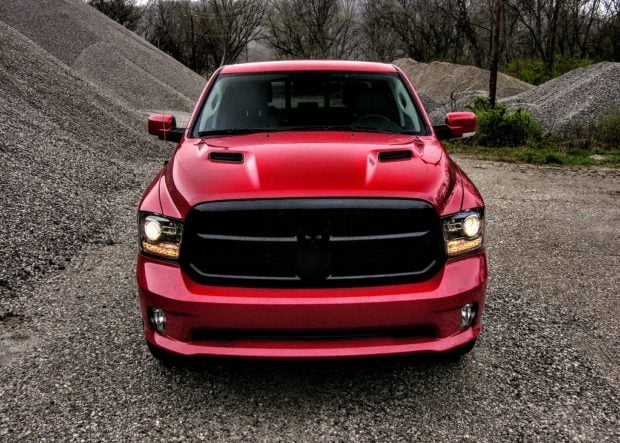 Source:: 95 Octane