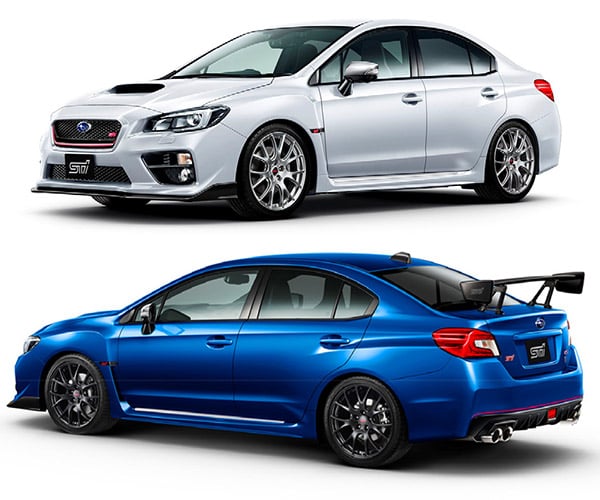 Japan is getting another cool limited-edition sports car that we won't get here in the US. The car is the 2017 Subaru WRX S4 tS. Torque from the 2.0-liter, 300 hp turbocharged engine has been enhanced by 10% thanks to a modified air intake and exhaust system. The special edition also gets an oil cooler for the Sport Lineartronic CVT (sadly, no manual here.) Other special edition features include an STI flexible tower bar, DampMatic II front suspension with adjustable damping, and front-rear active torque vectoring.
Braking is improved with Brembo opposed-piston 4-pot brakes on the front, and the car rides on BBS 19-inch forged aluminum wheels. Cosmetic and aero upgrades include a mesh front grill, front under spoiler, and inside buyers get Recaro front seats. The car will also come in an NBR (Nurburgring) Challenge Package, with black wheels, a badass carbon wing out back, and an ultrasuede-wrapped steering wheel. Buyers of both models will also get Subaru's EyeSight driver assistance and safety system.
Pricing for the standard version is 4,968,000 yen (~$48,000 USD) with tax or 5,292,000 yen (~$51,135 USD) for the NBR version. The WRX S4 tS will be on sale for a limited window from October 4, 2016 through March 12, 2017.
Source:: 95 Octane