By Micah Wright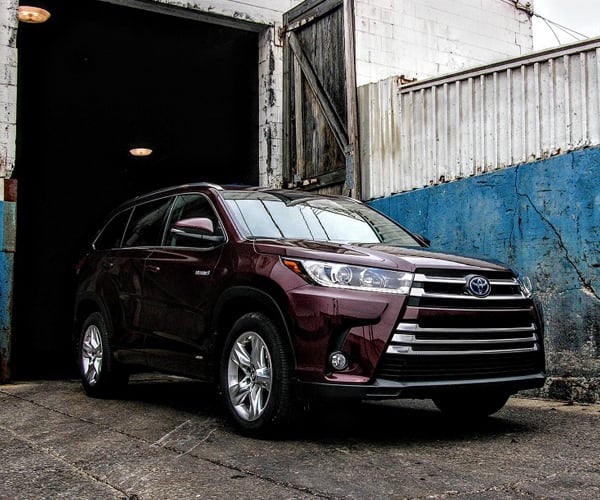 It's Reds season in Cincinnati, and it seems like every year I forget how gung-ho people are about baseball in this town. OK, so I guess having the first pro team in history technically labels Cincy as baseball icon of sorts, but did it have to spawn so many god-awful drivers? Hell, just the other day I nearly got smacked by some lady in a first-generation Escape Hybrid, which got me thinking.
While technically Ford was the first to scribble its name in the annals of SUV history with its release of the 2005 Escape Hybrid, many forget that it was Toyota that provided the vehicle's electrification. Which leads us to the Highlander, an SUV that was offered at the time, but did not receive a hybrid powertrain until after the Escape hit the market. For the past dozen years the triple-rowed 4Runner alternative has won critics and soccer moms alike over with its practicality, reliability, and safety, and for damn good reason.
Restyled inside and out, and recalibrated with a fresh V6 powertrain that churns out more performance and efficiency via a series of internal tweaks, the updated Highlander retains its title as one of the best SUVs on the market. While it may not be on par with the acutely driver-focused and insanely well-groomed Mazda CX-9, the Highlander Hybrid offers a metric motherload of sensibility and reliability.
Equipped with the latest version of Toyota Safety Sense P (TSS-P) as standard fare, and filled almost to the brim in Limited trim, our impression of the latest Highlander is simple: If you want an all-inclusive hybrid SUV for under fifty grand that's practically indestructible here it is.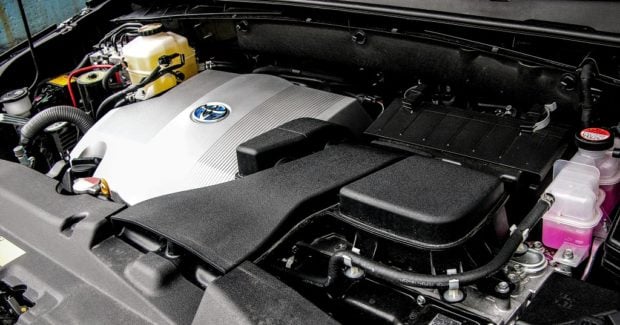 Toyota's opening pitch is all about practicality, something the Highlander has in spades. Equipped with either a 7- or 8-seat layout, five USB ports (3 up front, 2 in the back), a useful shelf that spans most of the dash, LED accent lighting, and storage pockets aplenty, there's little question that this latest refresh has been well thought out. There's also a power liftgate with preset height options, a flip up rear hatch window, a Mammoth Cave-sized center console, and helpful undertray cargo cubbies.
Tech-wise, the Highlander Limited retains Toyota's "Driver Easy Speak" system for funneling disciplinary tones to insubordinate six year-olds in the third row, and Toyota's Multi-Information Display (MID) is navi connected and filled with all manner of useful stat. The latest 8-inch Entune infotainment system is more intuitive, responsive, and loaded than ever, and can be upgraded with things like a 360-degree camera, a 12-speaker JBL GreenEdge sound system, and comes with three months of complimentary SiriusXM All Access.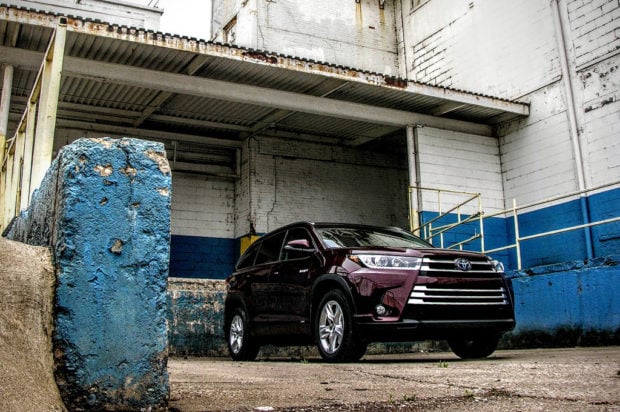 This latest hybrid powertrain can now be had on LE and XLE grades as well as the Limited line. As with the rest of Toyota's lineup, the new 3.5-liter V6 is both port- and direct-injected. It can also cycle between Otto-cycle and Atkinson cycling, and in all-wheel drive models relies upon a clever torque control system for finding the best balance between grip and gas-sipping. Once applied, a 29 city/27 highway rating materializes and offer drivers the option to run on Eco or EV mode exclusively. With 306 horsepower on board, the hybrid version is more powerful than the normal model thanks to an additional 26 ponies. It can tow up to 3,500 pounds when properly equipped.
Riding atop a proven McPherson front, double-wishbone rear suspension setup, with cushy 245/55/R19 Toyo rubber all around, the ride you get in a non-SE Highlander is a comfortable, almost luxury-grade experience. But soaking-up potholes without complaint and turning the steering wheel with two fingers comes at a cost, and the latest Highlander Hybrid exposes its soft underbelly quickly when pushed. When compared to the slightly stiffer and far more focused SE version, the hybridized model feels like a 2.5-ton batter who's hell-bent on producing gentle pop flies instead of solid base hits, which can be a big strike for certain shoppers.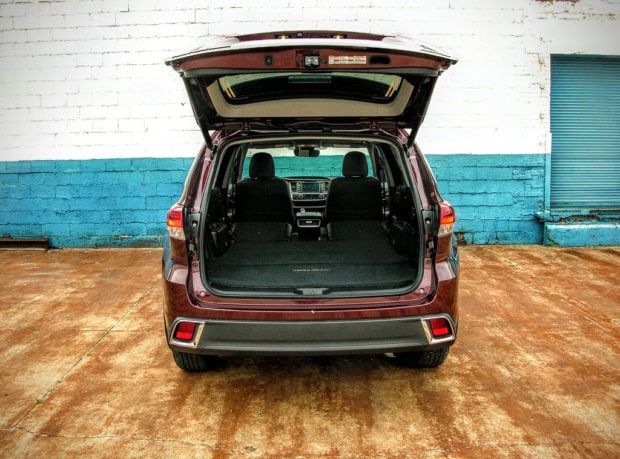 Since no vehicle is devoid of miscue, test drives of this SUV will reveal an oddly calibrated and surprisingly noisy regenerative brake system, which despite having acceptable stopping prowess takes some getting used to. There's also a fair deal of torque steer up front, slight hesitations off the line, and it's obvious that the stock Toyo tires are meant for MPG gains and comfort, as even in the dry, wheel-slip randomly would pop up.
I also encountered some materialistic shortcomings like the unpainted front lower lip, which appears to be more of an inexpensive afterthought than an aesthetic upgrade, and how cheap some of the plastics looked and felt. Another odd touch is the center console, which is both massive and multilayered, but comes with a flimsy, split sliding door that must be manually moved and feels like it's about to break at a moment's notice.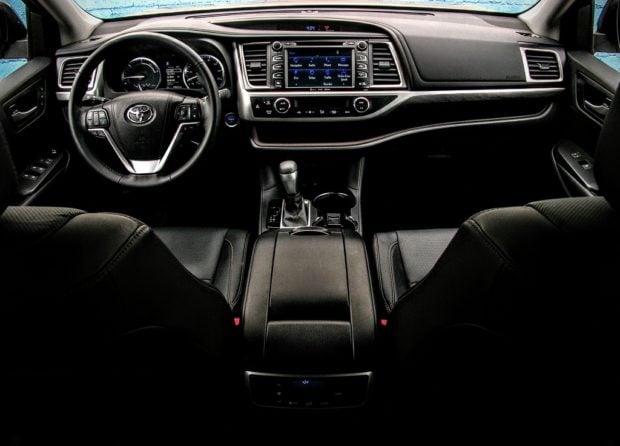 Yet these seem to be trivial matters, ones that are easily overshadowed by the refreshed Highlander's more acutely tuned drivetrain and fresh styling characteristics. People who are shopping for a hybrid, triple-rowed SUV are more than likely going to love what this SUV has to offer, and with this much power and smoothness who can complain?
The question now is how long will it take to recoup the additional $1,600 associated with owning a class-leading hybrid SUV? Unless you're completely in love with this refreshed version and fancy holding onto it for the long haul you'll be losing money on this version, and with less expensive trim lines offering close to comparable fuel gains, inner-brand cannibalism must be a concern for Toyota.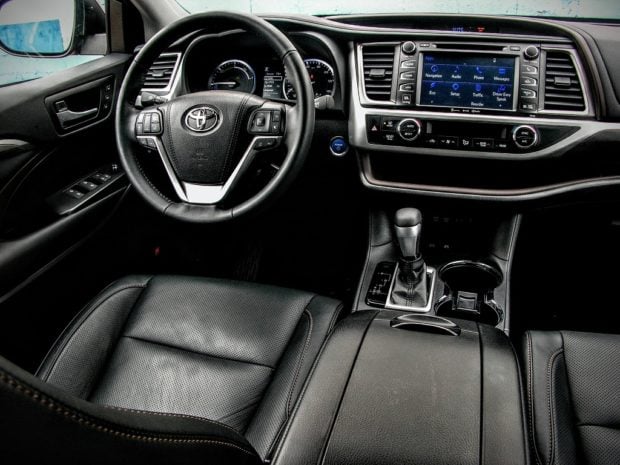 Stylistically, I find the latest Highlander to be quite fetching, with its sleeker, broadly drawn horizontal grille, re-sculpted LED lighting, and sharply cut spoiler accentuating lines in all the right places. It's a nicely balanced blend of beauty and brawn, and with puddle lamps and interior LED accents aglow strikes a fetching nocturnal pose. Personally I'd opt for the new brown leather interior and throw some different wheels toward all four corners, for Toyota offers that sort of thing on this refresh.
So is the Highlander Hybrid the ideal heavy hitter Toyota makes it out to be? It's pretty tough to beat that 29 mile-per gallon rating and standard TSS-P safety package, and there's no denying all those practical storage cubbies, soft leather luxury touches, and ease of access to the third row make for a strong showing.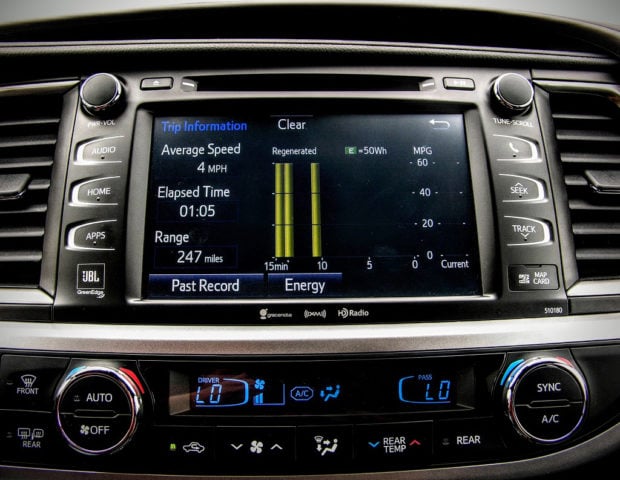 But outside of all the standard safety and clever hybrid engineering, this soft, safe, stylish, and somewhat expensive swing at SUV design is a bit of a knuckleball. It's by no means a poor choice if money or performance is not an issue, and it will more than likely be reliable as all hell over the long run, but it also won't instill a sense of joy when you drive it either.
Simply put, it's a hybrid SUV that gets a little bit better fuel averages than its siblings and the rest of the competition, but it lacks soul, and for $45,000 is nowhere near as appealing as vehicles like the Mazda CX-9 or all-new Volkswagen Atlas. But this is just the third inning- errr- generation and a refreshed one at that. Let's see if Toyota can turn this classic hit into a grand slam when the next inning begins.
Source:: 95 Octane