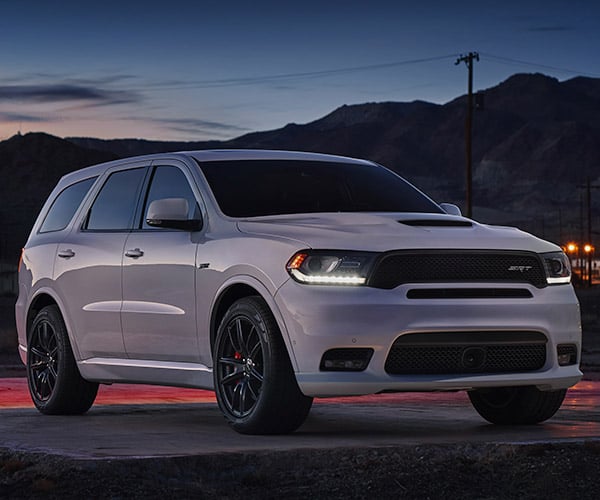 Dodge has announced a new version of its Durango full-size 3-row SUV called the Durango SRT. The automaker says that it is the "Dodge Charger of the Full-Size SUV Segment." The beast has a 392 ci HEMI V8 engine that makes 475hp and 470 lb-ft of torque at 4,300 RPM.
That is enough power to run to 60mph in 4.4 seconds and do the quarter mile in an NHRA-certified 12.9-seconds. Grip comes thanks to a special AWD system that has SRT modes for snow, track, and others. The Durango SRT also gets a new front and rear fascia and a sweet looking hood that has an air inlet and heat extraction ducts. Other performance enhancements include a stiffer sway bar and springs, Brembo performance brakes, and a sports exhaust system.
To put their vehicle to the test, each buyer will get a day at the bob Bondurant School of High Performance Driving. If its track performance isn't enough, the SUV can also tow 8,600 pounds. Durango SRT buyers also get a standard leather and suede interior with available demonic red laguna leather with carbon fiber trim.
The Durango SRT will hit dealerships in Q4 2017. Pricing has yet to be announced.
Source:: 95 Octane