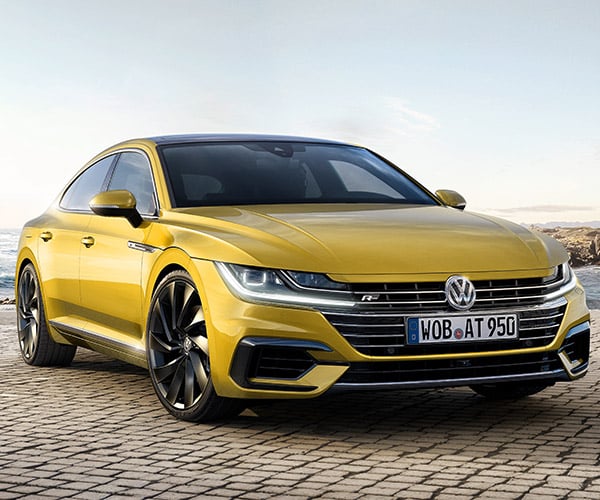 After teasing us a bit ahead of the official unveil, the VW Arteon has gone official at in advance of the 2017 Geneva Auto Show. The car is a premium four-door, five seat sporty car that will slip into the VW range above the Passat. The car will be built on VW's versatile MQB platform, which currently underpins everything from the Golf and Touran to the upcoming 7-seat Atlas SUV.
The car has a 191.4-inch overall length, and a very long wheelbase of 111.9-inches, giving it lots of room inside. Cargo space is exceptional as well, with 19.9 to 55 cubic feet with the seats folded down. Six different turbo engines will be offered, including diesel versions that are unlikely to make it to the US. Power ranges from 148hp for the base model to 276hp for the sporty R-Line shown here.
The top engines are paired with a DSG dual-clutch transmission and 4Motion AWD. VW fits the Arteon with LED headlamps and lots of tech including adaptive cruise control, a digital instrument panel, and a dynamic cornering light system which can use GPS data to anticipate upcoming corners.
The car will be built at the VW Emden plant and will go on sale this June in Europe. VW is mum about availability in other countries right now.
Source:: 95 Octane