By Paul Strauss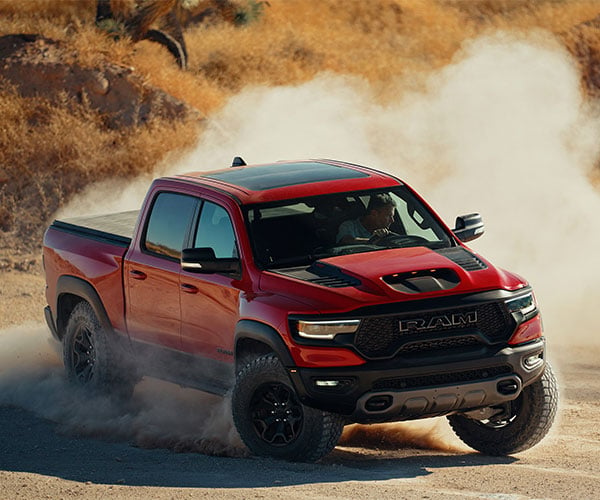 A few years back, I had the opportunity to check out the Ram Rebel TRX Concept at the Chicago Auto Show Concept and Technology Garage, where I gazed upon its shiny red trimmings, and enveloped my ears in its impressive exhaust note. Fast-forward to 2020, and the TRX is now officially going into production.
While the production version lost just a little bit of the concept's metallic visual drama, it soundly beats it on horsepower, amping up its 6.2-liter supercharged HEMI V8 to 702 horsepower – versus "just" 575 horses in the concept truck. Torque is rated at 650 lb-ft., while 0 to 100 time is clocked at 10.5 seconds. Despite the truck's heft, the engine can launch this beast from 0 to 60 in 4.5 seconds as it zooms towards a top speed of 118 mph.
This thing isn't just ready for speed, it's ready to conquer sand dunes and off-road trails, riding on 35″ Goodyear Wrangler Territory all-terrain tires, which can wrapped around 18 x 9 inch beadlock factory rims if you so choose. Between the big tires and wide fender flares, the TRX measures a full 8″ wider than a base Ram 1500 truck.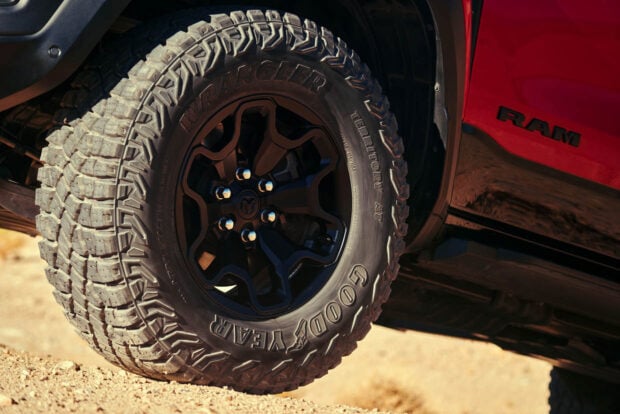 It's also got approach angle of 30.2 degrees, a breakover angle of 21.9 degrees, a departure angle of 23.5 degrees, and a ground clearance of 11.8 inches, all of which meet or beat the stats of the current F-150 Raptor. In addition, you'll find five underbody skid plates to protect the Ram's important mechanical components.
Off-roading requires a great suspension, especially at speed, and Ram has upgraded the 1500's already very good suspension setup with a five-link coil system in the rear, and a new independent front suspension with additional reinforcements. 2.5-inch Bilstein Black Hawk e2 adaptive performance shocks help round things out. Rear wheel travel increases from 9 inches to 13 inches compared to the standard Ram 1500, though it's unclear how much more the front wheels can move.
With a BorgWarner 48-13 full-time active transfer case, the truck can switch quickly from slow and deliberate rock crawling to high-speed desert dune running. Of course, if you're going to be driving a 5,500-ish pound truck at speeds of 100 mph or more, you want good brakes, and the Ram TRX packs giant 15-inch rotors to help bring things to a stop quickly and confidently.
Inside, the Ram TRX can be equipped with one of three different materials options, with the top of the line combining leather and suede with red trim and carbon fiber accents. The front seats have been upgraded for better upper bolstering, and have unique TRX embroidery, while a D-shaped SRT steering wheel and oversize aluminum paddle shifters are ready for high-speed action. Front and center in the dashboard is a 12″ UConnect 4C touchscreen infotainment and navigation system. There's also an optional 900-watt Harmon Kardon sound system with 19 speakers if you like your driving soundtrack to go beyond the V8's growly exhaust note.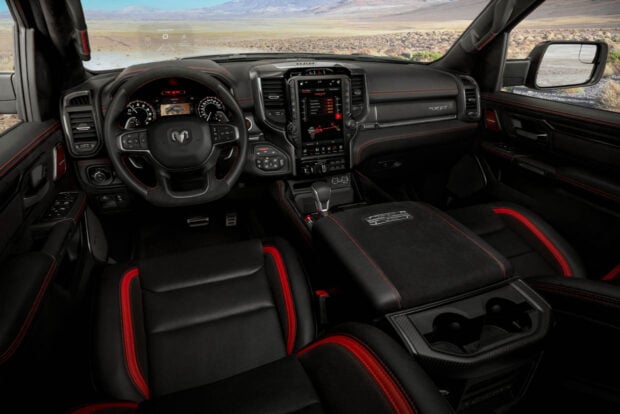 Base price for the 2021 Ram 1500 TRX starts at $71,690, putting it right in line with a well-equipped Raptor, but about $13,000 more than its base price. That said, the TRX offers 252 more horsepower than Ford's fast steed, and Ram arguably has a much nicer and more modern interior. Of course, if you want every option available on the Ram TRX, you can break $90,000, which is roughly what the Ram 1500 TRX Launch Edition is selling for.
Source:: 95 Octane