By Paul Strauss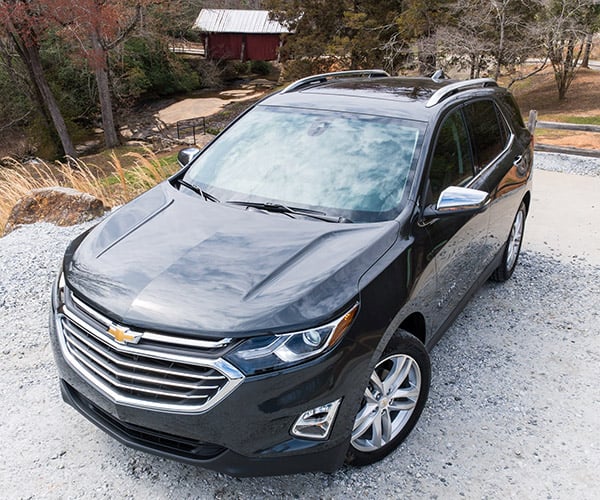 It was no coincidence that Chevy decided to unveil the latest version of its popular Equinox SUV on the Fall Equinox last September. Fast-forward exactly half a year, and I'm checking out the 2018 Equinox on the Spring Equinox. But this time, I'm not just viewing a static vehicle on a stage in Chicago, I spent the better part of two days driving the new vehicle on the roads of North Carolina, South Carolina, and just a touch of Georgia.
Like other wildly popular vehicles, Chevy had to be cautious with the redesign of one of their bread and butter vehicles. After all, in the US, Equinox sold more than 242,000 units in 2016 alone – more than 11.5% of their total US sales. So it's best that they don't break anything, and stick to more modest upgrades rather than a major redesign.
From the outside, the 2018 Equinox is definitely more dynamic and streamlined than ever before. The grille and headlights are more visually interesting, as are the larger horizontal taillamps that wrap onto the liftgate. But those changes seem minor, compared to the significant upgrades under the skin, under the hood, and inside its cabin.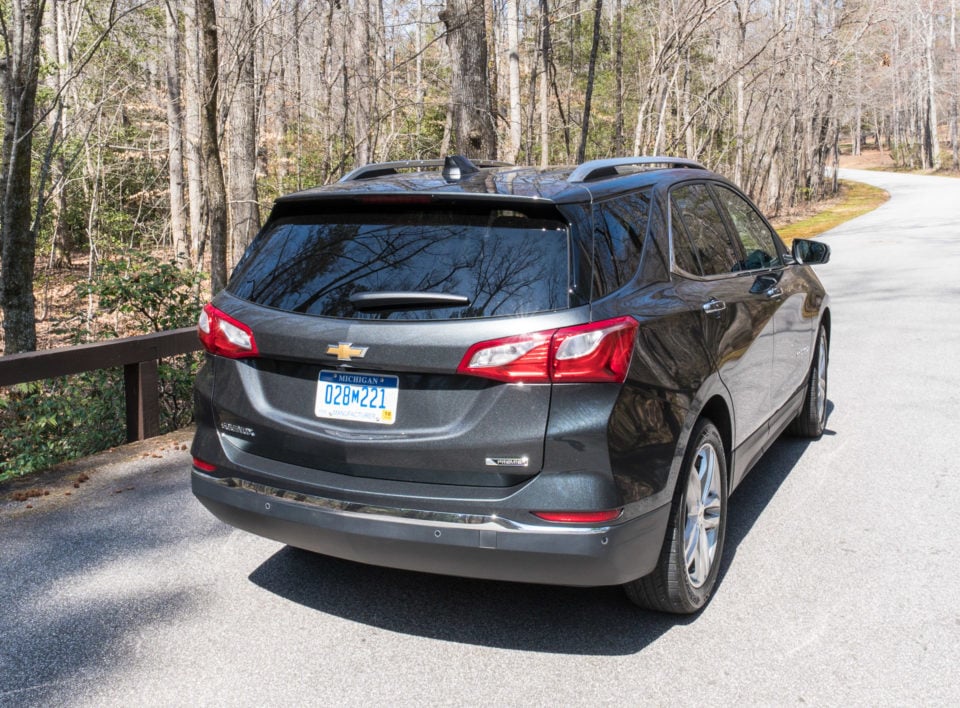 For starters, the new Equinox has trimmed about 400 pounds of weight off from its predecessor, in large part due to a more judicious usage of various types of high-strength steel and modern adhesives. These changes resulted in a body structure that's lighter, stiffer, and even safer for its occupants than before. There's lots of new tech to be enjoyed too, but rather than just list it all, this graphic sums it all up: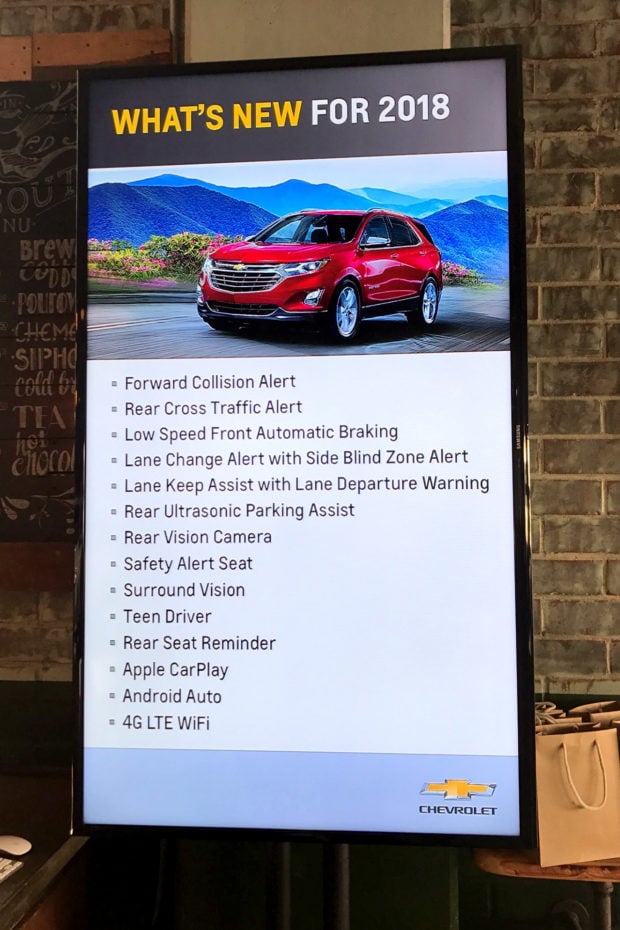 As my driving partner and I set off on our journey, we took the Equinox from Greenville, South Carolina, up to Asheville, North Carolina, along the way checking out a number of scenic locations, and a good variety of roads to put the Equinox through its paces as both a daily driver and a car for weekend family adventures.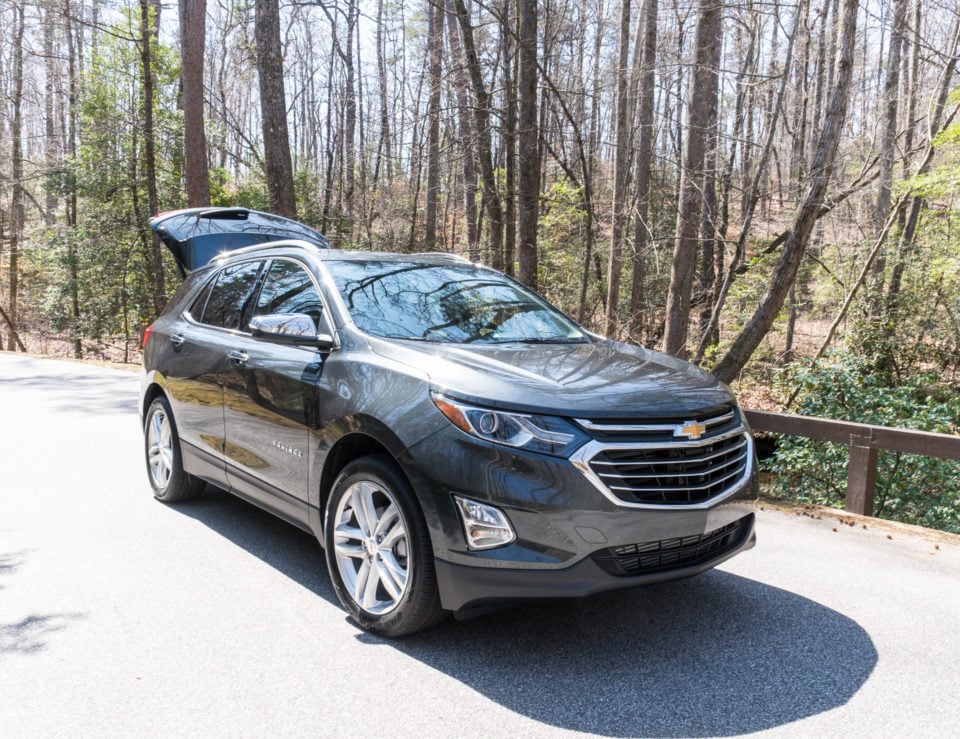 So we punched in our chosen route using the excellent Roadtrippers' app on my iPhone, plugged into one of the Equinox's USB ports, and let the phone's navigation guide our way via the Apple CarPlay integration.
Along the way, we checked out such sights as Greenville's beautiful downtown oasis, Falls Park on the Reedy, as well as Paris Mountain State Park, which offers up lots of trees, biking and hiking paths, campsites, and some cool water features.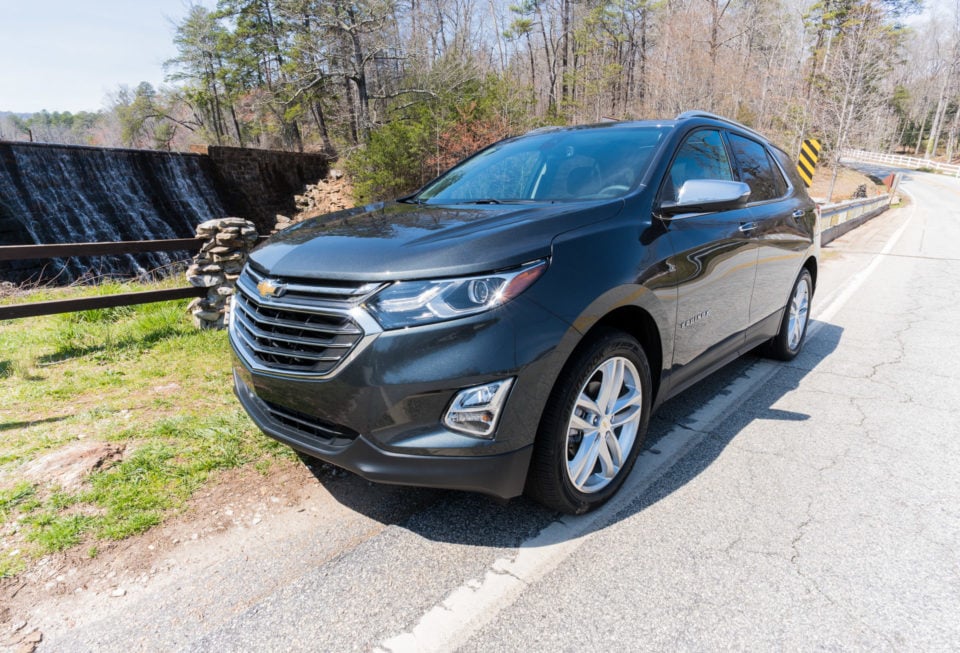 The Equinox performed admirably along the way, powered by a 1.5-liter turbocharged inline 4 that produces 170 horsepower, and an impressive 203 lb-ft. of torque. Chevy will also offer up a 2.0-liter turbo 4 with 252 hp and 260 lb-ft. of torque, as well as a 1.6-liter turbo diesel engine with 137 hp and 240 lb-ft. of torque later in the year. That said, the 1.5-liter was more than sufficient to carry us comfortably along the roads of the Southeast towards our next destination – Campbell's Covered Bridge, a dramatically askew old bridge in Landrum, South Carolina.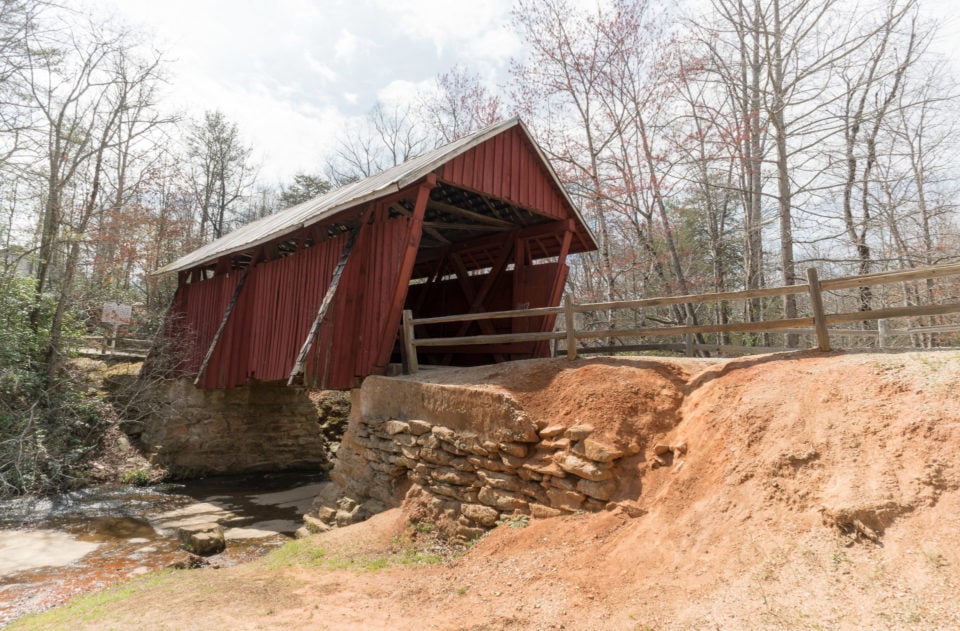 Sadly, due to its state of repair, we weren't able to drive across it, but even with the Equinox down to a new fighting weight of just 3375 lb in the front-wheel drive model, I wouldn't trust this rickety old bridge to hold our weight.
As we proceeded North, the Equinox took us along the highway, where we enjoyed a very quiet cabin, with just the slightest bit of wind noise at highway speeds.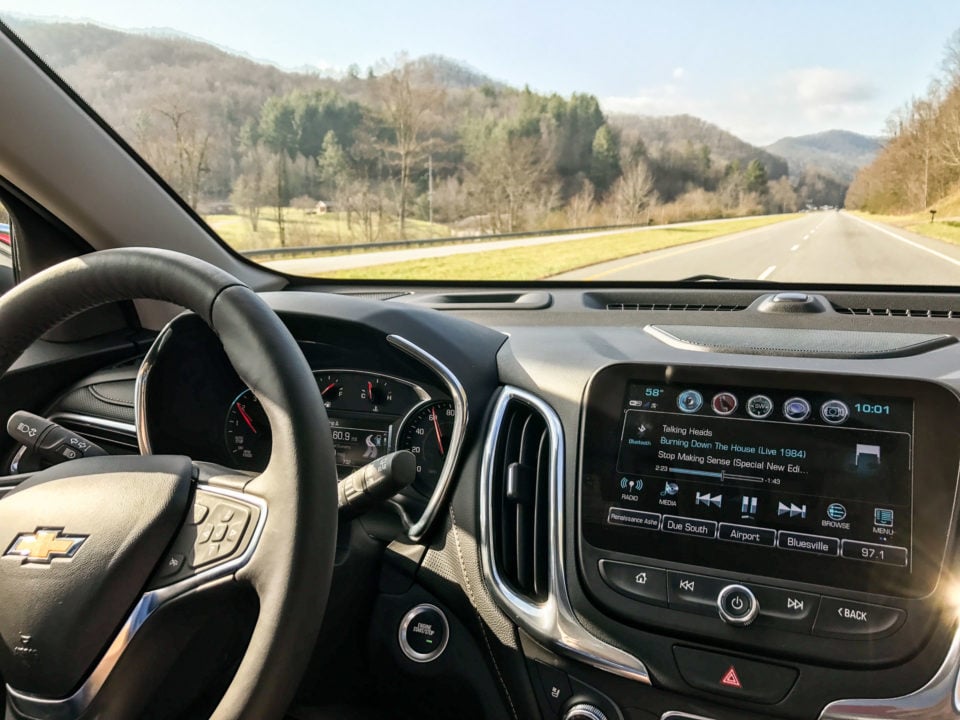 As we made our way into the countryside, there were lots of twisty and turny roads for us to check out. For the most part, I found the Equinox's the electric power steering to be pleasant and easygoing, if a little imprecise going through the twistiest bits of road. Like most SUVs, some body roll is present too, but overall the suspension did a good job keeping us in check in the corners, and offered a smooth and comfortable ride.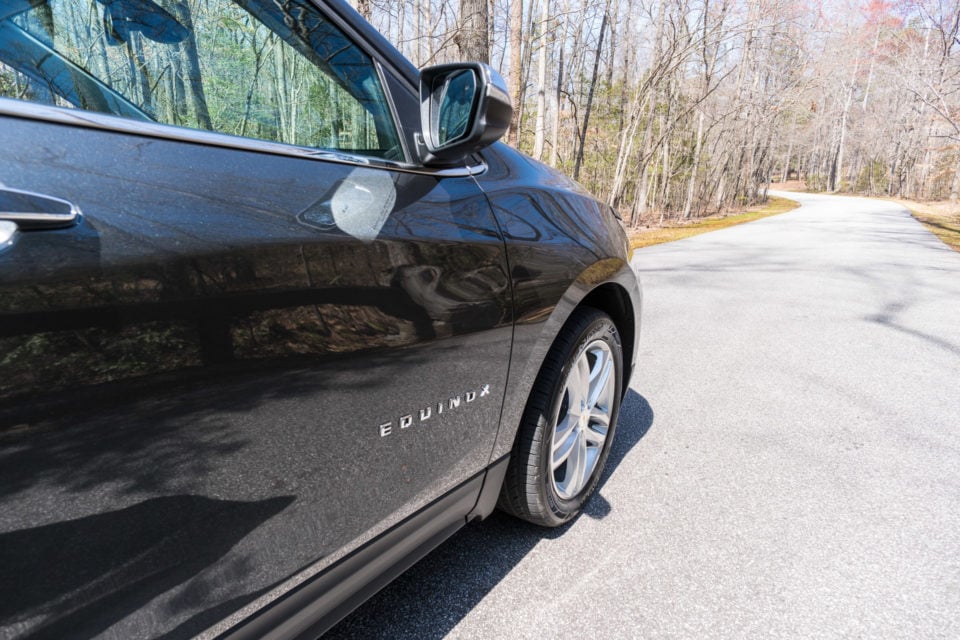 Like many other new cars, the Equinox uses a stop/start technology to improve fuel economy, shutting off the engine when you come to a stop, then switching it on, as soon as you take your foot off the brake and just before you accelerate. Unlike other cars with such tech, the Equinox's stop/start is brilliant. It's so well implemented, it's virtually unnoticeable other than the silence when you're stopped. That's a good thing, since I could find no way to turn it off, as I've had to do in other cars where the feature is too jarring. EPA estimates peg the 1.5-liter FWD at 26/city and 32/highway MPG, and we averaged an impressive 30.9 over the course of our drive.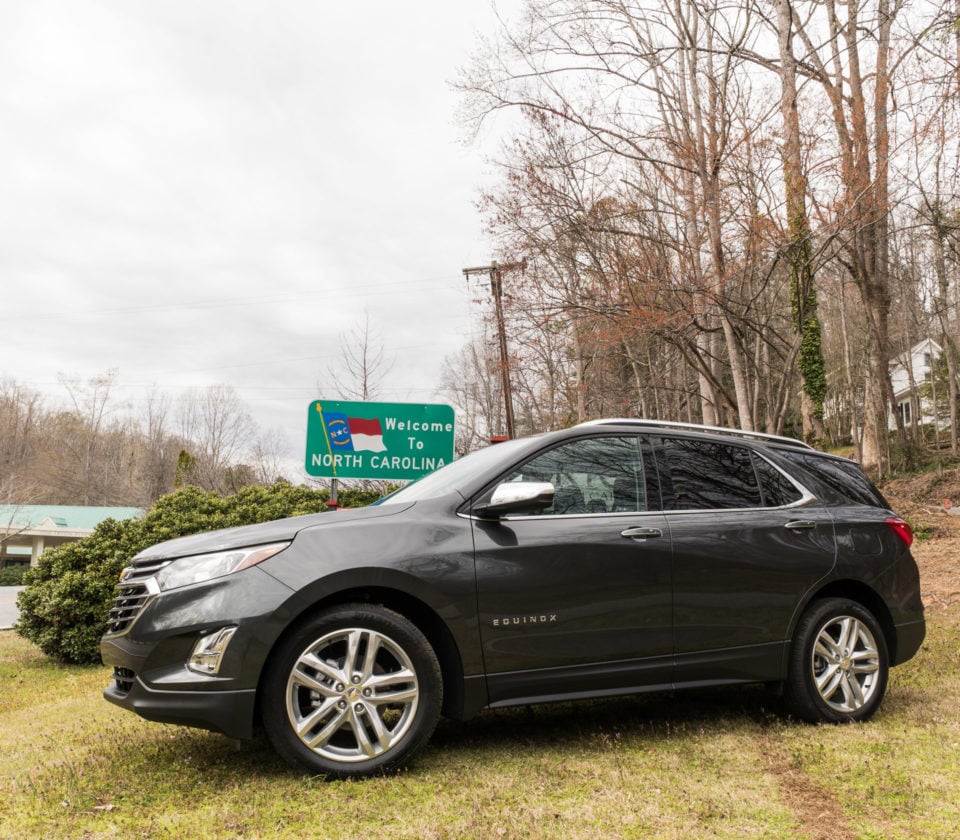 Continuing our route, we crossed over into North Carolina, where we took a little time to explore all that the interior of the new Equinox has to offer.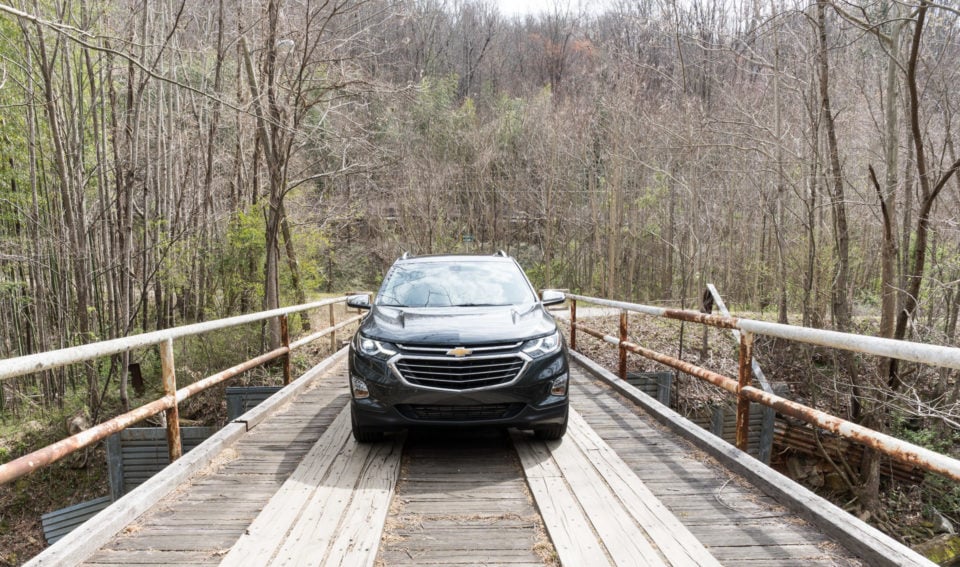 For starters, the new cabin offers more visual interest than before, with smooth and undulating surfaces, and more of an elongated, horizontal feel across the dashboard. In the fully kitted out Premier model I drove, there's stitched leather seating and trim, and a reasonable number of soft touch surfaces. The top of the dash is still just a hard, painted material, but its matte finish does a great job keeping down glare off the windshield.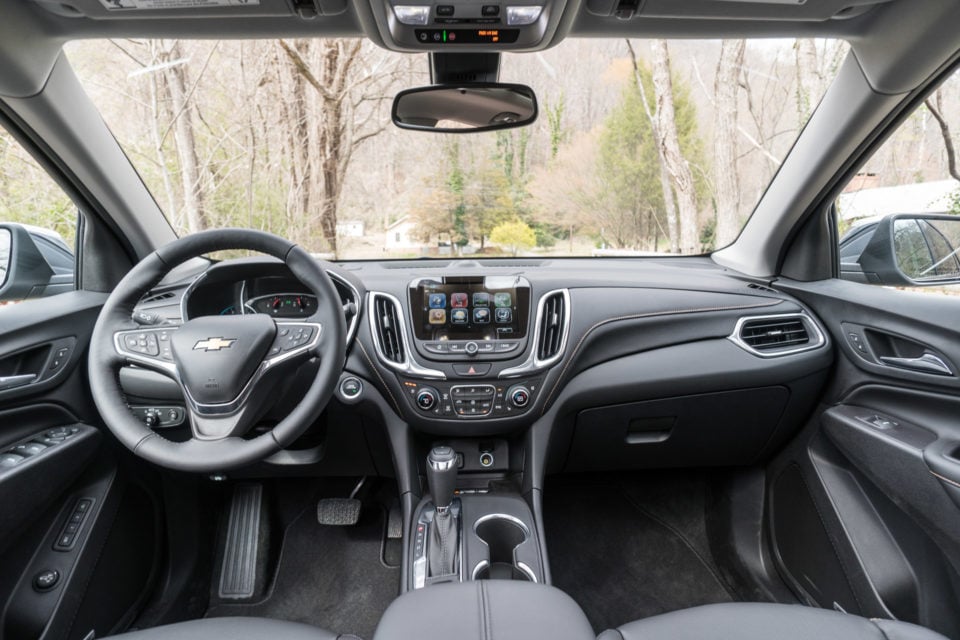 The front seats can be equipped with heat and ventilation, both of which came in handy through the mix of temperatures we experienced along the way – from the low 40s up to the upper 70s. Overall, I found the front seats to offer good comfort and support, and legroom and headroom is plentiful both in front and back. The cabin feels even taller thanks to the new and expansive panoramic sunroof overhead.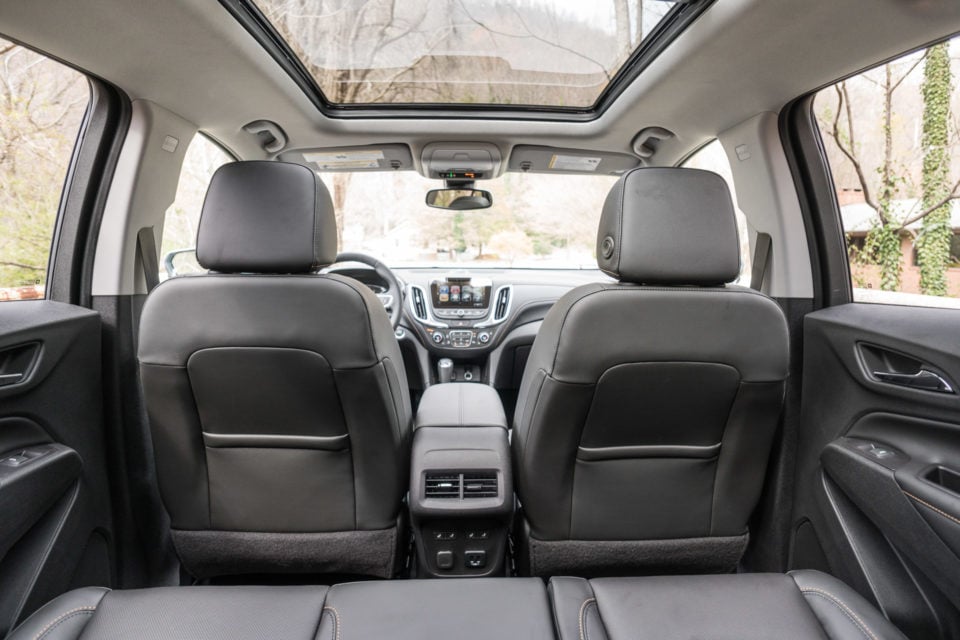 My driving partner and I did notice one thing we didn't care for though – the back seat's angle, which seems to be leaned backwards more severely than you'd think. This angle didn't seem particularly natural for my back or my co-pilot's either. I'm assuming they did this for added headroom, but I sure would have liked to have seen a way to adjust the angle to make the seats more upright.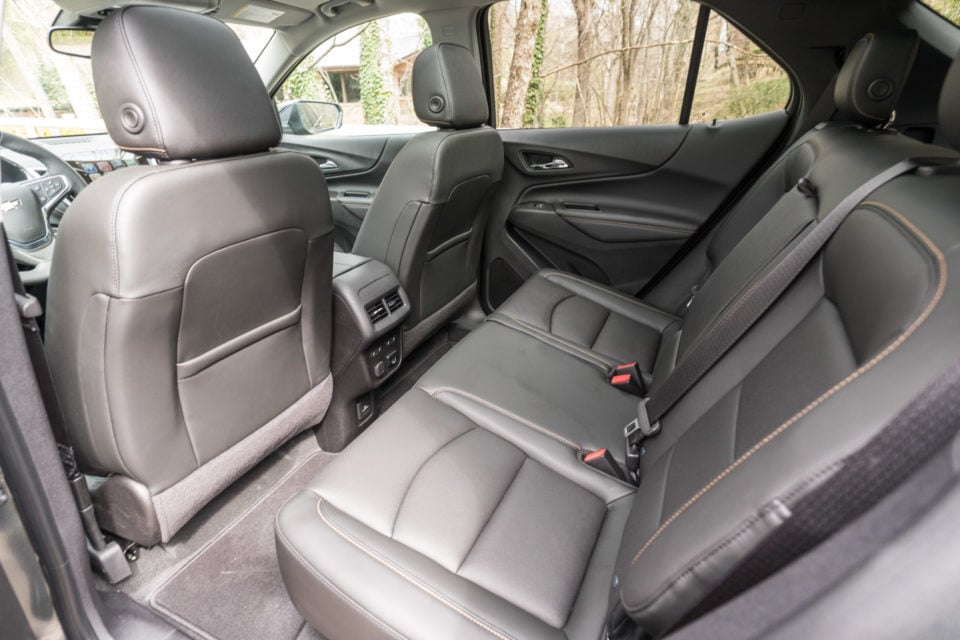 In back, there was plenty of space for all of our luggage, with an ample 29.9 cubic feet of space behind the back seats. If we had cause to carry more, that space bumps as high as 63.5 cubic feet with the back row folded down.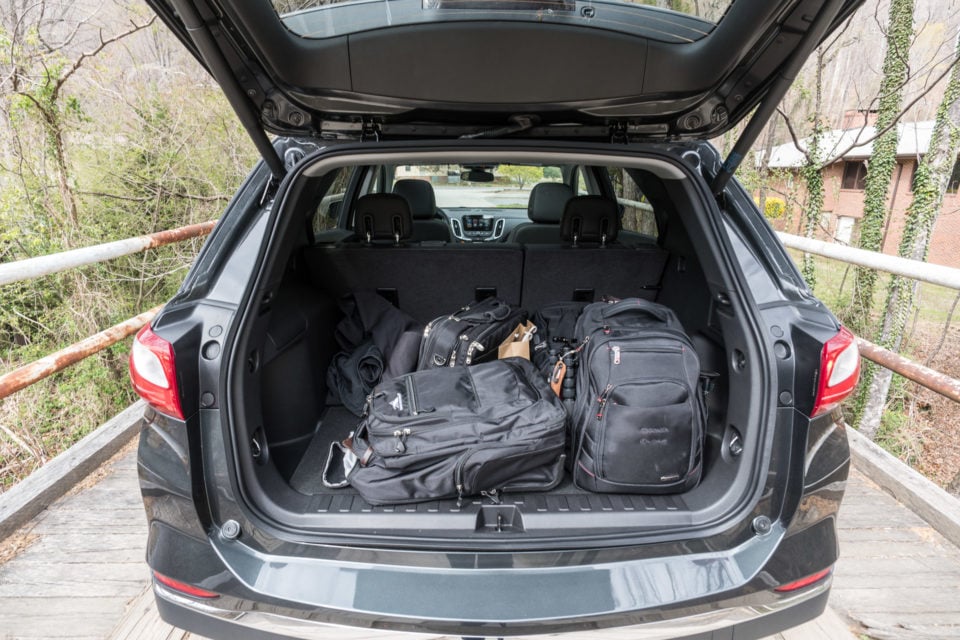 Our interior tour done, we set off towards Pearson's Falls, a waterfall set back in the woods in Saluda, North Carolina. When we got there, the gate attendant indicated that it was a "short" and "easy" 1/4 mile hike to the falls, so I figured maybe 5 or 10 minutes. Instead, the hike took about 30 minutes, and was almost entirely uphill.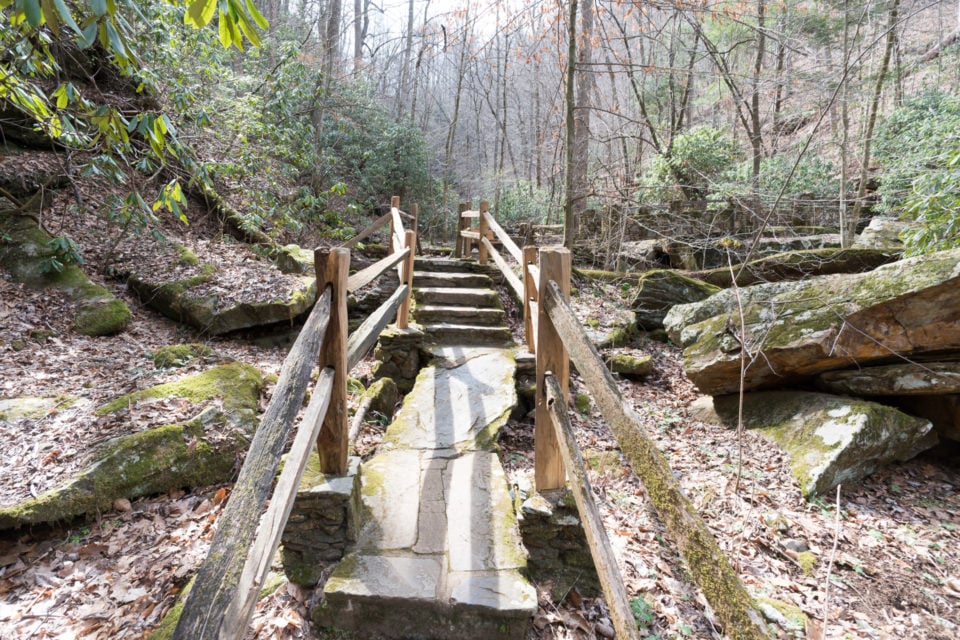 But the payoff was worth it. I only wish that we could have found a way to drive the Equinox alongside the falls to grab a photo, but short of helicoptering one in, that wasn't going to happen.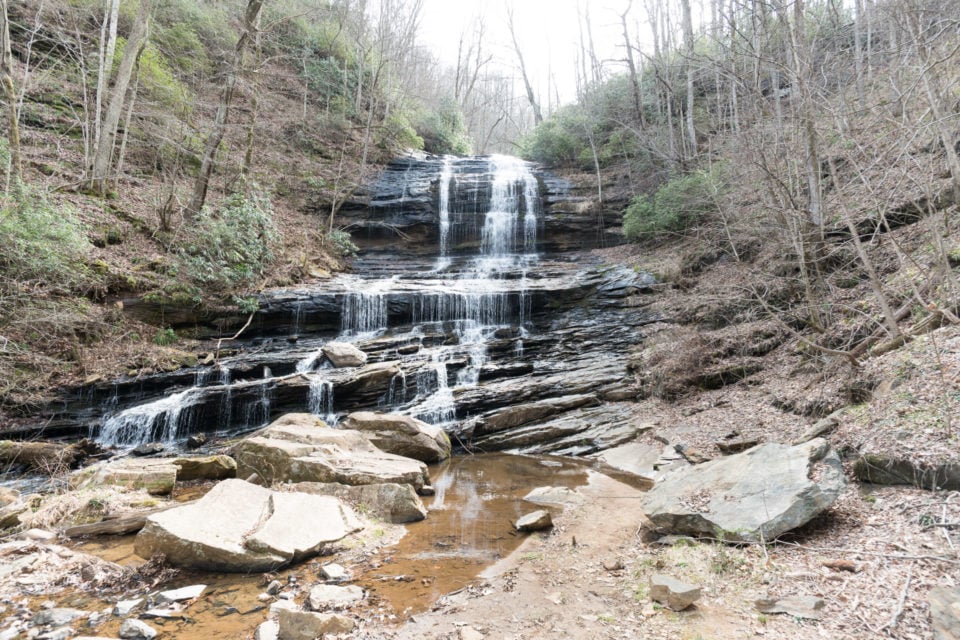 After a long, sweaty schlep back to the car, I was very happy to get back in my comfy driver's seat, crank the dual-zone air conditioning down to 65º, and enjoyed another dose of cooling from my ventilated seat. Now, it was time to head on to our destination for the night, Asheville.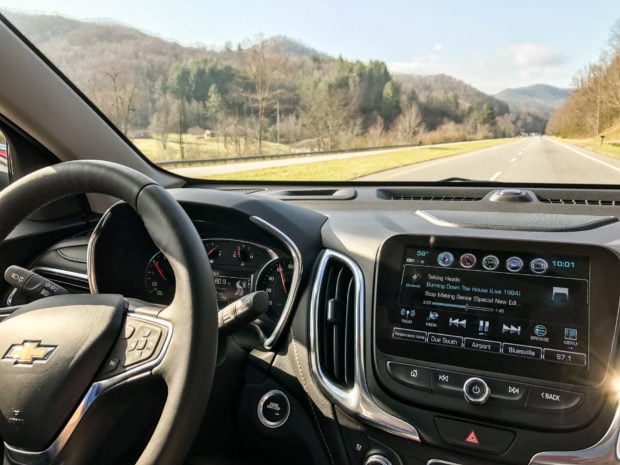 This cheerful town is packed with good stuff, from cool galleries and boutiques, to hip restaurants with lots of farm to table cuisine, great cocktails, and a warm and cozy vibe of a community packed with creative folks. Dinner and drinks at Sovereign Remedies were fantastic, as was breakfast the next morning at Biscuit Head – home to some of the best breakfasts on the planet.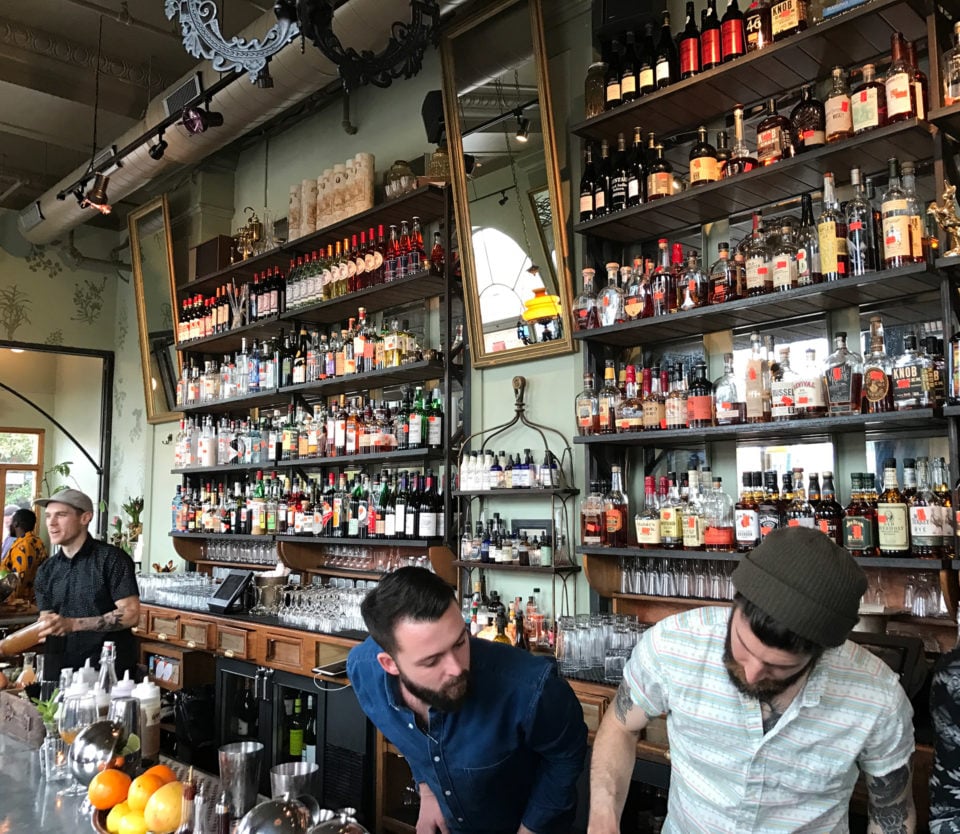 Among the stops in Asheville was the Moog Music factory, home to some of the world's best known and most desired analog synthesizers. Everyone from The Beatles to David Bowie to Michael Jackson to Nine Inch Nails has used Moogs in their music.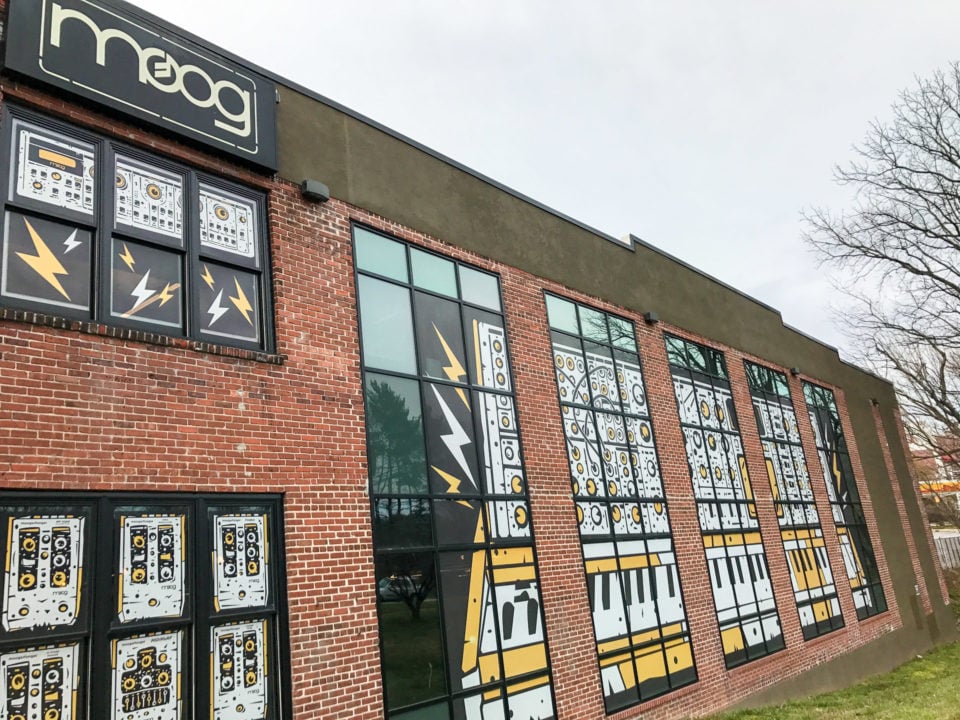 If you're into music at all, I highly recommend a stop at the Moog Store or to take a factory tour for yourself. Both are open to the public.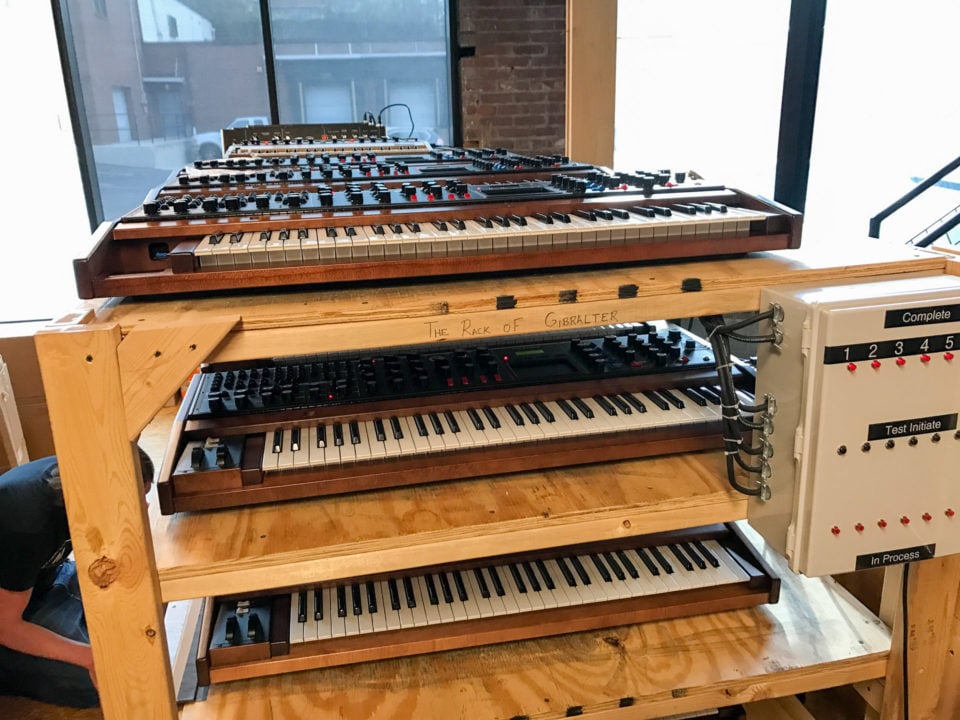 After a failed attempt on a previous trip, I had hoped to explore the Asheville Pinball Museum, but sadly they keep short hours, and they need an entire day each week to fix machines.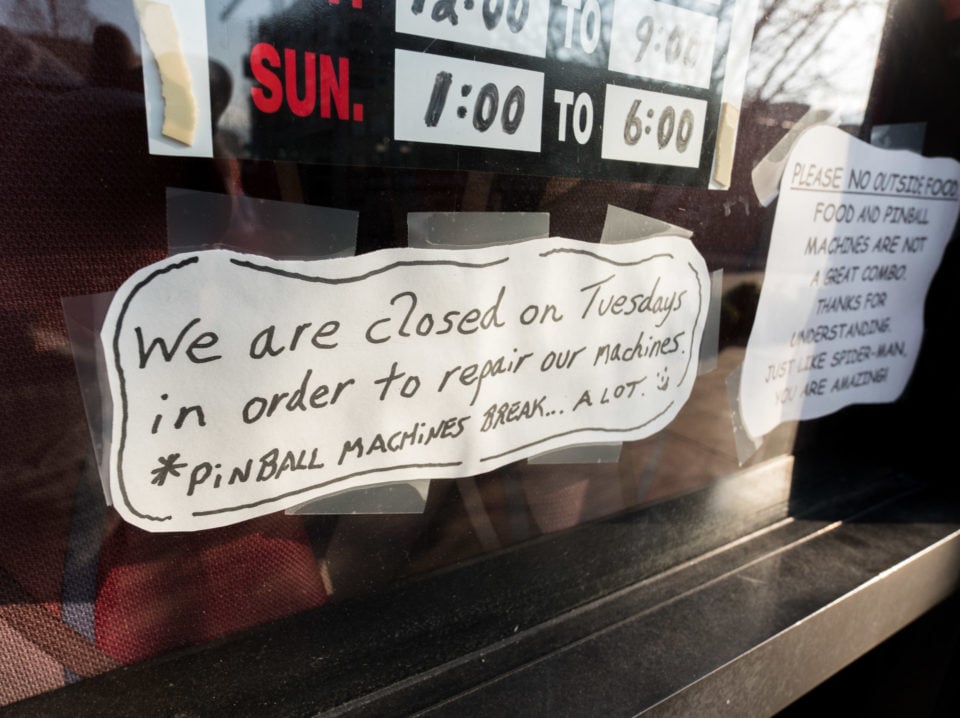 A brief visit with Pac-Man, Blinky, and some colorful garden gnomes was as far as I got this trip, but I fully intend on returning to Asheville and playing some pinball there.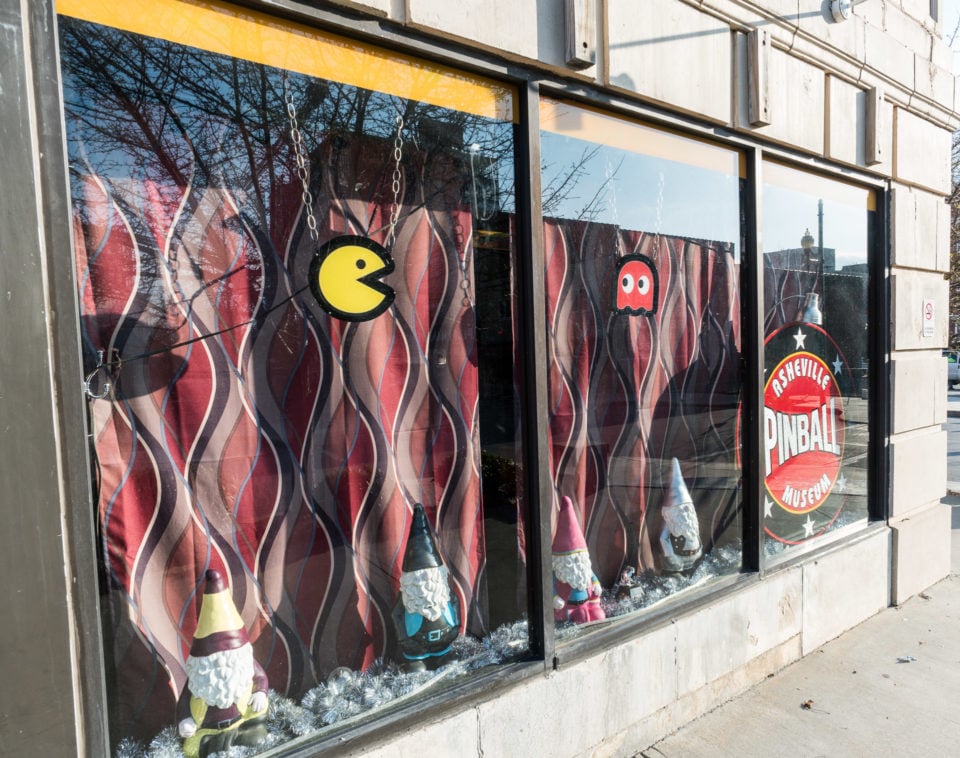 In the end, the new Equinox proved a great, comfortable, and versatile way to explore, and as Chevy likes to say "find new roads." Packing everything that's made it a popular choice for years, plus numerous upgrades and refinements, the new Equinox is a welcome addition to Chevy's latest lineup.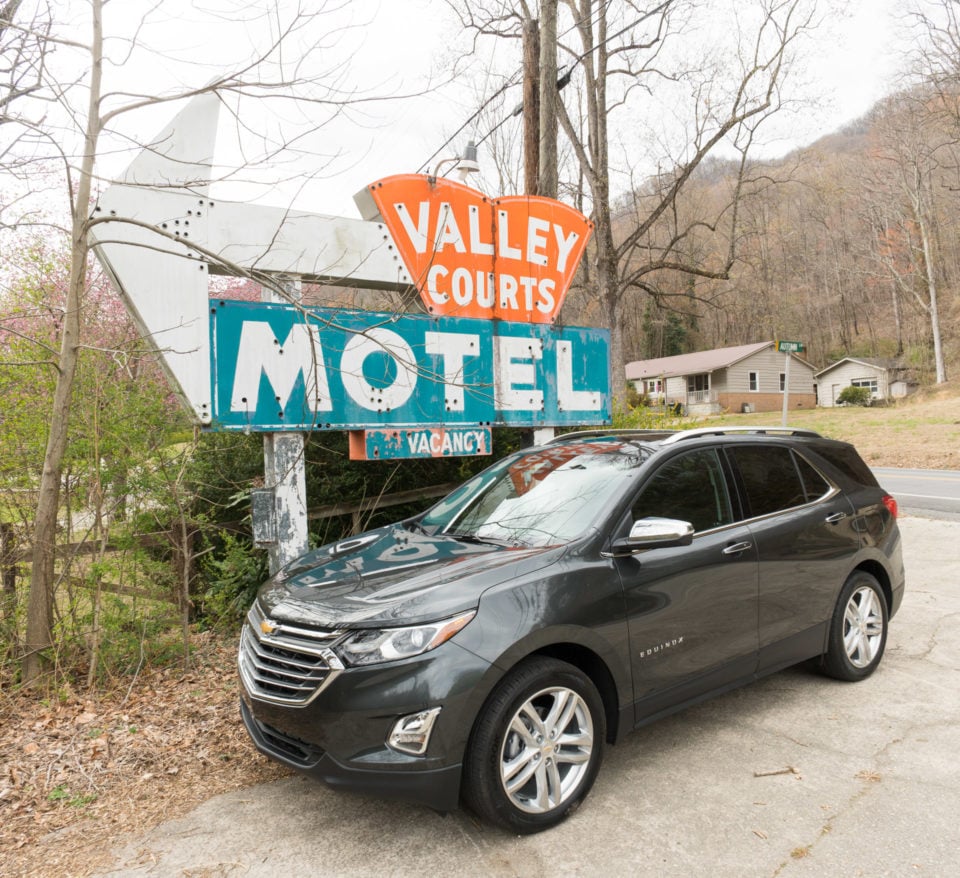 Source:: 95 Octane