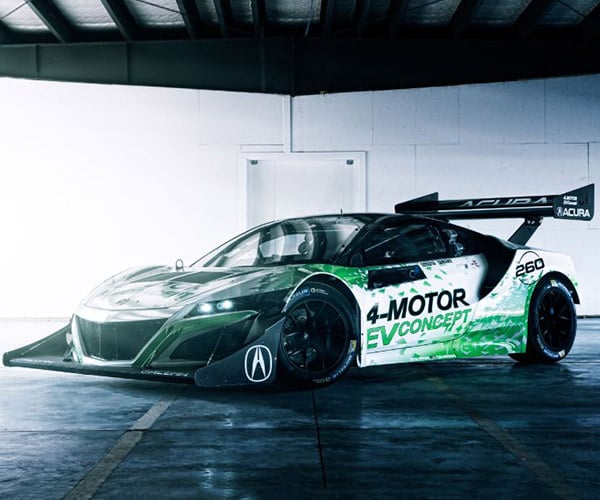 Years ago, I was dispatched by a now-defunct magazine to cover the Pikes Peak International Hill Climb. It took place that year in the first week of June, and I was psyched to watch everything from dune buggies to semi-trailer cabs blast up the 156 turns and near 5,000 vertical feet. Mother Nature had other plans, as snow moved in on the summit of the mountain and forced race organizers to shorten the course and I spent most of the day descending from the mountaintop along steep, snow-covered slopes.
Let's hope snow doesn't interfere at this year's race, as Acura and Honda have unveiled an all-electric, NSX-inspired EV Concept to race in the Electric Modified Class at the 2016 Broadmoor Pikes Peak International Hill Climb. The EV Concept utilizes a revised version of the experimental, all-electric, 4-motor Super Handling All-Wheel Drive powertrain that helped Tetsuya Yamano win last year's Pikes Peak Challenge Exhibition class in a CR-Z-based electric prototype. Yamano takes the wheel again this year in a vehicle boasting three times the output of the CR-Z's engine.

The concept will be piloted by Tetsuya Yamano, who campaigned last year's CR-Z-based electric prototype to its class win. The powertrain produces three times the total system output of last year's electric prototype and is mated to the NSX body. With Honda's Twin Motor Units providing independent torque distribution to all four tires, not to mention the EV's immunity to the lack of oxygen issues plaguing conventional combustion engines in the Colorado mountains, Yamano and the Honda team stand a good chance to come out on top.
Source:: 95 Octane