By Ben Shepard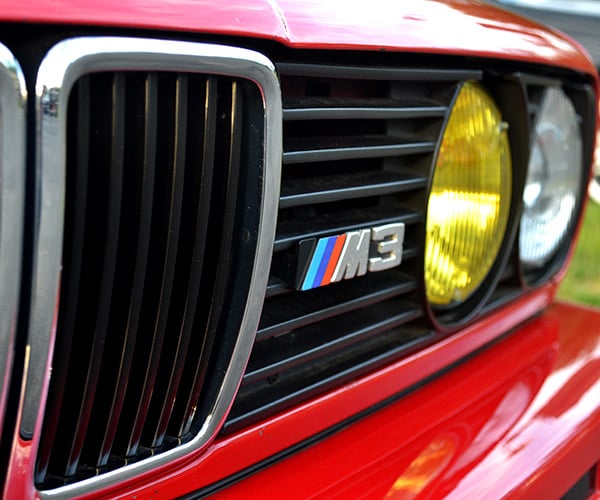 This was the cleanest BMW M3 I had ever seen. The body looked as if it had just left the factory, the paint was pristine, the tires and wheels looked brand new, and there was nothing on the car that alluded to it being at least 23 years old.
The E30 is special in the history of the 3-Series because it was the first truly motorsport developed 3-Series in BMW's history. The BMW M division is the code-named department for motorsport development. It began in the early 70's as developer of Formula 2 cars and engines, as well as Formula 1 engines. They were highly successful. BMW quickly realized how much their customer base would enjoy an M division car. Originally the M division built production cars only if they were needed for homologation, thus the M1 was produced to race against and beat Porsches. However, due to a new set of regulations, the M1's were left in a group of their own. The M Division then produced their first sedan, the 1980 M 535i and the utterly gorgeous M 635i coupe. However, the first sedan to truly wear the M badge was the M5. The M5 was fantastic; very quick and very popular. Yet the mighty M3 is much more popular and inexplicably better.

Introduced at the 1985 Frankfurt Motor Show, the M3 was seen as a remarkable racecar set up for the road. It was the right size and weight. The engine was high revving and powerful. The chassis was firm and reflected its lengthy research and development. Also, its classic design is refreshing to view.
The M3 immediately had an aftermarket following that has just gotten bigger to this day. One reason is that the M3 is the basis of so many different automotive genres. There are M3's built for; rally racing, drifting, rallycross, autocross, full-blown racecars, track day cars, show cars, collector cars, and some are still being used as a daily driver. I firmly believe that there is has not been a single BMW e30 M3 that is not enjoyed by whoever is driving it. The M3 is the perfect platform for any racing enthusiast and a perfect car for anyone with a passion for driving.
Source:: 95 Octane