By Paul Strauss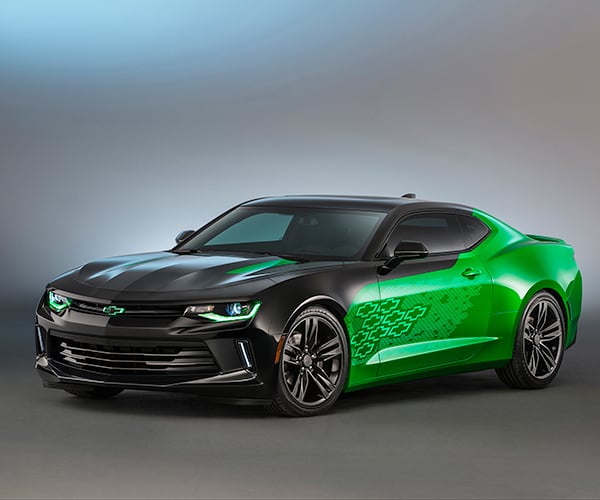 I'm currently in Salt Lake City, getting ready to take the shiny new 2016 Chevrolet Camaro on an epic road trip. But for those attending SEMA this week, there's plenty of Camaro goodness to go around too. In fact, Chevy is showing off four very special customized Camaros for your viewing pleasure. The four cars include the Camaro Chevrolet Performance concept, the Camaro Hyper concept, the Camaro Black concept, and the Camaro Krypton concept.
The Camaro SS provides the foundation for the Performance and Black concepts, while the blue Hyper concept is based on the LT coupe, and the Krypton started out as an RS.

The pure as the driven snow Performance model rocks lightweight billet-cut aluminum wheels, a lowered suspension, and other upgrades. If you look carefully, you'll notice a variety of red and black accents to add to the drama.
The bright blue Hyper concept, sports a retro-inspired electric blue paint with white racing stripes, along with a lowered suspension and performance exhaust. You can't see it here, but it's got a brilliant white interior, and a special blue engine cover to tie the color scheme together.
The devilish looking Camaro Black concept has a cool "Mosaic Black" metallic paint, with virtually every surface blacked out or darkened. It also rocks upgraded exhaust and air intakes, a lowered suspension and upgraded brakes. And while it's not mentioned anywhere, it appears to have custom red LED accent lighting.
My favorite of the bunch is the Krypton, which sports an electroluminescent "Krypton Green" paintjob, green -trimmed HID headlamps, and light up Chevy bow ties running down the sides of the body. Like the others, it's also had its suspension lowered.
If you're lucky enough to be visiting SEMA this week in Las Vegas, you can check out these cool Camaro concepts in person.
Source:: 95 Octane