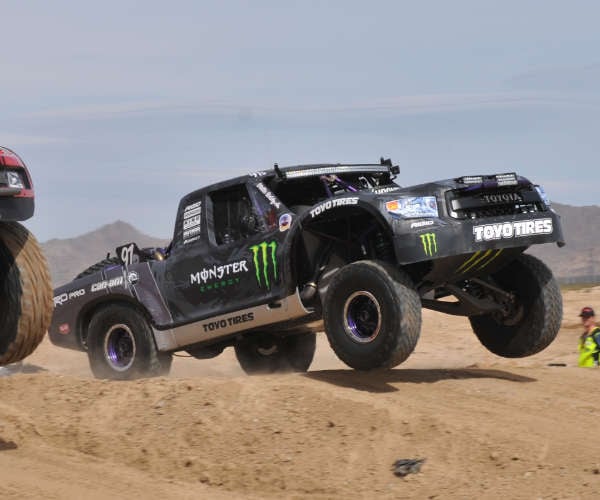 If you're a fan of motorsports and you haven't been to a desert truck race, you're genuinely missing out. I recently had a chance to attend the Mint 400 race, part of the Best in the Desert Series, this past weekend in the area around Las Vegas, and can tell you that you NEED to make this on your must-do list.
The Mint 400 is the biggest desert race in the United States, and consists of grueling 116 mile laps through the barren land and hills of western Nevada. In this year's race, the entrants started in Primm, Nevada and raced towards Vegas before looping back. The terrain is full of different types of dirt, gravel, sand, and more. It's extreme and it's notoriously difficult on the vehicles.
It's also difficult to spectate, but that doesn't stop the thousands of people who make the journey to Vegas every year to watch the epic event. There are spectator stages set up along the course, as well as a big observation area located at the starting line. But the Mint 400 does even more to entertain fans than that.
The pits are relatively open for spectators to walk through, meet their favorite drivers, and talk shop. It's not uncommon to run into the owner of a race team and talk to them. What's great about the Mint drivers and owners we spoke with is how willing and enthusiastic they were to talk to fans and the media. The camaraderie is unlike any other we've experienced at any big motorsports event.
Jim Riley of Jim Riley Racing said it best, "You race the against the desert first." It's not uncommon to see drivers stop and offer to help out other drivers in trouble, or for fans to bring along spare parts to loan to teams if they need it. Yes, there are winners and losers, but conquering the desert is the most difficult challenge for the teams and drivers.
One of the big draws for this year's race was Jay Leno. During the Chicago Auto Show, Toyota announced that Leno would be racing in the Mint 400 in a Tacoma TRD Pro. He performed a comedy routine in Vegas the night before, then was up and racing at 5:00am to start his 116-mile lap.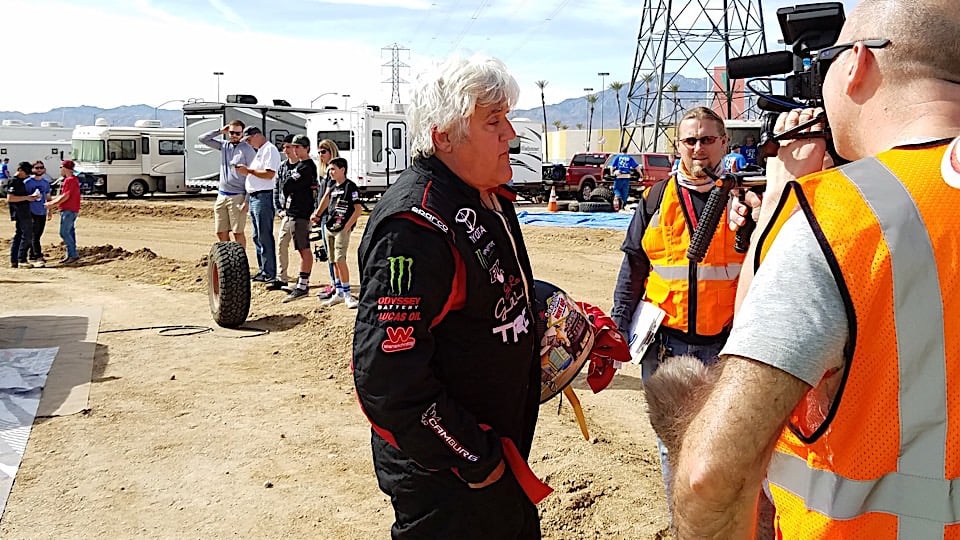 The truck was in a class of one, so obviously he and his team won, but that doesn't lower our respect for what was accomplished. It's also a testament to how reliable and solid the Tacoma TRD Pro actually is.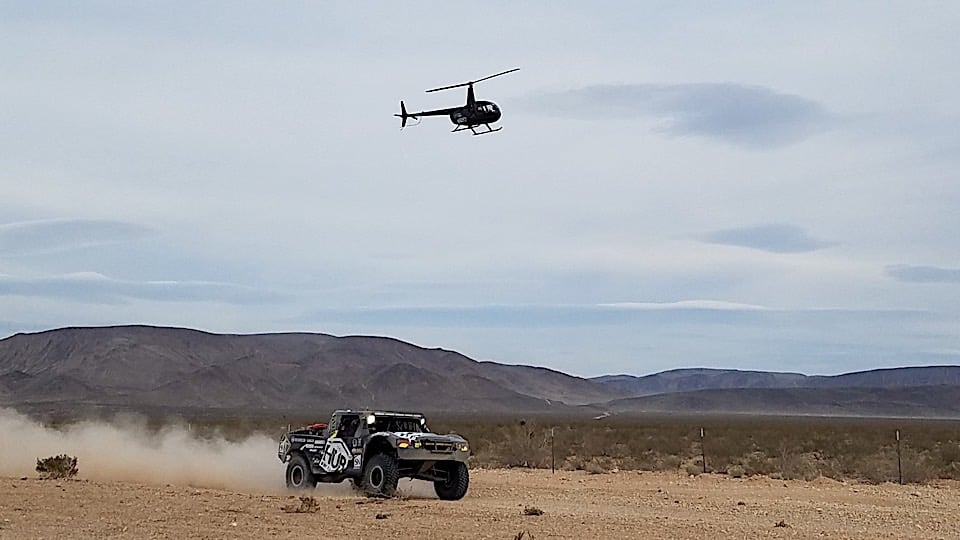 While you should attend the race any way you can, the best way to watch the race is from a helicopter. Our hosts had arranged to send us up in one to get up close and personal with the trucks on the course.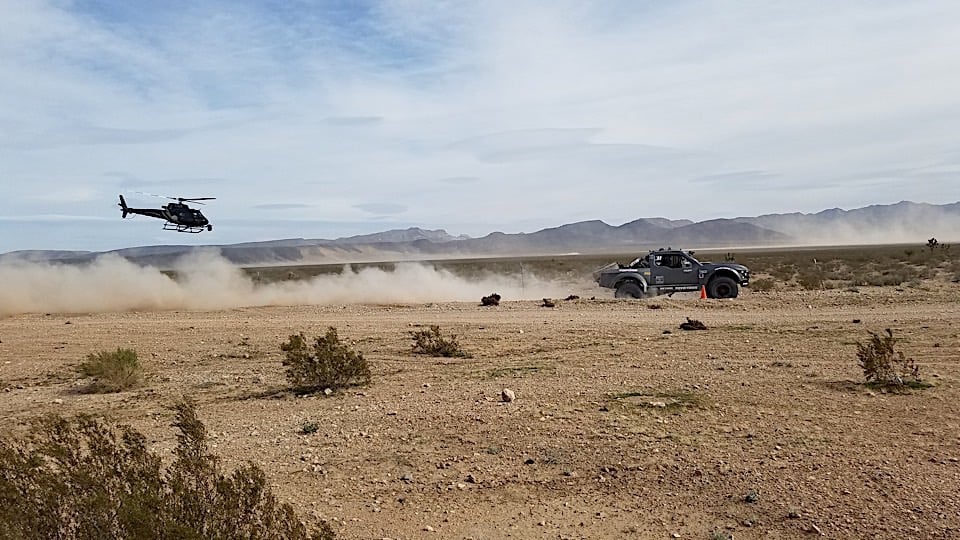 Even if you've been in a helicopter before, nothing prepares you for chasing after trophy trucks 50 feet off the deck across a dry lake bed at 120 miles-per-hour. You're up close to the action, of course, but you also feel a bit like a combat pilot strafing the desert. It's an experience we won't soon forget.
We also had a chance to talk to Monster and Toyota racing driver BJ Baldwin prior to him heading out. He hasn't had the best of luck at the Mint, but it's still one of his favorite places to race. He ended up in 3rd place in the unlimited class. Rockstar's Rob MacCachren, at age 51, brought home the victory.
You'd think that a race over so many miles wouldn't have much close-up, fender bumping action, but you'd be wrong. While up in the air we witnessed several competitors going at it, bumper-to-bumper, vying for position in the absolute middle of nowhere. It's something you would've never have seen from any of the spectator spots.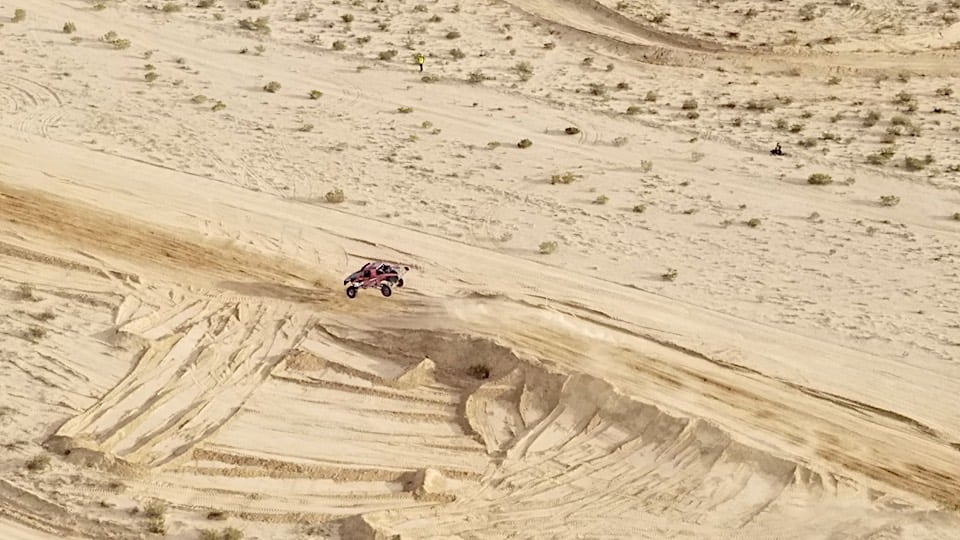 Much like the sand in the desert you inhale all weekend, the Mint 400 gets under your skin. You'll walk away with a new appreciation for the sport, and also a desire to get more involved. Desert racing is likely the most entertaining racing you aren't currently watching. You want to remedy that.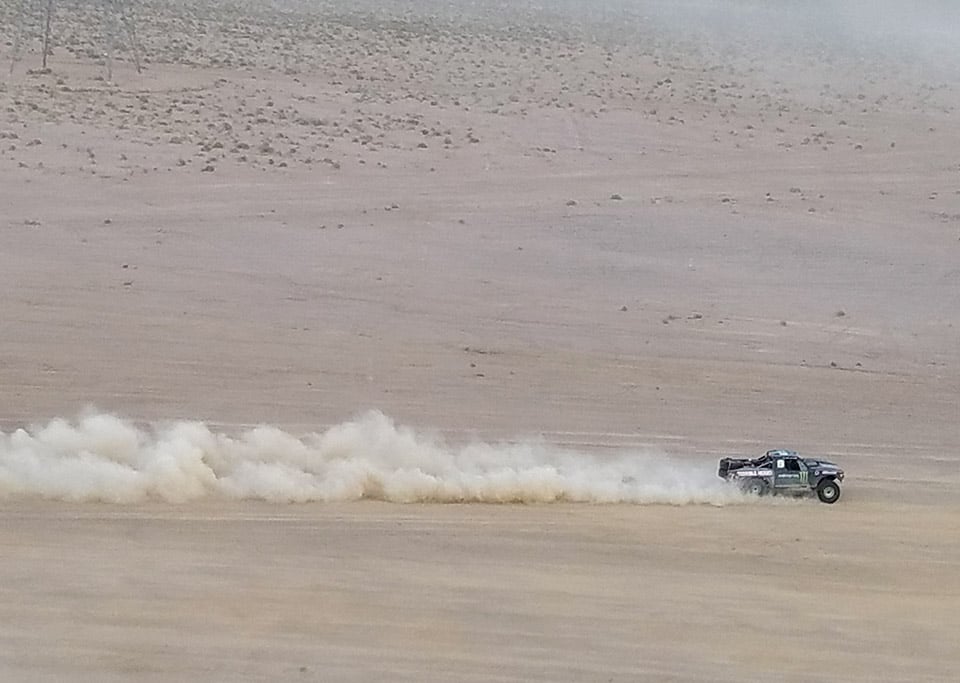 Source:: 95 Octane