By Paul Strauss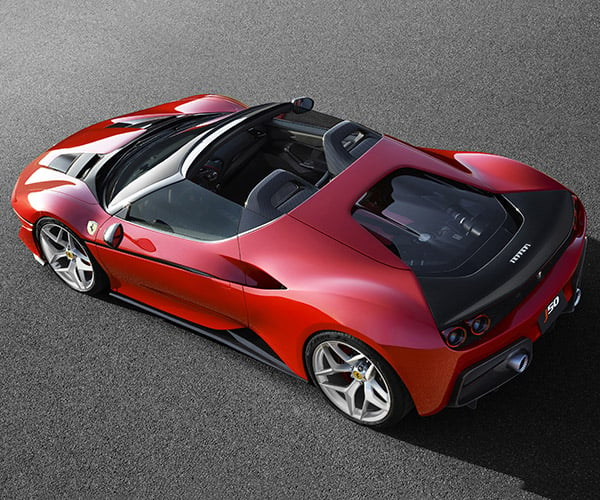 I'm a big fan of the Ferrari 488 and the 458 that came before it. If I could afford one, I'd definitely think about buying a 488 Spider, since I like the idea of an open top for weekend touring. Now, Ferrari is showing off a new variant of the 488 Spider that's truly droolworthy. Designed to celebrate the 50th anniversary of Ferrari in Japan, the J50 is a serious thing of beauty.
While it's based on the chassis of the 488 Spider, the J50 has a whole new body, with a targa-style open top, and wide, dramatic lines that harken back to the greatest days of Ferrari design .Its carbon fiber roof is made from carbon fiber, and stows behind the seats. I'm especially taken with the black beltline detail that's reminiscent of the 288 GTO, F40 and F50, and the sharp and aggressive double-decker front-end.
Like the 488, it's powered by a 3.9-liter twin-turbo V8, but this one puts out a little more juice, with 680 horses, versus the 661 hp found in the Spider, and unlike the Spider, you can bear witness to its impressive power plant beneath a clear polycarbonate window.
Inside, the seats get special trim which mirror the contour of the rear deck lid, and are shown here with alcantara surfaces and dramatic red trim.
Sadly, just 10 Ferrari J50s will be built, meaning that they'll be well out of the reach of mere mortals, and as infrequently as you see Ferraris on the road, this one will be a true unicorn. Hopefully at least a couple of them will be sold outside of Japan, so we could have a chance to see one in person someday.
Source:: 95 Octane