By Gigi Leonard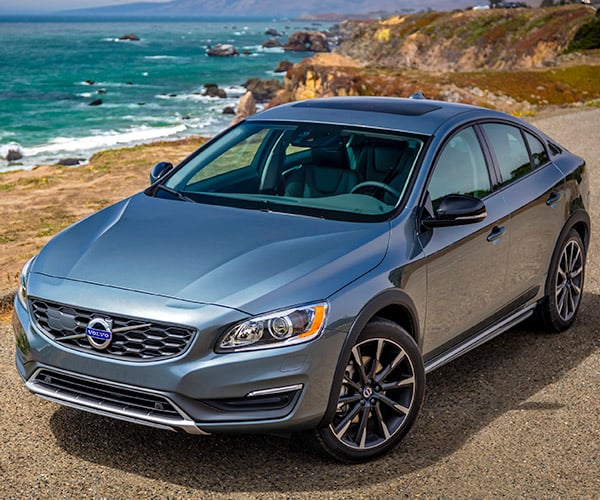 Volvo is a beloved brand that has a reputation for being safe, family-oriented and durable for many decades. That's a pretty nice feather in their cap, but how has the brand adapted as time has passed to the consumers who demand progressively plusher details in their automobiles to reflect their lifestyles? I discovered the answer to this question when the brand invited me to drive the 2016 Volvo S60 Cross Country along the curvy roads of Highway One in bucolic Marin County. What I found out was that Volvo has a neat quirk: they respond swiftly and thoroughly to customer feedback with élan, and have answered consumer needs with a well-powered, comfortable ride that somehow seamlessly straddles the line between luxury and sport.

Urban Warriors who need to manage careers, soccer practices and band recitals in between their weekend passions will be duly impressed with the 2016 S60 Cross Country. Volvo has included just about every sexy feature anyone with an active lifestyle could wish for in their latest iteration, which at this point is limited to 500 units in the U.S. The fun begins with a 250 hp 2.5L inline five-cylinder turbo engine that possesses 266 lb-ft. of torque and a six-speed automatic.
Add to that a higher ride height, thanks to the 7.9" of clearance made to enable soft off-road adventuring. The Hill Descent, Corner Traction and Stability Control systems help you manage soft, steep and slippery surfaces with ease. The exterior is distinct and aggressive; it looks athletic and robust on the asphalt, and will get you noticed with a honeycomb grille, 19" BOR matte black wheels, and black mirror caps and trim.
Passing power is at the ready, with shifting that glides. The steering was sporty, heavier than what you might find in a typical sedan. I felt comfortably in control as a I made my way from ocean to forest on the twisty California roads.
Sitting behind the wheel made me comfortable too; the pedals and shifters were within easy reach, the rear leg room was roomy enough to handle little kids and big adults with their assorted gear stowed conveniently in the trunk, and a spacious center console kept me from bumping elbows with my driving companion. As far as minor issues go, I wasn't too keen on the the 7" Sensus LCD screen; that non-touch screen was a tad small for my taste, and placed slightly out of reach, requiring some effort to input info on the phone-like keypad.
The interior cabin is stylish and pleasing; it includes bright contrast stitching and leather interior, walnut wood inlays, leather upholstery, contour seats, a digital instrument panel in complementary tones, rear window shades and chrome interior accents with the Platinum Package. There's also tons of tech, including rear cameras, 3-D navigation and features like Adaptive Cruise Control, Cyclist Detection, Parking Assist and the Blind Spot Information System (BLIS) to keep everyone safe. Volvo On-Call lets you unlock and start your car remotely and check diagnostics, among other things, while the Harmon Kardon sound system and the built in wi-fi hotspot keep things cool and modern.
Really, if you want to be enveloped in a luxurious environment that will keep you secure in harsh conditions, and that will also give you a thrill on switchback roads as you cruise your way to your half marathon, you should give the 2016 Volvo Cross Country a try. It's a pure ride which gives no doubt as to why brand loyalists keep their Volvos for years and years.
Source:: 95 Octane