By Paul Strauss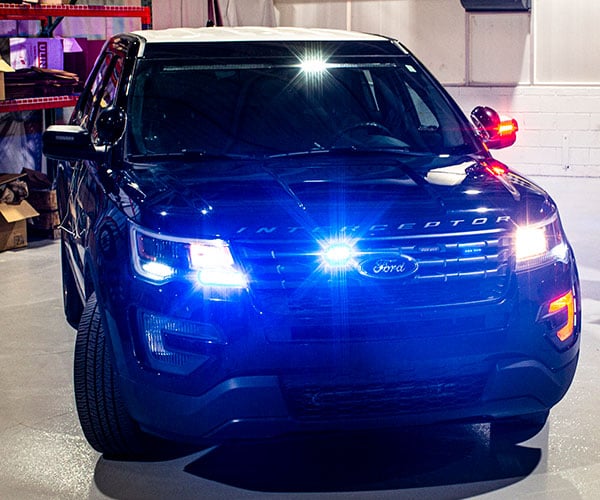 In the course of duty, Police officers have to transport strangers in their vehicles. This can create all kinds of health risks, as you don't know what sort of illnesses their passengers might be carrying. Cop cars often use plastic rear seats that can be hosed down and cleaned with disinfectants. But with something so contagious and dangerous as COVID-19 going around, the cleaner you can get, the better.
In the interest of improving health and safety, Ford teamed up with engineers from The Ohio State University to create a clever solution. The trick – kill the virus by turning vehicles into a sauna on wheels.
Using only software changes and the Ford Police Interceptor's existing powertrain and climate control systems, they've been able to increase the cabin temperature of the Explorer-based cop car to over 133º F, which is enough to reduce viral concentrations by as much as 99% in a 15-minute disinfecting session.
The cleaning process is kicked off by a user request, which starts the heating process while the vehicle is unoccupied, and then notifies them when the procedure is complete. The software has also been developed to help bring the cabin temperature back down to a reasonable level once it's done.
Killing viruses using heat has some advantages over chemical-based cleaning – notably in its ability to reach hidden areas where the disinfectants can't get to, or where a manually-applied cleaner might miss. Of course, the main downside to cranking the heat up inside of the car this high is that you need to remove anything that might melt during the cleaning procedure. So don't leave any chocolate bars sitting in your glovebox, or you could have a big mess on your hands.
The software can be installed on 2013 to 2019 Police Interceptor SUVs. Ford plans on making the update available to police departments so they can either install it themselves or via local dealerships. The heating process can be activated on 2016 to 2019 models without any additional hardware, while older vehicles will require an external tool to connect to the OBD port.
Source:: 95 Octane