By Amos Kwon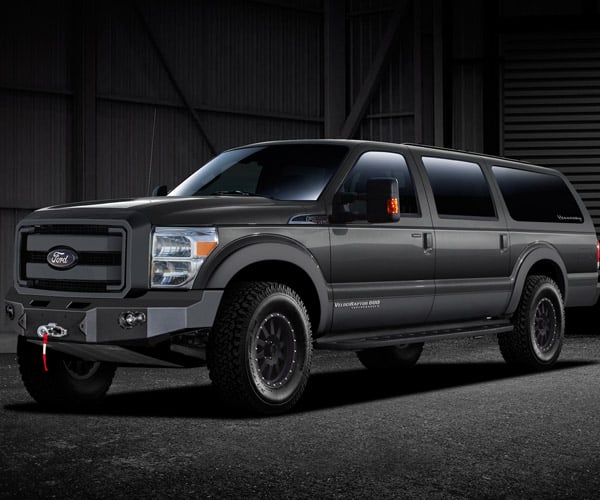 It appears that Hennessey's vehicular onslaught isn't nearly slowing down. They've just pulled the wraps off the the bigger brother to the
It appears that Hennessey's vehicular onslaught isn't nearly slowing down. They've just pulled the wraps off the the bigger brother to the F-150 VelociRaptor 600. Known as the F-250 VelociRaptor, it's based on Ford's behemoth F-250 Lariat pickup truck but with an SUV body. Then they slather it in matte black paint, as if the engine isn't enough to make bystanders soil themselves.
The bigger VelociRaptor has a few tantalizing engine options, some more than others: a 6.2-liter V8 with 385 horsepower and 405 lb-ft. of torque, a 6.7-liter turbodiesel V8 with 440 hp and 860 lb-ft., or the most appealing, a 6.2-liter V8 mated to a supercharger for either 600 or 650 hp. The fact that it seats up to seven people means the whole gang can scream in fear together. It's a good things all that power goes to all four wheels, standard.

Add bigger bumpers, second row captains chairs, a Warn winch, fancy alloy wheels and even LED lights, but those options do get added to the already monster price of $159,500, so check that bank account before placing the order. At least you'll have six months of waiting to come up with the extra funds.
Source:: 95 Octane