By Paul Strauss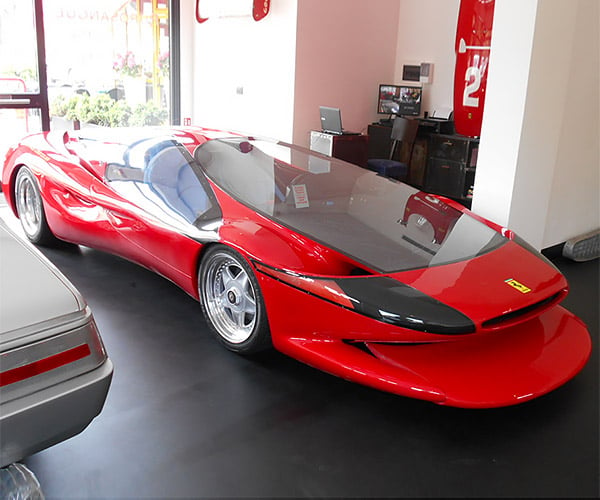 For most people the words "ugly Ferrari" are a contradiction in terms, an automotive oxymoron if you will. I would bet most of the people with that opinion have never seen the Testa D'Oro Colani, which is currently on display at Ferrari's
For most people the words "ugly Ferrari" are a contradiction in terms, an automotive oxymoron if you will. I would bet most of the people with that opinion have never seen the Testa D'Oro Colani, which is currently on display at Ferrari's Maranello Purosangue Museum.
Created by the German designer Luigi Colani, the car was manufactured in 1989. It's actually quite difficult to describe this one-of-a-kind vehicle given how unique its lines are. From the front, it looks like a giant frog sticking out its massive tongue. From the side it appears to be a cousin of Speed Racer's car. And from the rear it looks like a sawed off version of a contemporary Corvette. And clashing violently with the traditional Ferrari red exterior are its long, laid back sky blue racing seats.

Its mechanical innards are a little more conventional. It's essentially built on a Testarossa base, and features a flat-12, twin-turbo 739hp engine.
With all that power and odd styling, why was this ungainly by highly aerodynamic oddity ever made? To fly along the Bonneville Salt Flats and crack the land speed record. It never did set a record, but it did reach an insanely impressive 218 mph. In the end it was mighty ugly, but also mighty damn fast.
Source:: 95 Octane