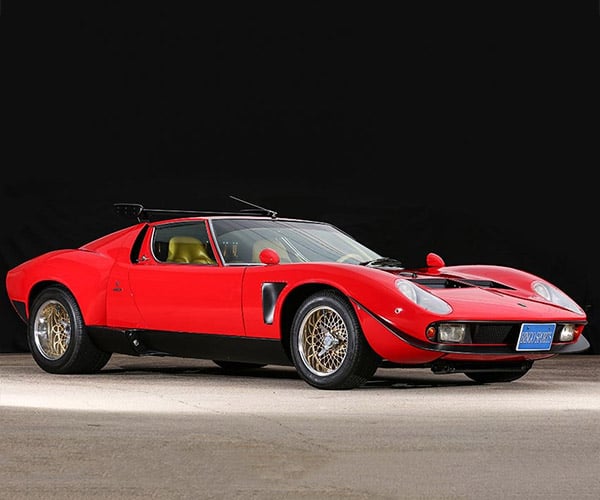 Lamborghini has been making some of the sexiest exotic cars to come out of Italy for decades. One of the most gorgeous of all the cars Lambo has produced has to be the Miura. This particular Miura is even more special than the norm; it's a 1968 Lamborghini Miura Jota SVR, being offered up by
Lamborghini has been making some of the sexiest exotic cars to come out of Italy for decades. One of the most gorgeous of all the cars Lambo has produced has to be the Miura. This particular Miura is even more special than the norm; it's a 1968 Lamborghini Miura Jota SVR, being offered up by Bingo Sports
While the original Jota prototype was destroyed in an accident, this Miura is just one of just a handful examples which were later converted by Lamborghini to the Jota spec. Back in 1975, this car had its weight stripped down to just 1330 kg (2932 pounds). Its V12 has been tuned to produce 440 hp and it has a large rear wing to improve downforce. It's also got some modern touches like Recaro seats, Blaupunkt audio and BBS wheels.
All the work was done by hand and in meticulous fashion for more performance. Everything about it is perfect on the outside, interior, and under the hood.
Apparently the Kyosho scale model of the Miura Jota SVR was modeled after this exact car. The car is for sale at an undisclosed price that is sure to be far into the seven-digit range if not higher.
Source:: 95 Octane