By Paul Strauss
Have you ever wondered what happens to all those cars that turned back in after a lease? How about when rental cars are retired from service? Or cars that are used by the automakers for marketing purposes? Well a good deal of these cars don't get sold directly consumers. Instead, they often go to a wholesale auction, where car dealers from all over can shop for inventory they think will appeal to their customers.
One of the biggest wholesale automotive auction houses in the U.S. is Manheim, who operates massive car auctions at over 120 sales sites around the country, as well as locations around the world. The company registers over 7.5 million vehicles per year for sale, with nearly 500,000 of those here in the Chicagoland area. Having sold over 100 million cars since it was founded in 1945, the company definitely has experience on their side.
I recently had the opportunity to attend an auction at Manheim's Chicago location, which is located about an hour from downtown in Matteson, IL. This 250-acre facility handles about 250,000 vehicles each year, of all shapes, sizes, and conditions. Buyers will see everything from cars with just a few miles on them, to defunct older cars which are being sold for salvage. As cars arrive, they're tagged and loaded into an inventory management system, and pre-sale inspection reports can be added to help buyers make better decisions, and to help improve resale value for sellers.
Operating year-round, the facility conducts a weekly auction that's open to all licensed car dealers, with about 4,500 cars up for auction each time. Unlike the classic car auctions I've been to, Manheim processes cars at an insanely fast pace. In just this one location, there are 22 vehicle lanes, with 14 auctioneers, and auctions take just about 30 seconds from start to finish. It's truly impressive to see such a massive operation working with such speed and efficiency – and then to think that this same thing is going on at dozens of other locations all over the country.
The experience of walking through the auction building is sensory overload, between the rapid fire chatter of numerous auctioneers, their ring men soliciting bids, the roar of cars constantly driving through the lanes, and the pervasive aroma of exhaust. I was truly amazed that anyone could keep track out what's going on at any given auction, but these guys are pros, and each auction runs like clockwork.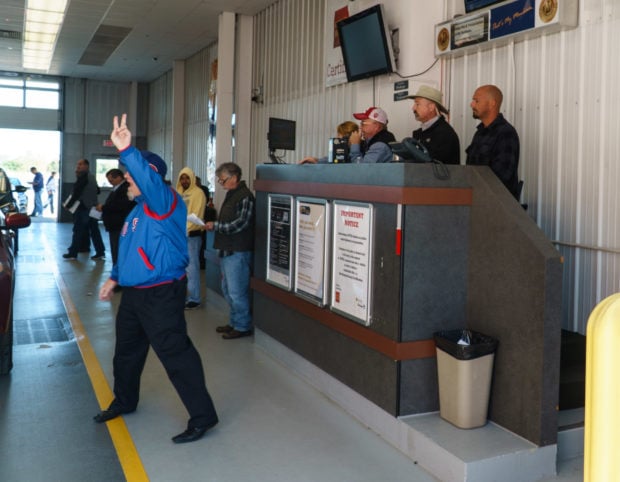 The bidding process moves at a breakneck pace, with buyers moving quickly between stations, scanning the barcodes on vehicles to view condition reports, and then making bids. On any given auction day, about 1,000 dealers bid in person, with another 2,000 or more bidding through an online simulcast. While many vehicles are sold as-is, Manheim offers numerous services for buyers and sellers to improve the value of cars either before or after the auction.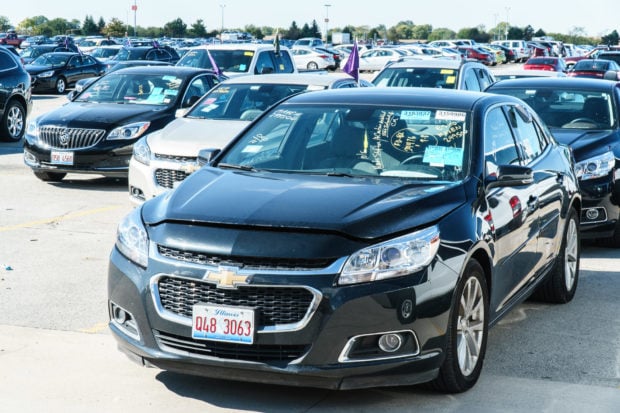 Cars which are slated for mechanical or cosmetic repairs are tagged during an inspection process with a list of items to be serviced directly at Manheim's on-site facilities.
Vehicles often have dings, dents or paint defects, and Manheim's on-site body shop can make quick work of these issues. Much like the auction itself, there's an assembly-line process to fix dents, sand, prime, paint, and heat cure paints. The body shop paints about 70 vehicles a day, which is more than most standalone commercial body shops that I'm aware of.
In addition, Manheim has launched a new program called "Retail Advantage," which allows dealers and retailers who purchased cars from their auctions to have cars fully prepped for retail sale. This includes services like an end-to-end inspection, identification of any needed repairs, and execution of said repairs at the discretion of the buyer. Manheim employs a team of on-site expert mechanics to make sure the cars are ready to sell as soon as they roll off the delivery truck at the dealership. Currently, Retail Advantage services up to 240 vehicles per week.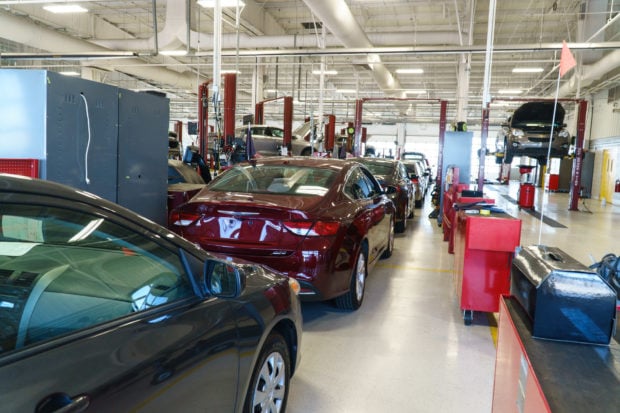 The facility also offers a full-service detailing shop which can ensure that cars look spotless and clean after the auction, and before they head off the the purchasing dealership. The detail shop at Matteson cleans and details about 450 cars per day. Again, this is an impressive operation, putting it on par or better than many standalone car washes.
While not every car will go through on-site repair or cleaning, it's quite impressive to know that all of these tasks can be performed in one location. It's also great to see such care given to these used cars, which means a better chance that consumers will get a quality, reconditioned vehicle if they decide to go with a used or certified pre-owned car.
Source:: 95 Octane