Lucid Motors has officially confirmed details on its first electric vehicle that will come to the market, the Lucid Air. The electric vehicle sounds very impressive on paper, promising up to 1080 horsepower in the Air Dream Edition, a dual-motor all-wheel-drive configuration. That setup is supposed to also produce a quarter-mile time of 9.9 seconds on a consistent basis.
Lucid says that level of performance makes the Air the only electric sedan able to run the quarter-mile in under 10 seconds. Along with the power comes an extended range capability with an estimated EPA range of up to 517 miles per charge. The vehicle also charges very quickly with the ability to charge at up to 20 miles per minute when connected to a DC Fast Charging network.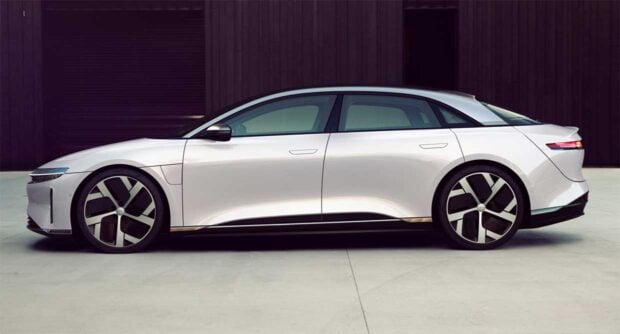 In a real world situation, Lucid says that means about 300 miles of range from a 20-minute charge. The vehicle uses a compact 113kWh extended range battery pack that has been developed with over 20 million miles of testing. The car is also hailed as the most aerodynamic luxury car in the world, with a coefficient of drag of 0.21.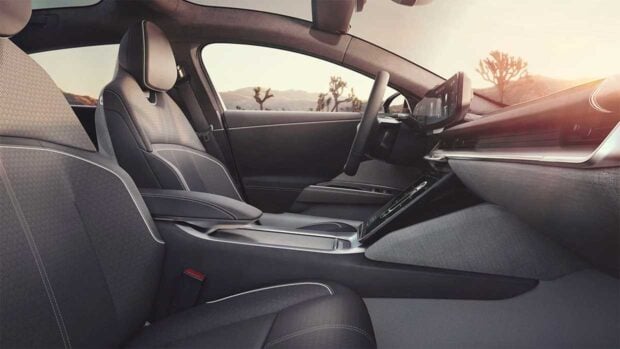 Inside, the Lucid Air has an advanced glass cockpit display with tactile physical controls. In front of the driver is a 34-inch, 5K curved glass cockpit display that floats above the dashboard, and a retractable central "Pilot Panel" to give driver and passenger control of various vehicle functions. The car also has an advanced driver assistance system called Lucid DreamDrive. The system has 32 sensors covering vision, radar, and ultrasonics along with standard high-resolution LIDAR. Lucid says this allows the vehicle to approach Level 2 and Level 3 driver assistance safely.
The first Lucid Air to come the market will be the limited-availability Air Dream Edition with every possible option landing in the spring of 2021 for $169,000. The Air Grand Touring will be available in mid-2021, starting at $139,000. In late 2021 the Air Touring will debut at $95,000. The entry-level Air is expected to arrive in 2022, starting below $80,000. All models are expected to qualify for a U.S. federal tax credit of $7500.
Check out a detailed price and performance comparison of all Lucid Air models below: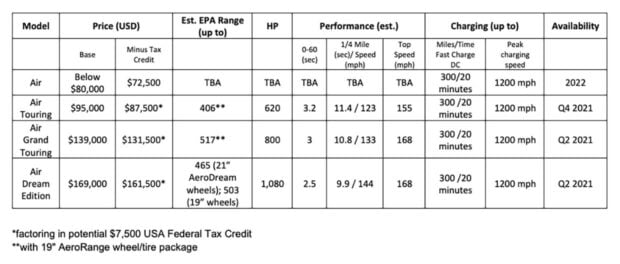 Source:: 95 Octane