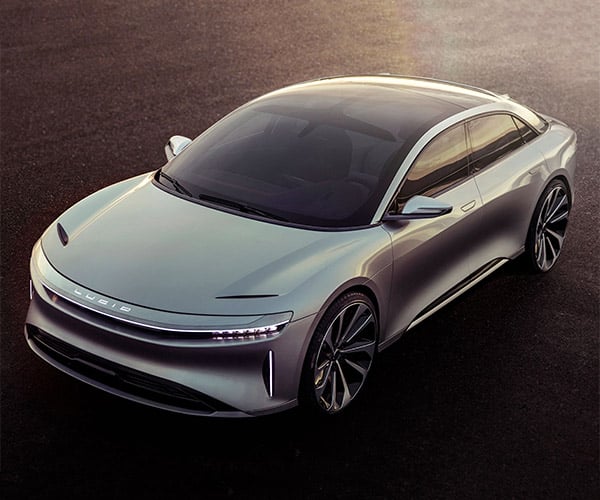 Lucid has announced the starting price of its upcoming luxury EV, the Lucid Air. This car is seen as a direct Tesla competitor and many were wondering what the car would cost. Lucid has announced that the base price of the car will be $52,500(USD), after an assumed $7,500 federal tax credit. That means the base price will be $60,000. For comparison's sake, the base price for a Tesla Model S 60 RWD is $70,100 before destination fees, or $62,600 after the federal tax credit. So basically, the Lucid Air is $10,000 less than the equivalent Tesla.
For their money Lucid buyers will get the car with a 240-mile range 400hp rear-wheel drive platform, autonomous driving hardware, LED headlights, four screens, 19-inch wheels, OTA software updates, and more. Naturally, there are options that will greatly increase the cost of the car.
Lucid plans on offering 315-mile and 400-mile range versions with up to 1000 hp in an AWD twin motor configuration. An all glass canopy roof is available along with active suspension, reclining rear seats, 21-inch wheels, and 29-speaker sound. A fully-loaded model will sell for over $100,000. The initial 255 Launch Edition cars will also go for more than $100,000 with base models landing later.
Of course, this is all speculation, assuming this upstart EV maker can get their first car to roll off of the production line. Those interested in purchasing a Lucid Air can put down a reservation deposit here.
Source:: 95 Octane