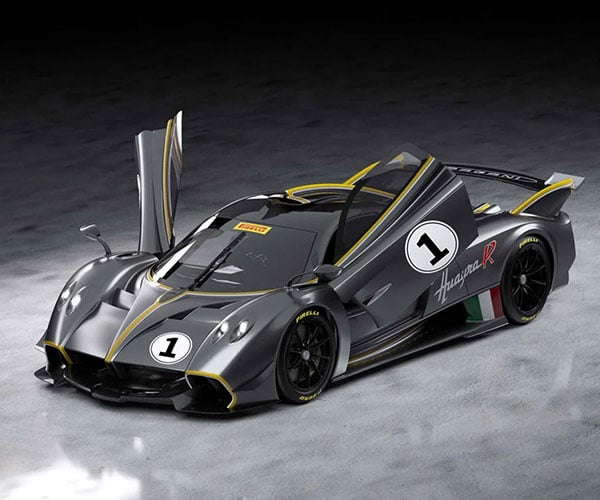 Pagani has pulled out all the stops with its latest vehicle, the Huayra R. The track-only car uses a new V12-R engine that is naturally aspirated and makes 850 horsepower. Torque produced from the big V12 is 553 lb-ft., and all that power goes to the wheels through a new six-speed sequential transmission that weighs only 176 pounds.
The engine will spin to 9000 RPM, and Pagani says the car is a laboratory of sorts, incorporating technology that will appear in future models. One of the most impressive things about the Huayra R is its extremely light curb weight of 1050 kilograms (~2315 lbs) – less than a Mazda Miata. The car also has lots of aerodynamics and is designed to produce 1000 kilograms of downforce at 199 mph.
Safety was also a big factor in the car's design, with an FIA-approved roll cage integrated into the carbon fiber monocoque. Itds racing seats are also integrated into the monocoque and padded with special foam for safety and comfort. Pagani also integrates an automatic fire extinguishing system. Other features include carbon-ceramic brakes and a sophisticated suspension system for ultimate handling.
Just 30 of the Huayra R will be made, with pricing starting at 2.6 million euros (~$3.0 million USD). Each of its buyers gets to participate in Pagani's Arte in Pista program, offering various driving events worldwide.
Source:: 95 Octane