By Amos Kwon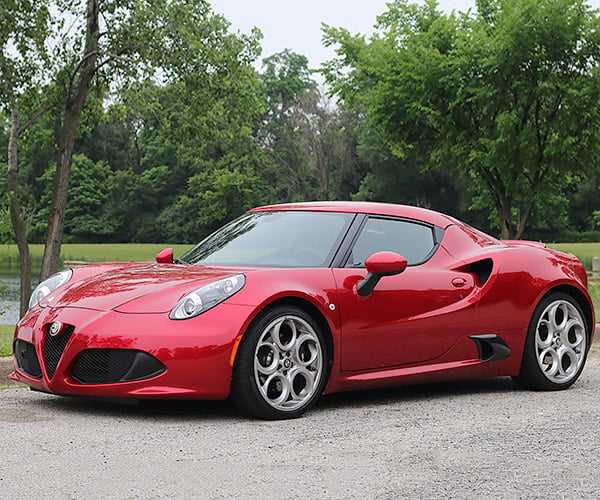 Alfa Romeo's intention of pulling a seat back up to the American automotive table takes the form of a car that's about as niche as they come. It's not a family sedan, nor is it an SUV. Hell, it's not even a hatchback. It's a low-slung, two-seat sports car that has fewer creature comforts than a Mazda Miata and the ride quality of body-on-frame pickup truck. But the
Alfa Romeo's intention of pulling a seat back up to the American automotive table takes the form of a car that's about as niche as they come. It's not a family sedan, nor is it an SUV. Hell, it's not even a hatchback. It's a low-slung, two-seat sports car that has fewer creature comforts than a Mazda Miata and the ride quality of body-on-frame pickup truck. But the Alfa Romeo 4C makes itself known in the best of ways. It's raw, raucous and more entertaining than playing Call of Duty: Modern Warfare on a Jumbotron with a dozen of your best buds. It's a car that must be experienced.

The 4C is the smaller brother to the stunning and rare 8C Competizione supercar introduced back in 2007. The DNA both inside and out are obvious but on a much smaller scale. It's Fiat's merger with Chrysler that makes this little rocket possible for our shores, so you can thank big business for delivering this mini-beast to our shores. The ultra-rigid composite body is an amalgam of creases, scoops and vents that are functional and at the same time make the 4C look less like a pocket rocket and more like a small, albeit exotic, racecar. The classic Alfa inverted triangle is there front and center, though not nearly as refined as the 8Cs with the silver trim and bi-sected badge.
The overall look is Italian and echoes the same overall aesthetic as the legendary Alfa 33 Stradale, but with a shorter nose and aggressive creases. It's certainly less fluid than Alfas of old, but nevertheless very attractive even with a very upright windshield and massive vented rear haunches that give it the same look as a similarly designed Lotus Exige. The 4C's rip-roaring turbocharged and intercooled, direct-inject 1.7-liter 4-cylinder with 237 hp and 258 lb-ft. of torque is transversely mounted amidships under a translucent and vented engine cover. You don't really need to remember this since once you start it up and get on the throttle, it'll really be the only thing you notice. It's as loud as a gang of angry bobcats fighting each other in front of a microphone. And that's a good thing.
But first you have to get in the damned thing, and unless you're a yoga master or Tyrion Lannister, it's no easy feat. The carbon fiber and aluminum monocoque chassis makes the door sill thicker than a turkey club sandwich, and the seats are set so low that you wonder why they bothered with a floor. It's one foot in, duck hard, park the posterior into the racing buckets and pull your other leg in. But remarkably, six-footers can fit inside comfortably thanks to the manually adjustable seat (sans recline).
There's no start/stop button, but the flip open key fob and a simple turn to cue the ignition is right for a purist's sports car. The fact that the rest of the car is as bare bones as Potbelly Sandwich musical performance means the method by which you start the 4C is consistent with everything else.
The seating position is excellent with enough width, and the microfiber and leather buckets are comfortable with a good amount of lateral support, which you will need to exploit the 4C's purpose properly. Amenities are scant. You get a frustrating audio system with removable panels, no touchscreen, no navigation (unless you pair your phone to the Parrot Asteroid radio) and HVAC knobs that look like they were pulled off a rental car. The audio system is superfluous, really, but more so because you'd rather hear the engine than your playlist or talk radio, no matter how riveting.
The instrument cluster houses as single digital screen with all the relevant data. Speed, rpms, oil temp, gear, etc., and there are zero buttons on the steering wheel with only the 6-speed dual clutch gearbox's sequential paddle shifters resting behind it.
The gear buttons on the center tunnel show "1" for forward gears, "N" for neutral and "A/M" for automatic/manual mode. There is no park function, so ending your drive is performed by putting the 4C in neutral and pulling up on the handbrake. Easy peasy. They did think of Americans by installing two cupholders. The one closest to your right hand is still slightly behind you and big enough to hold a urine sample cup. The larger one is even farther back, impossible to reach while driving. But again, you won't really give a crap once you get behind the wheel.
Keep in mind that the 4C will never be a long distance road-tripper or a grocery-getter since you can probably bring an overnight bag and that's about all. The storage compartment behind the engine is far from capacious, and you can sure as hell forget about going to the golf range unless it's of the putt-putt kind.
Once you get the dearth of amenities out of your brain, and get above 2 mph, the car is transcendent. That low speed threshold for pleasure exists because steering from a standstill is a workout for your forearms. No one-handed driving here since you have to muscle it just to turn the wheels. You can thank the manual rack and pinion steering (no power, pal). But once you get to low, parking lot speeds, you don't even notice. Steering is sharp and responsive, making even mundane tasks like changing lanes entertaining. The suspension is a double wishbone setup with high-strength steel tubular control arms and an anti-roll bar in front, with a rear MacPherson strut shock absorber with with high-strength steel control arms and aluminum knuckles. The strong Brembos in front and back provide great stopping power, though I found them less progressive than I would've liked.
That being said, the 4C is an utter thrill to drive. The responsive steering moves at the smallest inputs, none of it remotely vague, disconnected or artificial. Even helming it a 40 mph is an utter thrill because the engine behind your right shoulder breathes hard and loud, and the 4-cylinder mill sounds like it's angry 24/7. For the driver who wants to relax, it's the wrong car. That's what Buicks are for. For the rest of us who want to be thrilled to drive to the convenience store, the 4C is the order of the day. Get on the throttle and the high pitched "brrrap" and turbo suck and whine salute you in full force, letting you know that you're getting ample thrills per dollar. The staggered 18 and 19 inch Pirelli P-Zeros help you feel every bump and gap in the road and may remind you that a trip to the dentist is warranted. It's all part of the 4C experience. The 4C corners hard and flat. Look out the side window, point and shoot. You feel like you can barely graze the median on that left turn without even thinking.
Whip through the rapid shifting transmission, and the system will rev-match for you, as the engine rips while doing so. Acceleration is spritely. 4.1 seconds to 60, but it feels even faster. Top speed for the 4C is 160 mph, which probably seems more like 200. The fact that the 4C weighs in at a svelte 2,465 pounds makes it that much more quick and agile. The chassis rigidity and the taut suspension make it corner flat with minimal body roll. It's a car that's more than the sum of its parts because at the end of the day, it delivers a race car experience for the street, tiny-Ferrari-like looks and an adrenaline rush at every stoplight and turn. It's a car that must be driven and driven hard in order to extract all the pleasures within. It's far less refined than a Porsche Cayman and far more exciting than a Scion FR-S. What's more, just about no one owns one, so you'll be in rarified, very happy company.
The Alfa Romeo 4C is for sale in the U.S. in limited numbers, though that number remains unspecified. The base price for the coupe is $53,900(USD), while the Spider costs $63,900 and the Launch Edition costs $68,400.
Source:: 95 Octane