By Paul Strauss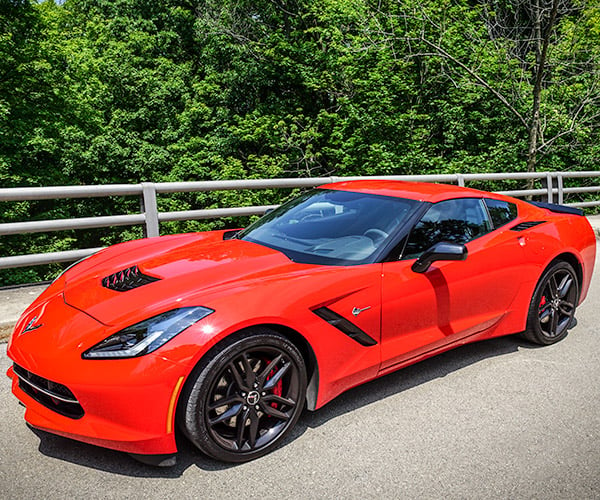 Chevrolet has been making the Corvette since 1953, and throughout its 60+ year history has continued to deliver vehicles that are both impressive to drive and candy for our eyes. The
Chevrolet has been making the Corvette since 1953, and throughout its 60+ year history has continued to deliver vehicles that are both impressive to drive and candy for our eyes. The 7th generation 'Vette lives up to these promises, and is at the top of its game. In fact, I would go as far as to say that it's not only the best Chevrolet I've ever driven, but it's the best American car I've ever been behind the wheel of. And when I say "American car" – the Corvette really is. It's made in Bowling Green, Kentucky, and 75% of its components are domestic.
I had the opportunity to drive the 2015 Stingray with the Z51 package quite extensively. In addition to some time whipping around the track at Road America I recently got to put 900 miles on the same track-used car, driving not only my regular review routes, but from Chicago to Cincinnati and back to view the MLB All-Star Game.

Just one look at the new Stingray, and you know this car is something special. This is a car that draws stares of admiration and envy wherever you go. From the front, its toothy grille hearkens back to the very first 'Vettes, but the second you raise your eyeballs up from front and center, it's clear this is a modern sportscar. From the side, one could easily confuse the 2015 Corvette with European supercars costing three to five times as much, with its strong muscular lines, sloped body, and strategically placed cooling ducts. I'm looking at you, Ferrari F12 berlinetta.
A large, central air extractor helps keeps things under the hood cool, while a fixed rear spoiler increases downforce. The mirrors and spoiler are finished in a cool black material that has a metallic sparkle to it. As much as the front pays tribute to the Corvette's storied past, its rear is as modern as you can get – with sharp angles on its four taillamps that eschew the traditional round design. Everything on the rear points draws your eyes towards the center and down, towards the quad exhaust system so you know exactly where that roar is coming from. The whole shebang rides on black painted aluminum rims (19″s and 20″s), which come wrapped in sticky Michelin Pilot Super Sport summer tires.
In addition to its visual finesse, there's lots of high-tech stuff going on underneath that brilliant torch red paint. The car is built on a lightweight aluminum space frame, with carbon composite underbody panels, and a carbon fiber hood and roof panel. Despite the weight savings from these components, the 2015 model actually weighs virtually the same as the C6. Presumably, the tradeoff comes in the form of the dramatic interior improvements, and a plethora of high-tech amenities.
As has been the case with many 'Vettes before it, the roof pops off for impromptu sunny day rides. It takes only about 10 seconds to remove and is light enough for one person to easily lift (though it's a little cumbersome). Chevy offers options for a transparent or visible carbon fiber roof panel as well. The trunk has built-in slots to ensure the roof is kept safe and steady when stored, and still leaves you with a small amount of space in front of and under it for backpacks or other small items.
Of course, the way a Corvette looks is only half the story. You're buying a car like this because you like to drive. And drive it does. With a 6.2-liter LS1 churning away under the hood, this Vette pushes out 460 horses, and a head-rush inducing 460 ft-lb. of torque heading back to the rear wheels. Upon pushing its start button, you're greeted with a ferocious roar that's both impressive and intimidating, in part thanks to the Z51's upgraded multi-mode performance exhaust system.
The car I tested had Chevy's impressive 8-speed automatic gearbox, which offers fast and satisfying shifts, and is nothing to be ashamed of if you decide to skip the 7-speed manual. Driving dynamics can be adjusted between four modes: Tour, Sport, Track and Weather, which adjust a dozen different parameters from the throttle progression to steering, suspension, traction control, differential and exhaust. The digital gauges are even contextual to the specific driving mode.
Needless to say, this car is fast and mean. It goes from a cold stop to 60 mph in just 3.8 seconds, and can hit a top speed of 180 mph. While I didn't get to drive it that fast, I did have the opportunity to take this very same Vette on the track at Road America, and pushed it a little north of 130 mph before getting to the daunting right turn into Canada Corner.
This 'Vette doesn't just go fast in a straight line either. Its steering is exceptionally tight and well controlled – providing perfect feedback, and going exactly where you point it, no matter how hard you push it. And if you turn off the electronic nannies, you can still get the rear to slide around on you if you like that seat of your pants feeling. It also handles like a complete dream, in part thanks to the optional – but highly recommended – Magnetic Ride Control system. This dynamically adjusts the suspension and ride dynamics as you drive, and it provides an incredibly stable platform at any speed. This system has been optimized for track handling in the Z51 package. As an added bonus, you'll be treated to a shockingly comfortable ride if you drop down into Tour mode for long road trips. Braking is exceptional as well, with large, slotted rotors offering impressive stopping power, courtesy of Brembo.
Now you'd think that with a giant, naturally-aspirated V8 under the hood that fuel economy wouldn't be something I'd even bother mentioning. But thanks to the use of automatic cylinder deactivation tech, this Vette will do up to 29 mpg on the highway. Of course, that figure assumes you're not driving aggressively, but I managed to turn in a consistent 29.9 mpg for at least 200 miles of my road trip. In the city, curvy backroads, and more aggressive highway driving, expect a more modest 16 to 20 mpg.
But wait, there's more! For as many things that Chevy did right outside this car and in its performance, the C7 Vette has moved into a new league on the interior. The interior of past-gen 'Vettes always seemed like an afterthought, but that's definitely not the case this time out.
This interior is beautiful, comfortable, and has great ergonomics. Every detail of the interior is clearly intentioned. The driver's side has a sense of width to it created by a brow that wraps the entire cockpit, and segregates the passenger. Like the interior of the Jaguar F-Type, this forms a grab bar so your passenger can hold on while you drive like a bat out of hell. The passenger side is a bit more cosy than the driver's side, but then again, you want to be held tight while going around turns at a high rate of speed, right? Speaking of which, the competition sport seats provide excellent support, and great side bolsters to keep you snug. They offer numerous adjustments, and are both heated and ventilated. Let me tell you how nice it is to have your back kept cool on a warm day with the top off.
Everything is finished impeccably, with french stitching along the edge of the dash, on the doors, and on the seats. The instrument panel is exactly what you want it to be – with a large digital tachometer in the middle, flanked by analog speedometer, fuel and engine temperature gauges. The center panel is highly customizable, offering several different tach displays, as well as fuel economy, speed, tire pressure and temperature, wheel slip, oil pressure and temperature, battery voltage, and G-forces. You can also switch into a mode which can automatically clock your 0-to-60 time.
We talked previously about the optional Performance Data Recorder, which can capture video of your driving to an SD card, and automatically superimposes telemetric data such as speed, tach, Gs and current gear. It can also calculate lap times, assuming you set the finish line of the track so it knows where it is.
Other technology features includes a heads-up display, and Chevy's MyLink infotainment system, which provides media playback, SiriusXM radio, apps, and sat nav on an 8″ touchscreen, along with a backup camera. Like several other GM cars, the screen is motorized, and there's a USB port behind it so you can stow your smartphone behind there and let it charge while it streams music.
Other than the fact that it seats just two, there's really not one bad thing to say about the 2015 Corvette Stingray. It's a real work of engineering brilliance on every front. It drives amazingly well, both on the track or on everyday roads. It's fast, mean, looks drop-dead gorgeous, and is surprisingly comfortable. It's packed with goodies for gearheads and techies alike, and will make any driver look like a pro. Heck, it even gets pretty good gas mileage. It's amazing that a car with 60 years of heritage can just be reaching its pinnacle now, but Chevy has done just that.
Source:: 95 Octane