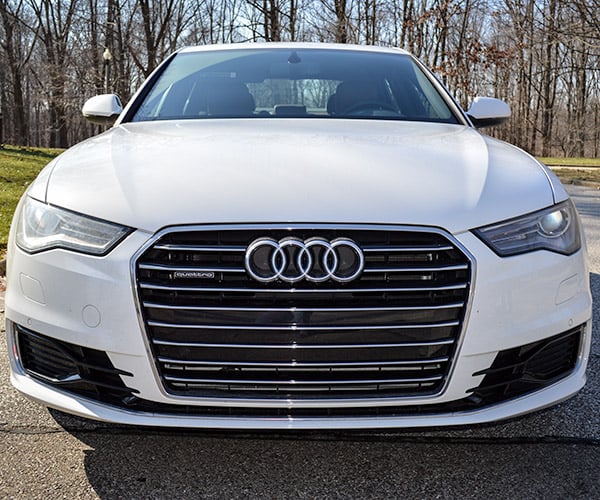 You know that pair of shoes you have that are perfect for almost any occasion? You know the ones that are so comfortable and are even great for fancier events, but good for day-to-day events too? That's my tester this week.
You know that pair of shoes you have that are perfect for almost any occasion? You know the ones that are so comfortable and are even great for fancier events, but good for day-to-day events too? That's my tester this week.
The 2016 Audi A6 is so smooth and suave, it's certainly up for fancy occasions – date nights and dinner parties. But like that versatile pair of shoes, the A6 is ideal as a daily commuter too. It's not so fancy or pricey, that it can't be used on the highways and byways of your daily grind. Refined looks, a powerful engine, a comfortable interior and current technology – the Audi A6 has it all. And it's so fashionable.
This model year, the A6 receives some cosmetic changes as well as a new, smaller engine and updated transmission. Gotta keep that perfect pair of shoes looking good, right?

When tweaking the looks of a timeless car like the A6, car makers need to be careful. You don't want to be too garish and have the car be over stylized, but at the same time, it needs to remain current. With a new front fascia, the A6 receives just a nip and a tuck to improve its appearance. The addition of new LED headlights is a requirement for today's best vehicles. Subtle changes to the back end are just right, keeping the A6's overall appearance refined, luxurious and thoroughly modern.

This year, Audi added a third engine option, a 2.0-liter turbocharged four-cylinder engine to the fold, to go along with a 3.0-liter V6 and diesel (TDI) engine. I was fortunate to drive this new engine, as I've developed quite an affinity for turbocharged four-cylinder engines. I love seeing how much power and performance carmakers can squeeze into sucvh small power plants. And the answer to how much excitement is put into this new engine for the A6 is: quite a bit.
This four banger makes 252 hp and 273 lb-ft. of torque. This turbocharged beauty combines performance and economy. The 3.0-liter V6 makes 333 hp and is a better choice for those who just want more power. The new four-cylinder engine makes for a pleasurable, but refined driving experience. While a seven-speed automatic transmission is standard, my tester came with the optional eight-speed Tiptronic transmission, which was flawless, and the car exhibited no turbo lag. Mated with Audi's Quattro all-wheel drive system, and the A6 hugged the corners, sat and squatted its way through tight roads, and was just aggressive enough off the line.
It's no secret that I've always been fond of the Audi brand. The German engineering in the A6 is noticeable with how it performs on the road, how responsive the steering and how pristine the braking is. Drive it on American roads, in all conditions, and it simply won't disappoint.
Another strong appeal of the A6, much like that great pair of shoes, is that the interior is so comfortable. Audi always raises the bar with their interiors, earning their high price point. This luxury brand doesn't disappoint in the A6 as driver and passengers are greeted with comfortable seats, and ample legroom and headroom. However, cargo space is sub-par for the segment, with the A6 only having 14.1 cubic feet of trunk space.
The five-passenger A6 features soft touch points, and beautiful faux wood trim to go along with gorgeous leather seats. My tester had Nougat Brown leather seats, with a dark faux wood inlay on the door sills and center stack. It was as if an interior designer had put the final touch on tying together all the luxury inside the A6.
As a brand, Audi is usually out in front of technology. But, in the past, Audi has made their technology too complicated if you ask me. This year, Audi improved the interface which operates the tech-filled infotainment system. The problem was never the system or what it offered, it was how to operate it. Now that problem is solved thanks the redesigned and much improved MMI system.
Features like Google Earth-based navigation and numerous smart phone apps integrate easily now and are much easier to operate. They look gorgeous on the eight-inch interactive touchscreen. And to make things even better, there's now 4G LTE Wi-Fi throughout the sedan with accessibility for up to eight devices.
The reason Audi put in a smaller, turbocharged engine is so they can create a car that is both fun and fuel efficient. They succeeded! The 2.0-liter A6 is that rare car that is both sporty and fuel efficient. The A6 has an EPA rating of 22 mpg/city and 32 mpg/highway. In a week's worth of turbo-engaged driving, I averaged nearly 28 mpg. Sure 30 mpg is better, and the TDI version will get you there, but I'll call this kind of fuel economy good enough for me.
There are only two trims for the A6 (Premium and Premium Plus). I drove the loaded Premium Plus which comes with 18-inch wheels and Audi's Drive Select system which allows you to customize how you want the steering and transmission to perform. The A6 is loaded with sensor-based safety features like blind spot monitoring, park assist and collision mitigation.
Pricing for the A6 starts around $46,200(USD), with the AWD Premium Plus model starting at $52,100. With extras like 19-inch wheels, a warm weather package and all-season tires, my tester had a final MSRP of $54,725.
As a daily driver, the A6 is ideal. It adds just enough driving excitement, mixed with plenty of luxury, and that is something special – and its appearance will make people take notice – just like your favorite pair of shoes.
Source:: 95 Octane