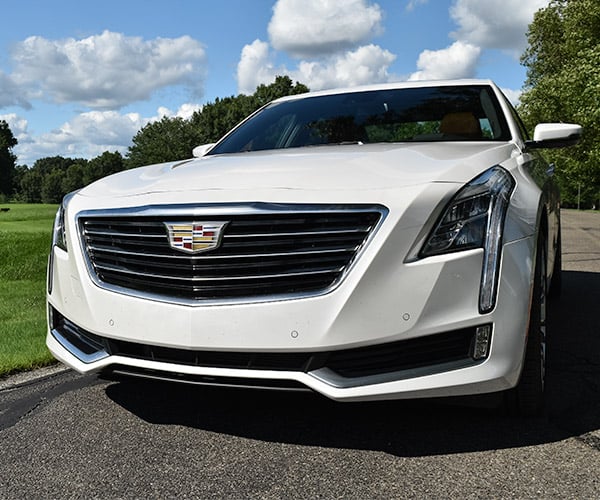 In the automotive world, we often get bogged down in our jargon and live in our own little myopic universe. We get caught up using terms not widely understood by our readers and average consumers. Two different terms I try to avoid are: "fit and finish" and "flagship." My tester this week will make it impossible not to use at least one, if not both of those terms. So, my apologies now.
The 2016 Cadillac CT6 is a new top-of-the-line sedan offering from GM's luxury brand. It certainly has the look, size and fit and finish to fit the part of a flagship (there, I fulfilled all my car industry jargon requirements in one sentence). The CT6 represents the amazing transformation of the Cadillac brand.
Now, their vehicles have gorgeous, distinctive styling that is both timeless and cutting edge. Gone are the days of big, comfortable "boats". When Cadillac announced the CT6 as a full-size luxury sedan, it was a bold step and showed the direction the company is heading. It may repel some die-hard Cadillac customers, but it will expose them to a slew of younger buyers and a new generation of consumers.
Indeed, the CT6 is that good. With sharp looks, a powerful engine, comfortable ride and dramatic interior, the wow factor is high for the CT6.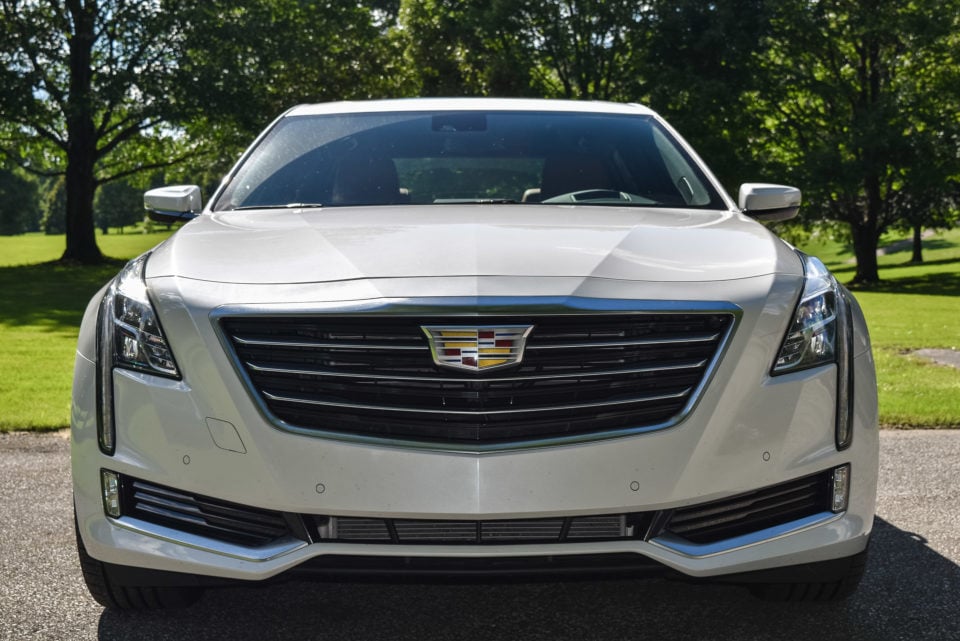 The CT6 is big and bold. Big in size and bold in styling. It doesn't shy away from either thing. On profile, the CT6 looks long, because it is. It's 204 inches long with a wheelbase of 122.4 inches. Those are some serious old school Cadillac dimensions right there. But, the aggressive styling on the front end, fits with today's other attractive Cadillac sedans like the CTS and ATS. The grille is wide ending a beak-like point. The recently updated Caddy logo is front and center and prominent. LED head lamps run vertically and span the outer edges and ensconce the side wheel panel too.
At night, the CT6, is quite sexy. The Intellibeam lights curve with the road ahead and offer great, but not overwhelming brightness. The back of the CT6 is less appealing. It loses some of the front's pizzazz, with little to set it apart from the ATS and CTS. While the styling of those is top notch, and the back is attractive, I was hoping for more distinction from the CT6 in this regard.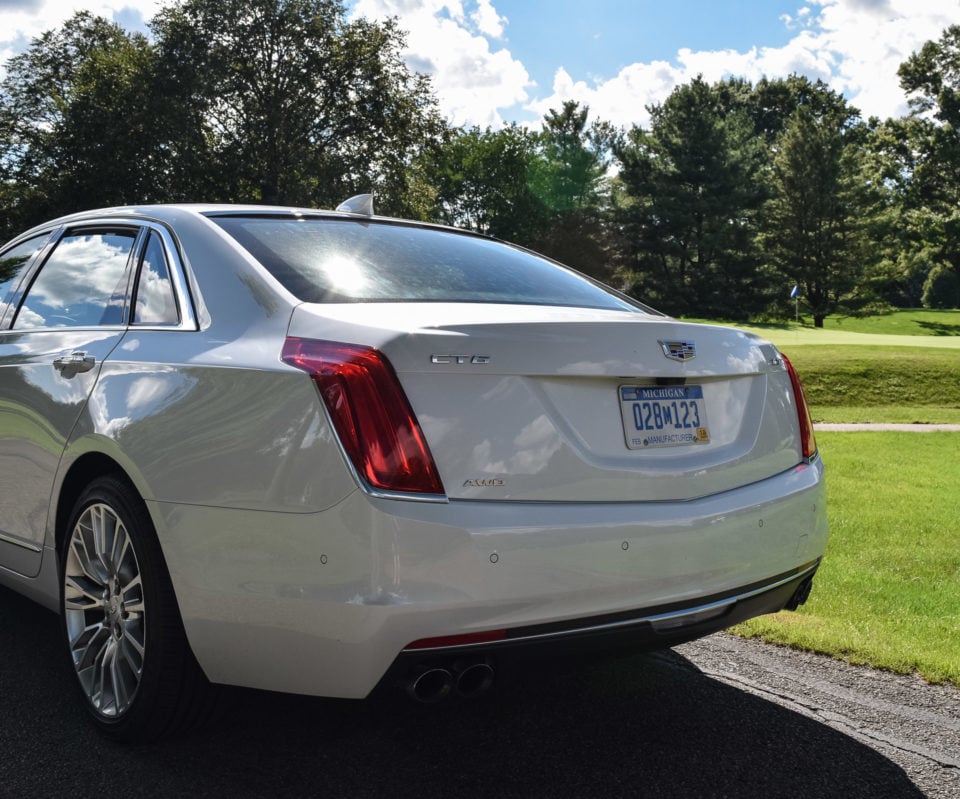 There are three different engine options for the CT6. A 2.0-liter four-cylinder turbocharged engine is standard. It makes an impressive 265 horsepower. It seems more than adequate for most consumers, and today's 2-liter engines with turbos are generally magnificent. However, I drove one of the two V6 offerings.
There's a big, standard 3.6-liter V6 engine. This is what Cadillac has offered for years in some capacity. And it's fine. Better than fine even. It has 335 horsepower. However, there's an even better option for those who want to really have fun behind the wheel.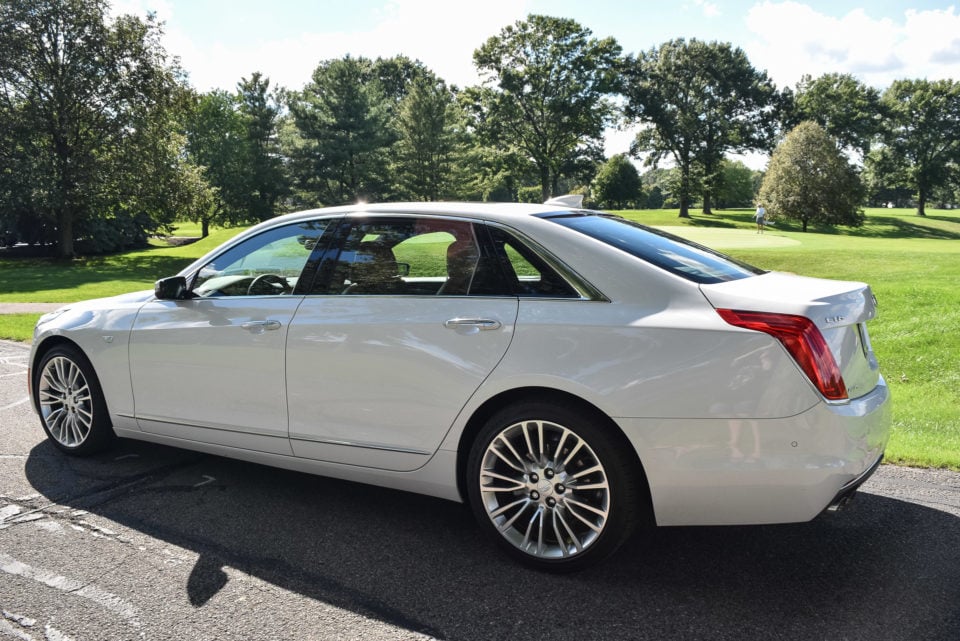 My tester was the most powerful offering. The CT6 Premium Luxury comes with a 3.0-liter turbocharged V6 that makes 404 horsepower and 400 lb-ft. of torque. Mated with an an eight-speed automatic transmission and fitted with all-wheel drive, and this is an outstanding cruiser. Despite all that power, the CT6 is well mannered. It keeps the power controlled and offers a refined driving performance. It's fast off the line, but is also reasonably quiet inside.
The CT6 with the turbo V6 (dubbed the 3.0TT) is exactly what a Cadillac customer would want from a full-size sedan (dare I say flagship again?). Or at least it's what new Cadillac customers will want. It's definitely not your grandpa and grandma's Caddy.
The 2.0-liter four banger has the best fuel economy with an EPA rating of 22 mpg/city and 31 mpg/highway. My tester, with AWD, had a rating of 18/26. In a week's worth of turbo-infused driving, I averaged only 19.8 mpg.
Inside, the CT6 has the nicest interior offered by Cadillac in a long time. It's stylish and modern with high-end materials throughout. But even beyond that, the angular dashboard mimics the shape of the grille outside. Every detail has purpose. The center stack is well organized. The sleek interior is also incredibly comfortable. The front seats feature 16-way seat options with soft leather. A heated steering wheel and heated and cooled seats add to the comfort.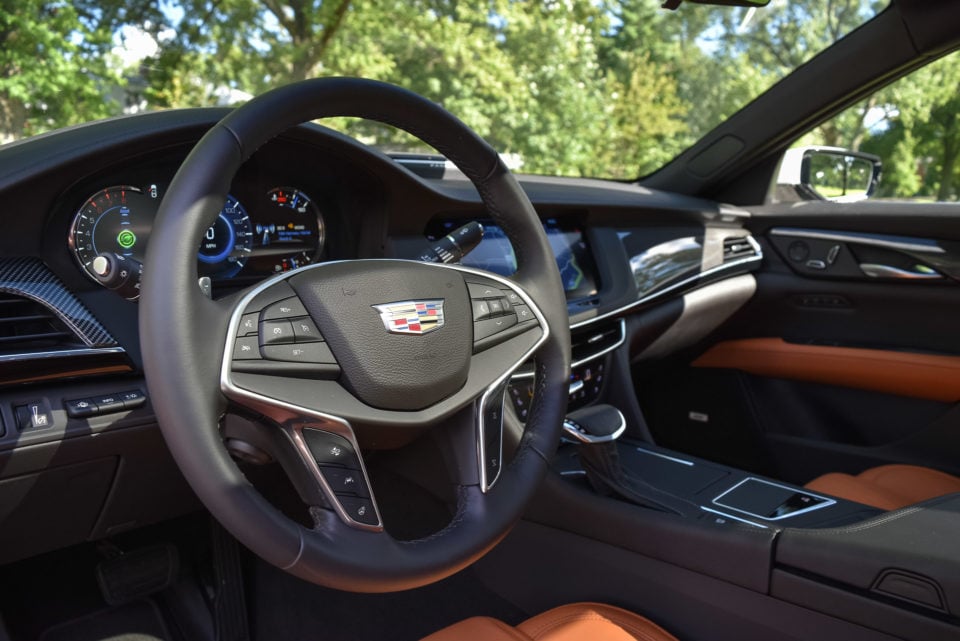 The cushiony material used on the dashboard and the door panels help keep road and engine noise to a minimum. The back seat is spacious with plenty of legroom. Three adults could fit comfortably with ample headroom and shoulder room. The split panoramic sunroof is stunning.
You have to hand it to Cadillac's engineers. When they first launched their new infotainment system, Cadillac User Entertainment (CUE), it was widely panned. It had amazing features, but was clunky, cumbersome and not intuitive. Now in a second generation, CUE is one of my favorite systems. Many of the previous and valid criticisms have been addressed. In the CT6, there's a 10.2-inch color touchscreen that is much more responsive. Swiping open any of CUE's apps is much easier. Sliding the volume up or down is almost too easy – if you're not careful, you can really crank the volume up quickly.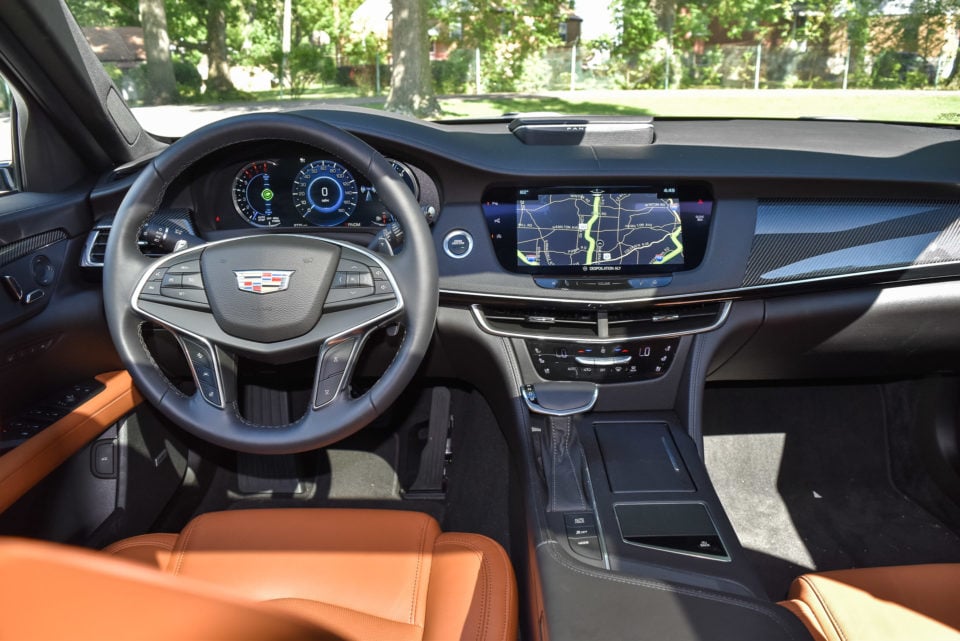 The tech within the CT6 is ideal for the new generation of Cadillac buyers. The integration with iPhones works great and employs Apple Car Play. This helps with texting and receiving messages hands free, as well as providing access to media and navigation features. There are two USB connectors as well. A 4G Wi-Fi hotspot is available through a subscription service, as well as OnStar.
The Premium Luxury trim comes with a 34-speaker Bose sound system. That's not a typo, there are actually 34 individual speakers, including one that rises out of the center of the sculpted dashboard. This premium sound system, is one of the best I've heard and would be ideal for true audiophiles.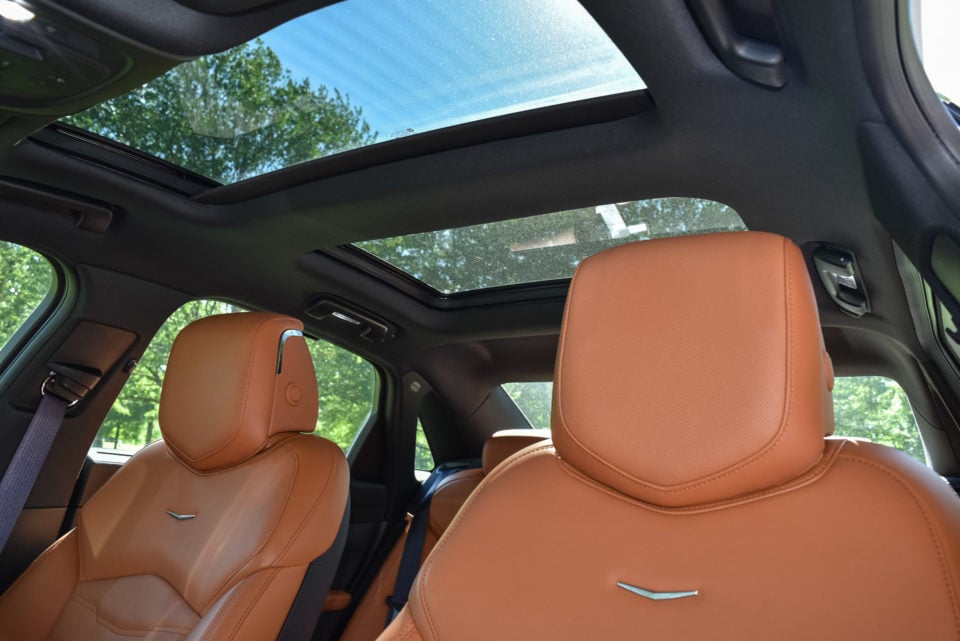 There are four trim levels offered: Base, Luxury, Premium Luxury and Platinum. I drove the Premium Luxury, which along with the sound system, comes with 20-inch alloys, the aforementioned sunroof, and four-zone climate control. It also has sensor-based technology which helps avoid crashes, detect pedestrians in the road, monitors the blind spot, and keeps the car from swaying out of its lane. All of these aren't just cool tech options, but legitimate safety features.
One drawback for the CT6 is the smallish trunk. There is only 15.3 cubic feet of space which is below the norm for the full-size segment. This car is aimed at the country club set, and it will fit golf clubs and equipment, but for a car of this size, you'd expect a little more usable cargo area. To put things in perspective, the Mercedes S550 has 16.3 cubic feet, the Lexus LS has 18 cubic feet, and the BMW 7-Series has 18.2 cubic feet in the trunk.
The base CT6 has a starting price under $60,000. However, my tester had a base price of $67,570 and with options like driver assist, night vision assist, advanced sound and navigation system, and special paint, it jumped firmly into flagship price range with an MSRP of $81,840.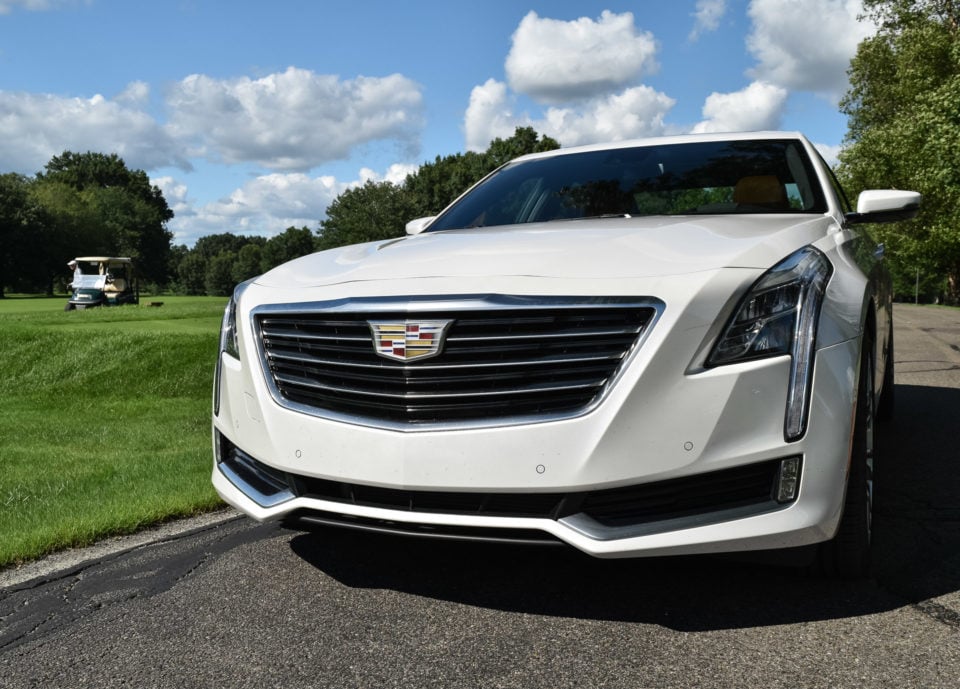 While GM's other premium brand uses the advertising campaign "doesn't look like a Buick," That campaign could easily be "doesn't look like a Cadillac" to describe the CT6, and most Caddies over the last half a decade. GM's luxury brand is on the upswing, making compelling, sexy, distinctive and powerful cars. The CT6 now sits at the top of a proud stable of luxury cars for GM's most luxurious brand.
Source:: 95 Octane