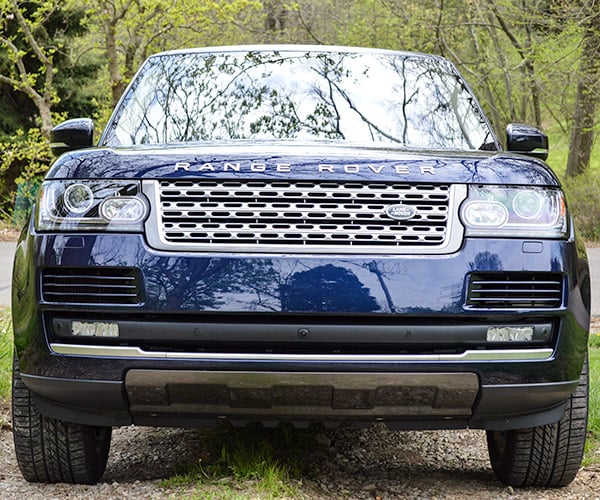 The Land Rover brand has a lot of mystery about it. Depending on where you live, you don't often see many on the road. Also, there's the confusion about the Land Rover/Range Rover name. Many think Range Rover is the brand name, but it's actually just a subset of the Land Rover family of vehicles. Plus, Land Rover is that rare combination of mud meets high society. Land Rover vehicles are equal parts luxury and rugged. If only they made one in a diesel, it'd truly have a huge claim to fame.
Hold on a minute, my tester this week actually is the new diesel-powered Land Rover Range Rover HSE Td6. It's a full-size SUV with all the luxurious amenities one could want with the off-road capability of a Jeep and the torquey power of a diesel-powered pickup. What a vehicle!
New for the 2016 model year is the aforementioned diesel engine as well as a new Terrain Progress Control, which is like off-road cruise control. There's also an improved suspension system that can be raised or lowered and a hands-free opening tailgate. With so many new features, it's hard to pick my favorite. Okay, it really isn't, it's the turbocharged diesel engine.

The new turbocharged 3.0-liter diesel engine is impressive. Of the three engine options, it's the least powerful in terms of horsepower, but it cranks out a whopping 443 lb-ft. of torque. The 254 horsepower output seems small for a big, heavy SUV. But it's actually well-powered and doesn't let the Range Rover HSE drive small at all.
If raw power and high performance is what you care about there's a 5.0-liter supercharged V8 engine which makes an amazing 510 hp. I honestly couldn't imagine that much power in a vehicle that weighs more than 4,800 pounds. For those leery of diesel and not wanting a V8, there's also a supercharged V6 which makes 340 horsepower.
The eight-speed automatic transmission does a good job handling the diesel power. There is minimal turbo lag and the shifts are controlled and smooth. Four-wheel drive is standard, because it's a Land Rover and is comfortable getting mud on its tires.
I remember taking a Range Rover (the V6 one) down a rocky and muddy hillside during a drive event. I remember thinking that it was unreal to sit in such comfort, surrounded by such luxury, and be in a vehicle that can walk itself over various terrains and make its way safely down this hillside. That's another way the Range Rover is such an enigma.
On looks, the Range Rover retains most features from last year. The big and tall SUV is certainly distinctive. This is no flashy crossover. The boxy styling is kind of old school and shows that Range Rover won't conform to today's automotive trends.
Without a doubt, the best design feature is the barbed-wire looking grille. It shows the Range Rover's rugged/tough guy side. The vertical lines on the side panels help give the Range Rover some distinction from the profile. The back end of the Range Rover is less stylish, although twin tailpipes indicate the powerful side of this SUV. The HSE trim comes with 20-inch wheels which help elevate this already tall vehicle, although it is easy to get in and out, as it's much more SUV-like than pickup truck-like.
As stout, aggressive and rugged as the Range Rover appears on the outside, it's quite the opposite on the inside. The lavish interior justifies its big price tag. All materials are soft and high quality. Every little feature including wood accents have an industrial, modern art vibe. Seats are plush and comfortable. The ride is quiet, and there's ample headroom and legroom. Even the back seat allows for full-size adults to sit in comfort and luxury. There's also a spacious four-person "executive" seating option available.
Natural light pours in everywhere with the big windows. The double-paned panoramic sunroof runs the length of the vehicle, and has a tinted sheen that helps diffuse some of the daylight.
There's 32.1 cubic feet of cargo space behind the rear seats. Fold those flat and it expands to 71.7 cubic feet of useable space. This is about on par with vehicles like the Jeep Grand Cherokee and Audi Q7, but much less than a Ford Expedition or GMC Yukon.
The center stack is so clean and organized and flows perfectly with the elegant interior. It's refreshing in today's blend of buttons, knobs and touchscreens to have such a simple design. The gearshift rises up when the push-button ignition is engaged. The eight-inch touchscreen houses the infotainment system which is modern and beautiful. It's different from most systems in the way it's presented, but is still intuitive. Land Rover's InControl apps allows for smartphone integration that is simple to use.
By adding the diesel engine, Land Rover showed a dedication to making their vehicles more fuel efficient. They accomplished that with the HSE Td6, as it's the most fuel-efficient Range Rover offered. It has an EPA rating of 22/29 mpg city/highway. In a week's worth of driving, mostly in the suburbs (and sadly none of it off road), I averaged 25 mpg and barely saw a drop in the fuel gauge. For a big SUV, this thing is a fuel sipper.
There are five trims available for the Range Rover including Base, HSE, Supercharged, Autobiography and Autobiography SV. My tester was the HSE trim which includes heated and cooled seats (including the rear seats) and ultra-soft leather upholstery. Base price of the HSE trim is $93,450. My tester had optional packages like a rear seat entertainment system with screens on the back of the headrests, as well as a driver assistance package with sensor-based safety features like adaptive cruise control, a 360-degree parking camera and parking assistance.
Final MSRP of my tester was $106,325. That's quite a big price tag, even considering everything you get from the Range Rover. Despite all of its unique qualities, it's a big price tag that will limit its consumer appeal.
Source:: 95 Octane