By Paul Strauss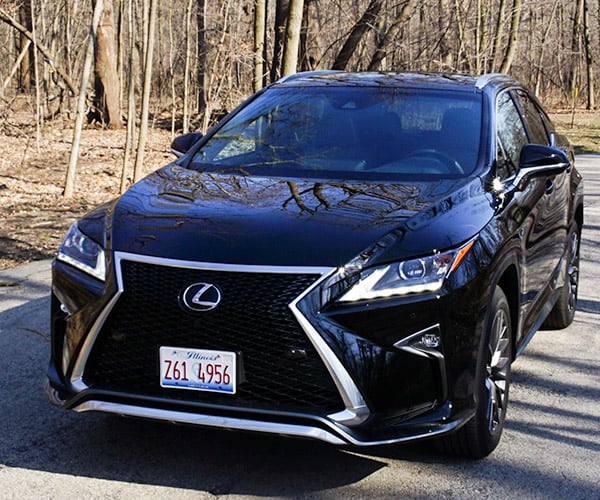 For years, the Lexus RX series SUV has been incredibly popular, thanks to its comfort, practicality and tranquil cabin. However, it wasn't exactly the vehicle to drive if you were looking for an engaging experience behind the wheel. That's definitely changed with the 2016 RX 350, especially in the F Sport trim. Back when it was first revealed, I had a
For years, the Lexus RX series SUV has been incredibly popular, thanks to its comfort, practicality and tranquil cabin. However, it wasn't exactly the vehicle to drive if you were looking for an engaging experience behind the wheel. That's definitely changed with the 2016 RX 350, especially in the F Sport trim. Back when it was first revealed, I had a brief opportunity to drive the full RX lineup, and my favorite was the RX 350 F Sport, so I jumped at the chance to drive one for a full week.

The design of the latest RX is quite a bit more aggressive than the previous generation, with sharper lines all around, and a bold, if somewhat divisive grille design, flanked by bright LED headlamps. Personally, I like the big spindle grille, but I definitely know people who don't care for it. I just appreciate that Lexus went out on a limb to do something much more dynamic than the old design.
Every RX 350 is driven by a 3.5-liter, 295 hp V6, married to a quick-shifting 8-speed automatic transmission. There are both FWD and AWD variants, though the F Sport is AWD only. The F Sport rides on big 20″ aluminum alloy wheels, has sporty front and rear spoilers, and gets a grille with an open mesh design vs. the horizontal bars on the regular RX.
Lexus has made it clear that the F Sport brand isn't strictly cosmetic, and the RX gets a sport-tuned adaptive variable suspension that's decidedly more fun than the base RX's. It's much stiffer and more engaging, but still offers good cushioning on bumpy roads. Steering feedback is satisfying, and with the improvements to its suspension and chassis, the new RX no longer exhibits the significant body roll that marked the prior gen.
I was particularly pleased with the RX350's acceleration, which manages to turn in a 0-to-60 time of 7.9 seconds. Sure, it's no supercar, but it's respectable for a 4300lb. SUV. In Sport or Sport+ mode, throttle response is more rewarding, and I enjoyed fiddling around with the paddle shifters to see how it performed nearer to the redline. Speaking of Sport+ mode, that also stiffens the variable suspension for even more direct road feel and turning prowess.
The F-Sport comes well equipped inside as well. The interior design flows very nicely, and incorporates premium materials including perforated leather trim, aluminum accents, and aluminum pedals. The sport-bolstered front seats offer both heat and cooling, with automatic temperature control. I found the seats to be quite supportive and comfortable.
That big 12.3″ display that's front and center is available with the optional navigation system, and allows side-by-side display of multiple information windows (i.e. nav and music). Sadly, it's still not a touchscreen, and input is controlled by a "puck." As much as I've gotten accustomed to this remote control scheme, I still prefer a touchscreen interface. As is the case with every recent Toyota/Lexus/Scion vehicle I've driven, the factory sound system is very good, offering impressive and clean sound that makes you wonder if there's any real need to upgrade to the pricier Mark Levinson system.
The display also provides access to an optional panoramic view camera system that makes it easy to see all around the vehicle, and even offers a mode where you can see a model of your car from the outside to see how it's positioned. It's bundled with blind spot monitors in the mirrors, as well as rear cross-traffic alert to protect you from cars driving across your field of view as you back out.
Rear seat comfort is good, with enough legroom and headroom even for tall adults. I really appreciate the knee cutouts in the front seatbacks as well. And while there is seating for three back there, the middle seat loses a little knee room to the center console and its air vents. The rear seats fold in a 40/20/40 split for maximum versatility, and there's a good deal of cargo space when they're folded down – though they don't fold completely flat.
Before this year, I really wasn't a fan of the Lexus RX. Sure, it was a reliable and hardworking grocery getter, but was too mushy and dispassionate for my tastes. For 2016, Lexus really stepped up their game, preserving the comfort and utility of their most popular vehicle, but also making it a far more compelling ride. Lexus has truly made me a convert, and I highly recommend the 2016 RX 35o F-Sport.
Source:: 95 Octane