By Amos Kwon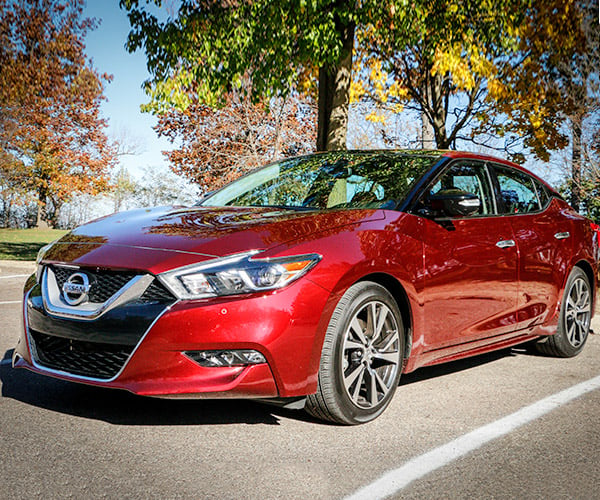 Not since Nissan's 3rd generation Maxima has the midsize "four-door sports car" or "4DSC" in Nissan-speak been truly spectacular, at least on the design end of things. It seems that the Maxima has had trouble figuring out what it wants to look like – and now for its eighth generation car, Nissan has pretty much gone balls-out in terms of styling in order to recapture that 4DSC spirit back. It's a bold attempt and one that is about as polarizing as a car's look can get, shy of the 2002 BMW 7-Series. It's a daring move considering that the Maxima sells incredibly well, garnering upwards of 50,000 unit sales per year. Plus, the edgy sheetmetal, cutlines and myriad surface treatments are consistent with the brand's new Murano, another hot seller – with both cars pushing the envelope in a realm where daring styling seems to pay off more in mainstream consumer vehicles than ever before.

Take one look at the Maxima, and you'll remark, "That's something, alright" if you haven't formed an opinion just yet. The bull-nose ring-like metallic "U" that surrounds the grille-mounted Nissan badge centers the fascia, and the very dramatic boomerang style headlights flank the busy grille and give the Maxima an extremely strong presence. Move further back, and the adventure continues with a scalloped hood and an S-shaped crease that runs from the headlight all the way to the rear door, creating almost two separate surfaces in the profile.
The Murano's floating roof also shows up here with a blackened portion of the A- and C-pillars dividing the top of the car from the body. The taillights mimic the headlights, but the rear of the Maxima is much more conservative than the rest of the body, with a single chrome strip above the license plate and twin round exhausts that are very tastefully done.
If it's drama that Nissan was going for, they nailed it. There's no sedan on the market that's as bold as this one. We think it's overstyled, really, and though not as revolutionary and polarizing as the old 7-Series was, it is extremely busy and definitely overwrought, especially in the front half of the car. But those who want to be noticed will cling to it like a barnacle on a ship's hull – because it absolutely stands out wherever it goes.
The interior, however, is quite nice. It's a very well-appointed cabin that's received a high level of attention, as well as solid materials that are aimed at customers who want more opulence and specialness than Altima customers. While remaining expansive in its feel, the center console is canted 7 degrees toward the driver, a setup inspired by jet fighters. The seats are comfortable but could use a bit more bolstering when things go lateral. There's ample room for four people, but the sloping roofline cuts into the middle rear passenger's headroom, a situation that likely won't be bothersome except for tall folks. Visibility out the front and sides is excellent, in spite of the massive contoured hood. Sightlines to the rear are a bit compromised by the big C-pillars.
Our tester came fully loaded in Platinum trim, the ultimate of five available levels. The robust interior included heated and cooled diamond-stitched leather seats ("Premium Ascot"), with 8-way driver and 4-way front passenger adjustment, as well as a power adjustable steering column. The Platinum version gets a very interesting treatment to its mahogany trim with diagonal bulges along its surface that are as unique as the car's exterior but appear as non sequitur in an otherwise tasteful interior. In a surprising manner, all Maximas get high end treatment in the form of a racing-style flat-bottom steering wheel, remote start, and even navigation. That's an attractive package for a car that's meant to aim for buyers who are looking for more than just a family sedan but a premium one.
On the functional side of things with the standard nav system, it seems that simplicity was the name of the game because Nissan has reduced the number of buttons on the center console from 25 to 10, replacing those functions with touch controls on the screen. It's both smart and lends to a more attractive center console that no longer looks like a NASA flight control system. You can even get nav directions sent directly to the big 7-inch screen in the instrument binnacle.
In the area of safety, the Maxima Platinum also came with intelligent cruise control, a blind-spot warning system, 360-degree camera visibility, rear cross-traffic alert, forward-collision warning, and automatic emergency braking when a crash is imminent – all adding to the already very robust amenities package.
As great as these offerings are, at the end of the day, it is about the driving – at least for us. The Maxima promises a lot with its tried and true VQ35 3.5-liter engine that's been bumped up to 300 hp, from 290 in the previous model. Peak torque is a healthy 261 lb-ft., unchanged from 2014. It's a potent mill that's smooth with its power delivery but still overwhelms the front tires, which drive the Maxima. We always wish for a return to rear-wheel drive, but that ship has sailed and will likely never come home.
The Maxima handles the curves well. Push it into more spirited territory, and the car's steering provides good feel and input, while the increased torsional rigidity (25% more), and the increased use of aluminum and high-strength steel all keep body roll more than manageable. The Maxima's curb weight has even dropped by 82 pounds from the last model and kept at a mere 3,471 pounds in total – barely more than a 2001 BMW 3-Series.
At the end of the day, though, it really is no sports car largely because of the front-wheel drive configuration combined with the Maxima's Continuously Variable Transmission, which no serious sports sedan should ever incorporate. It's effectively a single speed transmission that varies its ratios as opposed to changing gears. Despite the fact that Maxima engineers use something called Xtronic software to help modulate the CVT during various driving conditions (accelerator position, road grade, rate of acceleration and speed, and braking and cornering forces), the Maxima lacks the aggressiveness or feel of a sporty car when shifting. The Maxima "shifts" (computer-controlled drive-ratio changes) smoothly and pipes in aggressive sounds through the audio system, but the revs come in too early before the commensurate rate of acceleration is felt.
The Maxima will certainly outpace most sedans with its 5.9-second sprint to 60 mph, and it will hang on when most have blown themselves into the weeds, but there's no mistaking this car for a track toy, nor is it even in the realm of a BMW M car. It is, however, a capable and luxurious sedan with sporty leanings. Owners will feel special by virtue of its unique, aggressive design, bellowing engine and posh interior treatments, but if it's a four door sports car you crave, you're better off spending a little bit more, sacrificing the fancy digs and turning to a soon-to-be-extinct Chevrolet SS, which will set your hair on fire.
Source:: 95 Octane