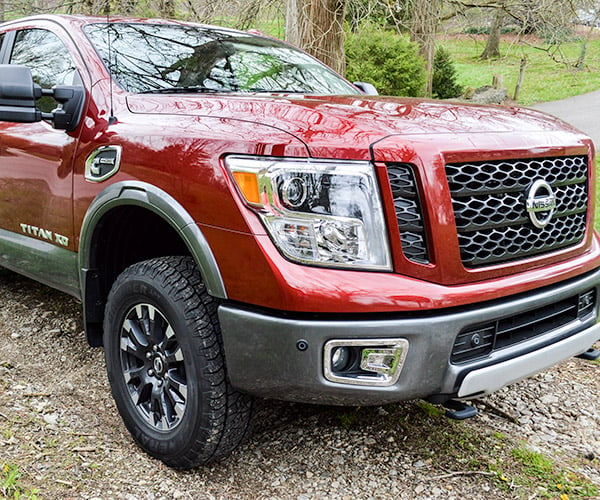 Let's get real for a minute. Prior to this model year, Nissan wasn't a brand most truck buyers even considered. So it only makes sense that in order to re-engage in this ultra-competitive segment, that Nissan had to do something bold. And in the world of big trucks, what's bolder than a real Cummins diesel engine?

Nissan partnered with the legendary engine maker to put one of their powerful diesel engines into the Titan XD. And with that, Nissan had instant credibility in the truck segment. But, the Titan had to bring more than just that Cummins badge on it in order to win over the very picky truck consumers. Indeed, the Titan had to be rugged, capable, with enough interior comfort to be viable.
The Titan XD is considered a heavy-duty truck due to its overall Gross Vehicle Weight Rating. Nissan wants to make the Titan as powerful and capable as possible while also making it fuel efficient. And by all accounts, they've accomplished that – and then some!
Everything about the Titan is big, including the Cummins C Turbo Diesel badge boldly and brazenly displayed on its fender. But beyond that, the Titan is bigger than most other heavy-duty trucks. The Titan XD is 243.6 inches long – that's more than 20 feet long. It has a minimum ground clearance of nine inches and sits on 18-inch tires. Unfortunately, my tester didn't have running boards and meant I literally had to leap into the truck to enter it. This proved to be quite exhausting. Unless you're over six feet tall, don't buy the Titan without opting for running boards!
On looks alone, the new Titan is so much better than the previous generation. It can stand against all other rivals in rugged and muscular aesthetics. The front end is aggressive and masculine looking. Fog lights are integrated on the front bumper with a simple, but well-designed grille. Side mirrors can be extended or can be folded in, which considering its size is a good thing.
My tester came with a 6.5-foot bed (Crew Cab) and part of that bed is the "Titan Box" which offers versatile storage in the interior sides of the truck bed. The Titan Box can be used to store tools or function as a cooler. It's all part of the Utility Package, which is an $1,100 add on option that also comes with tie-down cleats, an illuminated tailgate, a 110v outlet in the bed, spray-on bedliner, and a gooseneck hitch. This package seems like a must for those who plan to use the Titan XD as it was meant to be used, carrying cargo and towing.
The Titan XD is certainly capable at towing, thanks in part to the 5.0-liter V8 Cummins engine. The Titan XD has a maximum towing capacity of 12,314 pounds and maximum payload of 2,594 pounds. Thanks to that turbocharged diesel engine, the Titan makes 310 horsepower and a whopping 555 lb-ft. of torque. Indeed, the XD is the option for those with major towing needs, as it can outhaul most others in the segment. There is a 5.6-liter gasoline V8 engine as well, but despite its higher 390 hp rating, it has just 401 lb-ft. of torque and less towing ability.
Rear-wheel drive is standard, although 4-wheel drive is the preferred option for the Titan, especially if you plan on dealing with challenging terrain. A six-speed automatic transmission is the only option, and that's unfortunate as the gearbox seems to be the only remnant of the old Titan, and doesn't quite feel up to handling all that torque. There is a noticeable turbo lag in the Titan XD and hopefully in future updates a more modern transmission will be incorporated to mitigate this.
Some critics have noted that the Titan's interior is not as lavish and nice as the F-150, Silverado or even the Ram, but I think you have to judge the Titan as a work in progress. They had to improve the engine and capability of the Titan first, next they can focus on the interior tweaks. And to be fair, the interior of the Titan is significantly better than it was in the past. Touchpoints seem better too, although some harder materials are still being used.
The gear shift has been moved to the steering column which gives driver and front passenger more shoulder and elbow room. It also helps to better organize the center stack. A seven-inch touchscreen is part of the simple, intuitive infotainment system. The Titan doesn't knock your socks off with technology, but it's improved from what it used to be.
The overall cabin is spacious and even the back seat has ample room for adults to sit comfortably. The back seat flips up to reveal a good amount of storage area. This feature is new to the Titan and while the cargo area isn't huge, it's a nice touch and mirrors similar storage found in the Ram and the Toyota Tundra.
The Titan XD has five trim levels: S, SV, Pro-4X, SL and Platinum Reserve. The Platinum Reserve trim takes the Titan to the upper echelon of truck luxury, capable of competing with the GMC Sierra Denali or Ford F-150 King Ranch trims.
My tester was the rugged Pro-4X Crew Cab, which came with 4WD standard, Bilstein off-road shocks, an electronic locking rear diff, skid plates, and has a hill-descent feature. These features makes the Titan XD truly off-road ready. Starting price of the Titan XD Pro-4X is $50,970. Add several packages and options and my tester had a final MSRP of $58,165. Even for a big truck with a Cummins engine, that's a hefty price tag. It's a good thing the Titan is a hefty truck! That said, you can get into a base Titan XD diesel starting at $40,290, or the gas model for as little as $35,290.
The EPA does not require fuel economy ratings for diesel trucks. As such, there is no official rating, but I can say that in a week's worth of mixed driving, both highway and through the suburbs, I averaged 16 mpg. Given its intended purposes, the Titan XD has a smallish fuel tank at only 26 gallons.
Here in the U.S., trucks are a big deal. And having more options and choices is a good thing. So for that, it's great that Nissan has recommitted to improving the Titan. They've made a big impact by partnering with Cummins for a powerful, torquey, capable engine in the Titan XD. Along with improvements to the overall look and improvements to the interior, the Titan XD is back to being relevant in the heavy-duty pickup world.
Source:: 95 Octane