By Paul Strauss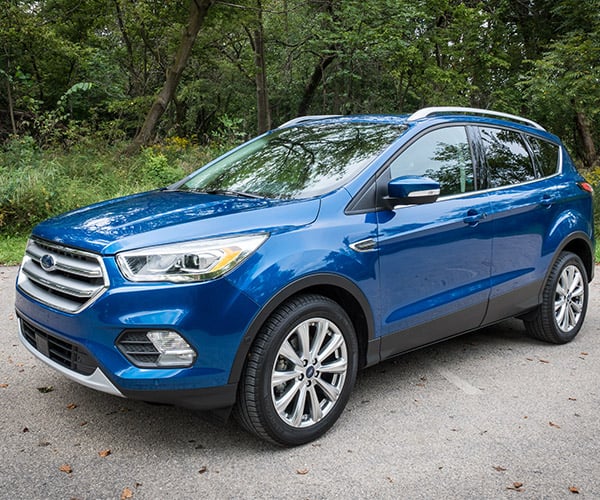 The Ford Escape has one of the longest running histories in the compact SUV space. The original Escape hit the market back in 2000, sharing underpinnings with the Mazda Tribute. Lots of competitors have come (and a few have gone – including the Tribute) from the market over the last 15 years, so I was curious to see if Ford's been able to keep up with the evolving market for SUVs and crossovers.
If you ask me, the answer is a resounding "yes." The latest iteration of the Escape is an excellent, value packed vehicle perfect for young families, adventurers, and everyday living.
The styling of the Escape has come a very long way since its boxy beginnings, having most recently been revamped back in 2015. For 2017, there's an impressive new hexagonal grille, giving the Escape much more presence than ever. From every side, the Escape offers a sense of dynamism, with curved corners, a sporty side profile, and a sculpted modern headlamps. Black trim along the bottom edge, and front and rear skid plates add visual interest, and also help to protect the car from rocks and other debris.
I drove the Escape Titanium, the most tricked out model, both in terms of cosmetics and features. It's available with three different engines – a base 2.5-liter four-cylinder, a 1.5-liter EcoBoost, and a 2.0-liter twin-scroll EcoBoost. My Escape came with the 1.5-liter engine, which outputs 179 hp and 177 lb-ft. of torque, which beats the naturally-aspirated engine's stats, despite its size. The 2.0-liter bumps things up to 245 hp and an impressive 275 lb-ft. of torque, respectively.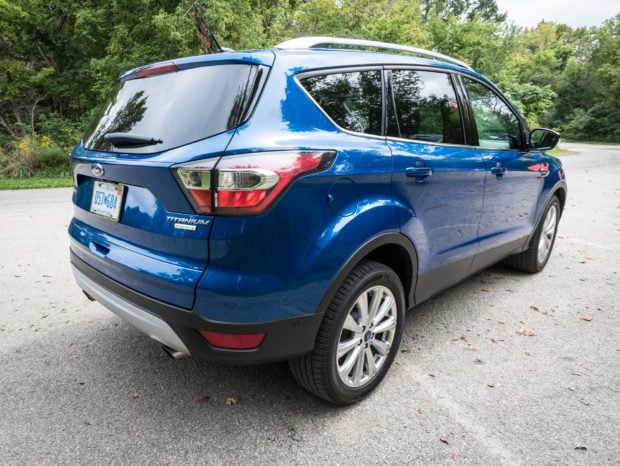 All three engines are mated to a 6-speed automatic transmission, which shifts quite smoothly, but doesn't provide some of the fuel economy benefits of newer gearboxes with 7 or more gears. I was initially concerned that the 1.5-liter might be underwhelming, but it wasn't. I found that there was plenty of pep in the Escape's step, further driving home the point that it's amazing what they're doing these days with tiny engines and turbocharging. Ford's EcoBoosts are among the best turbocharged engines out there, so I guess I shouldn't have been surprised. At no point did I feel like the engine was overworked, and turbo lag is minimal. Noise, vibration, and harshness are also well controlled, and the only noise I ever heard was the woosh of the turbo under acceleration.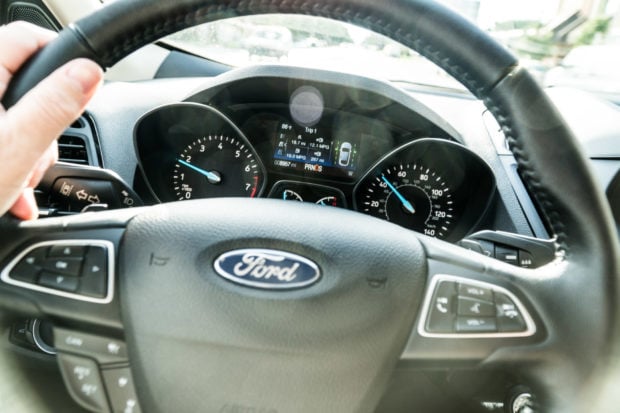 I was impressed with the overall handling of the Escape. It cornered predictably, without much body roll to speak of, and the steering is responsive without being overly heavy or light. My car was a front-wheel drive model, and I did notice a decent amount of torque steer when coming out of a dead stop, but it wasn't bothersome in typical driving. There's also an all-wheel drive option available, but I can't speak to how it handles.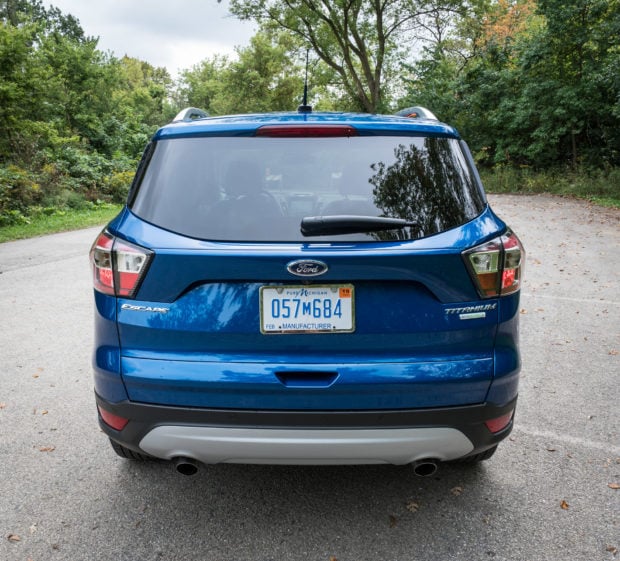 Inside, the 2017 Escape gets a slightly updated center console. Visually, I can't tell the difference from last year's model, but there's apparently more storage space, and easier access to the USB port and power outlet. The center armrest bin is definitely quite cavernous. The Escape is offered in three available trim levels: S, SE and Titanium. The Titanium model comes with upscale touches like leather-trimmed seats, a leather-wrapped steering wheel and gear shift knob, dual-zone climate control, push-button start, a universal garage door opener, ambient lighting, remote engine start, heated mirrors, and LED signature lighting outside. I'm sure the heated steering wheel and heated front seats would really come in handy in the frigid Chicago winters.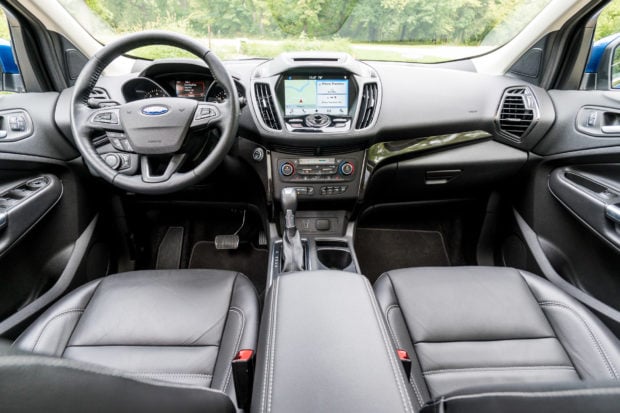 The seating offers good comfort and support, which is welcome if you plan on taking the Escape for any long road trips. Visibility is also excellent. I was especially impressed with the expansive front windshield. The front seating positions are great for taller passengers, though the rear seat has somewhat limited headroom. I'm 6-feet tall, and I had about an inch above my head when sitting in the back. Legroom is good though. I also suggest going for the optional panoramic sunroof, which brings lots of light, and a sense of height into the cabin.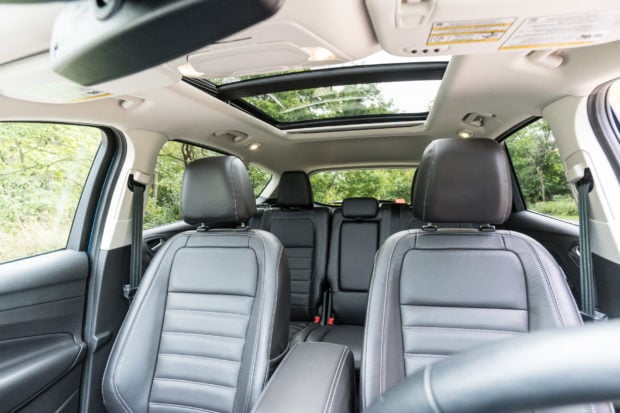 Cargo space behind the rear seat is above average, with 34 cubic feet when the seats are up, and 68 cubic feet if you fold them down. That puts the Escape well ahead of the Chevy Equinox, and slightly ahead of the Mazda CX-5, but behind the Honda CR-V and Toyota RAV-4. Entry to the cargo space is via a motorized hands-free liftgate that you can open by waving your foot around under the bumper. For some reason, I could never get this feature to work for me – maybe my feet are invisible – or more likely, it was user error on my part.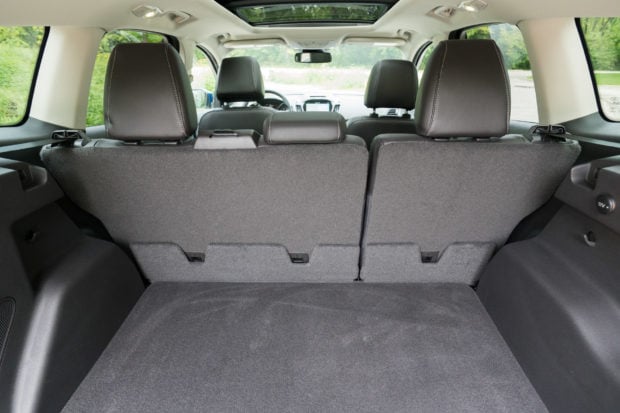 The Escape sports Ford's latest SYNC 3 infotainment system, which I found to be much faster and more intuitive than the old SYNC and Ford MyTouch systems, especially when it comes to the navigation features. Keying in an address or point of interest works like a search engine, offering a unified input box, and autocomplete to speed things along. The Platinum's 10-speaker Sony sound system is excellent, pushing out plentiful volume, deep bass, and clean sounds.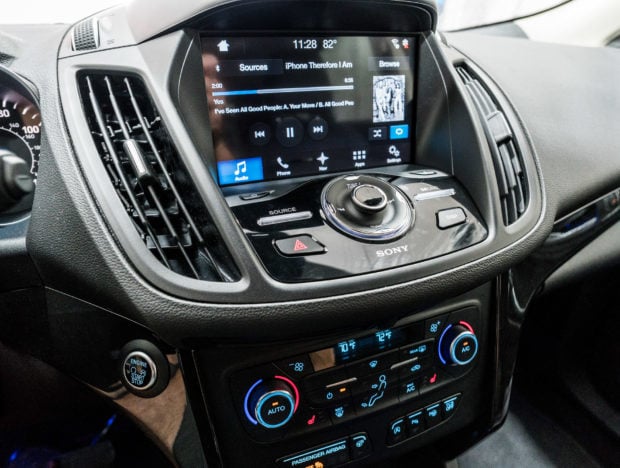 The 2017 Escape has the first SYNC 3 system to integrate both Apple CarPlay and Android Auto. While I didn't have an Android phone handy for testing, my iPhone 6 Plus worked brilliantly with CarPlay, offering quick and easy access to phone, maps, music, and Siri. I'm a big fan of these systems for a few reasons – first off they provide a familiar interface, but more importantly, they encourage drivers to keep their eyes on the road – rather than on their smartphones.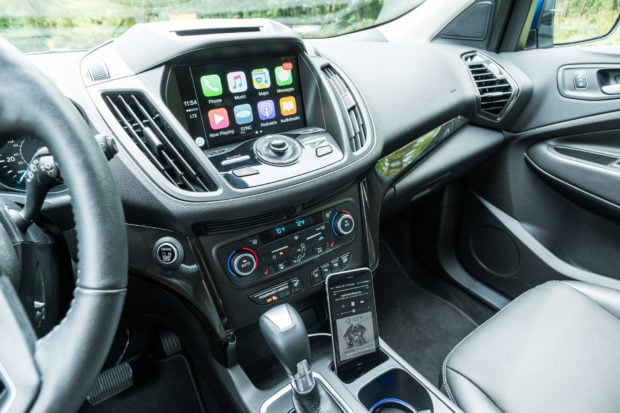 My loaner was packed with safety and convenience tech, including a backup camera, front, side and rear parking sensors, parallel and perpendicular park assist, adaptive cruise control, forward collision warning, blind spot monitoring with cross-traffic alert, lane keeping assist, automatic high beams, rain sensing front wipers.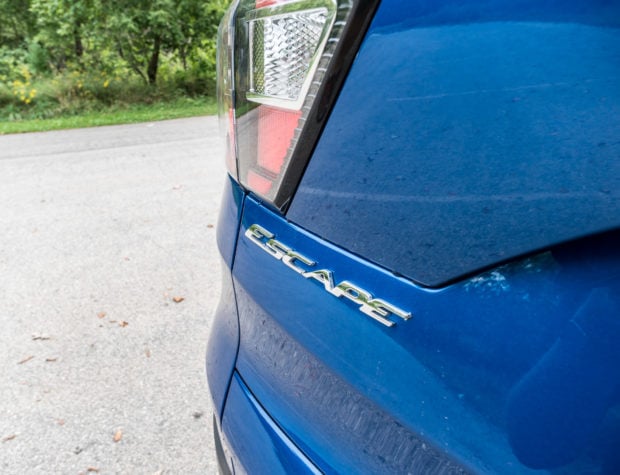 With the 2017 Escape, Ford has done a great job maintaining one of the lead positions in the compact SUV market. The Escape offers comfort, quiet, utility, and a reasonably engaging driving experience, even with the smaller EcoBoost engine and a front-wheel drive setup. I'd love to spend some time with the 2.0-liter AWD version at some point so I can compare and contrast the two.
Source:: 95 Octane