By Paul Strauss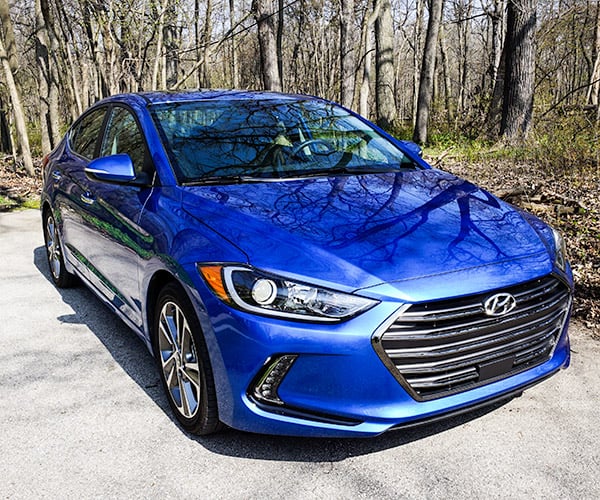 For as long as I can remember, the Hyundai Elantra has been one of those cars that I'd see driving down the road without giving it a second look. They've always been pretty serviceable little cars, but never much to look at inside or out. That's all changed with the 2017 redesign of the Elantra, and it's no more evident than in the upscale Limited variant.

The first and most noticeable change for the new model year is a far more dynamic and modern looking front end. The wide-mouthed hexagonal grille is similar to the ones found on the Sonata, Santa Fe and Tucson, though due to the size of the Elantra, it's even more dramatic, taking up the vast majority of the car's face, and making it feel wide and planted. I particularly like the interplay between the lower end of the grille and the angular LED daytime running lights.
The body also seems to flow better than ever before, with a longer and wider look than its predecessors. In fact, the new Elantra is 1″ longer and 0.8″ wider than it was this past model year.
There are two main models available, the entry level Elantra SE, and the premium Elantra Limited I had the opportunity to drive. The Limited gets exterior upgrades like the aforementioned LED running lights, LED taillights, chrome trim on the beltline, door handles, and grille, mirror turn signal indicators, and some rather swell looking 17″ alloy wheels. I'm a sucker for wheels with that vortex look.
The Elantra is powered by a 2.0-liter, naturally aspirated 4-cylinder engine that makes 147 hp and 132 lb-ft. of torque. This might not sound like a ton of power, but acceleration is sufficient for everyday driving, and I never felt the Elantra was underpowered for its size and sub-3000 pound curb weight. If you want a more zippy drive, keep your eyes peeled for the forthcoming Elantra Sport, rumored to be getting a 1.6-liter turbo 4 that makes 201 hp and 195 lb-ft. of torque, the same engine found in the Veloster Turbo.
The 6-speed automatic offers satisfying gear changes, and is a welcome feature when so many smaller cars have been moving towards CVTs these days. Improvements the chassis both reduced weight and improved stiffness compared to the prior model. I found that it generally handled well on a mix of road surfaces, soaking up bumpy country roads and Chicago's crater sized potholes well. However, it exhibited a bit more body roll than I like when cornering.
Cabin noise and vibration is extremely well controlled, offering the sort of quiet and comfortable ride you might expect from a much more costly luxury vehicle. With the exception of times of hard acceleration, this car is Lexus quiet inside.
I was happy to find that the drive mode selector on the Elantra affects driving characteristics nicely. The motor-driven power steering offers a satisfying amount of weight in Sport mode, while the transmission holds much higher revs. Normal mode offers a good balance of fuel efficiency and driving ease, and Eco mode keeps the engine and air conditioning working less to save a bit of fuel. Speaking of fuel economy, the Elantra Limited is rated at 28 mpg city, 37 mpg highway and 32 combined. In my week of mixed driving, I consistently got around 30 to 33 mpg, and on a long highway drive, I averaged nearly 39 mpg.
Hyundai does a great job packing a ton of tech into the Elantra, assuming you opt for the $2500 tech package. This adds a nav system with an 8″ touchscreen display, Android Auto and Apple CarPlay support, an 8-speaker Infinity sound system, a power sunroof, and heat for rear seat passengers.
Those features are in addition to the Limited's standard tech like blind spot detection, rear cross-traffic alert, automatic headlight control, a rearview camera with dynamic guidelines, dual-zone climate control, and keyless pushbutton start. My loaner was also upgraded with automatic emergency braking, Hyundai's excellent smart cruise control system, which can automatically adapt to slow-moving highway traffic, as well as lane-keep assist which does a great job keeping you from drifting out of your lane. Seriously, between these two features, this car is just a stone's throw from being autonomous – at least on the highway. Just a few years ago, none of were features you'd imagine being available in an entry-level Hyundai.
The interior of the Elantra Limited is nicely appointed, with leather seating surfaces and heat for front seat passengers. Leather also makes its way around the steering wheel and shift knob. However, the dash is made from a painted soft-touch material, which isn't exactly fancy, but does a good job controlling glare.
Rear seat passengers get more legroom than you'd think for a car of this size, and the seats are nice and comfy. While it's a bit of an apples-to-oranges comparison, the new Elantra has almost the same passenger capacity as a Cadillac CTS, and more cargo space. In fact, the EPA has classified the Elantra as a midsize despite my assumption that it was a compact. The back seat also folds into a 60/40 split to pass through to the already spacious 14.4 cubic foot trunk.
Hyundai continues to step up its game across its entire product line, and the 2017 Elantra is no exception. Its design is a major step forward, and makes it a far more visually appealing car than ever. When properly optioned, it packs a ton of technology, and it's interior is shockingly quiet and comfortable. Sure, it's not the most powerful or zippy car on the road, but it's definitely one of my top picks in the compact, er… midsize sedan category.
Source:: 95 Octane