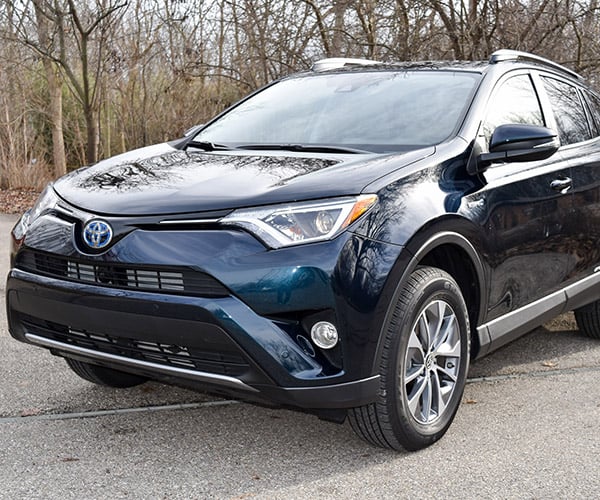 If you've followed my writing and reviews, you'll know I'm not a big hybrid guy. Generally speaking, I've found them sloth-like and pretty unenjoyable to drive. Likewise, crossovers generally leave me feeling uninspired and unimpressed. Enough with the generalizations, especially after the week I spent with the 2017 Toyota RAV4 Hybrid. The RAV4 hybrid is the measuring stick to which all crossovers and all hybrid vehicles should be measured.
Debuting last year, the RAV4 Hybrid brought a sense of fuel-sipping swagger to this gelatinous segment. Heck, it even added excitement to the RAV4 which is an all-around fine vehicle, but is also so solid that it's boring. But now that it surpasses 30 mpg and doesn't lose any pep, well count me in – all in.
Although it first received its hybrid power plant last year, this was my first time driving the RAV4 hybrid. Things to always look for in hybrids, call them warning signs, are lack of storage space (due to battery location), lack of pep, strange or futuristic (i.e. ugly) looks, and a drop in interior space and quality. The RAV4 hybrid doesn't have any of these warning signs. In fact, in some regards it's better than the gasoline-only RAV4.
First, on looks, Toyota didn't give the RAV4 a "Prius" look, rather remained true to the conservative and attractive look of the standard RAV4. A side-by-side comparison and there's almost no difference between the RAV4 and the hybrid. Other than a special blue badge, which indicates the hybrid technology, the looks are identical.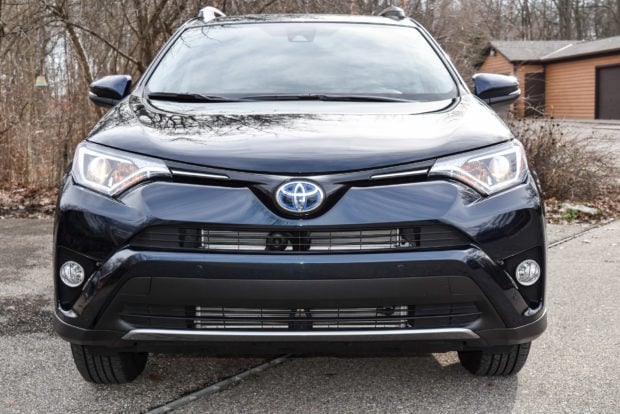 The RAV4 is a crossover in the truest of definitions. It's close to the ground and truly does resemble the marriage of car and SUV. Its pointed front end and headlights extremely conservative, and could use a little more styling distinction, while the tail lights are better looking and more stylized. In fact, the back end of the RAV4 Hybrid is the best angle of this crossover.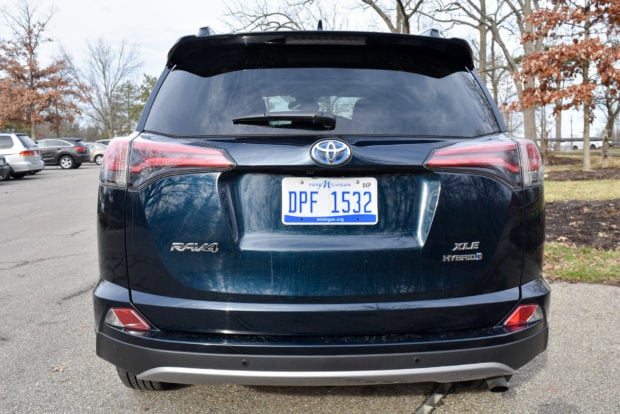 The balanced, clean back end looks modern, and is topped off with a roof spoiler. The slope of the roofline and angle of the C-pillar enhance the overall aesthetics of the RAV4. Whereas the front end is understated and lacks pizzazz, the back end picks up the slack and adds some amount of eye appeal to this restrained crossover.
Under the hood is a 194-horsepower 2.5-liter four-cylinder engine which is accompanied by two electric motors. The RAV4 Hybrid is actually more powerful than the standard gasoline-only RAV4. Neither crossover will win any drag races or give you goosebumps to drive. However, surprisingly the RAV4 hybrid is peppy enough to impress. A continuously variable transmission, another mechanical thing I generally dislike, works well with the hybrid drivetrain here. Some of the quirks and nuances that are hard to adjust to with other CVTs are not present in combination with this hybrid.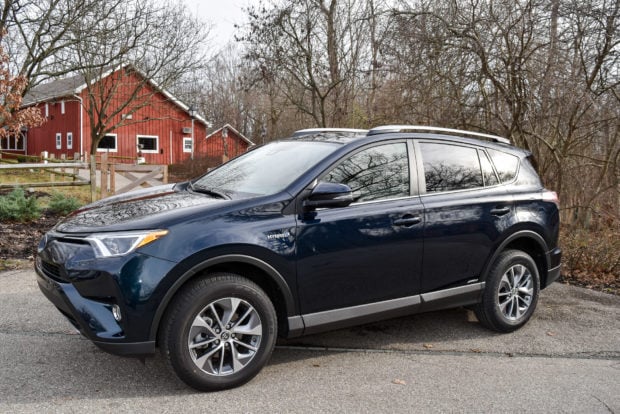 If you want more power, the Toyota Highlander Hybrid, with its V6 engine is the better option. But, as a daily driver, the RAV4 Hybrid does a good job both in the city and in the suburbs, on and off the highway. All-wheel drive is standard, making it ideal for changing road conditions. It's great to see AWD on a vehicle that's so focused on fuel economy numbers. The RAV4 Hybrid has an EPA rating of 34 mpg/city and 30 mpg/highway.
The only real mechanical issue I encountered with the RAV4 Hybrid was with the brakes, which I found to be a little mushy. Usually hybrid brakes are a little firmer, but these felt less confident than I'm used to.
Inside, the RAV4 again follows the conservative game plan. While there are few touchpoints that will wow you, everything inside is well made. There's not a lot of leather or high-end materials, rather the RAV4 focuses on economic savings to offer a fuel-efficient, affordable crossover. The higher trimmed RAV4 Limited offers softer materials including leatherette seats and lumbar support.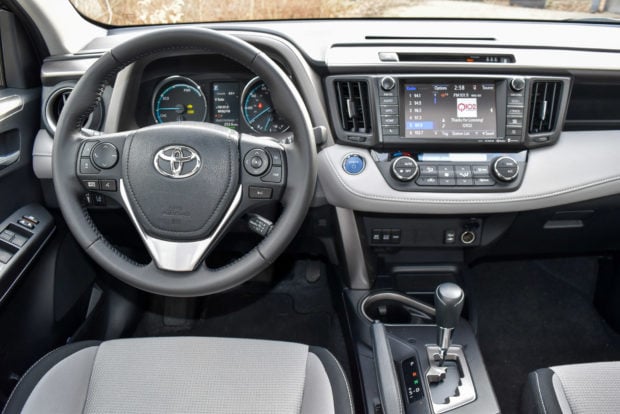 Toyota's Entune infotainment system is adequate. It doesn't feature any real cutting-edge technology but it's a pretty simple system to use, and offers easy smartphone integration. There's a 7-inch touchscreen that is responsive and intuitive. A 6.1-inch screen is available on the lower trims. My tester had the upgraded JBL 11-speaker system premium audio system.
Unlike other hybrids, cargo room, and passenger space is not reduced in any meaningful way by the hybrid drivetrain (and battery placement). Back seat passengers will be comfortable with ample shoulder room and enough legroom to appease two full-size adults thanks to reclining seats.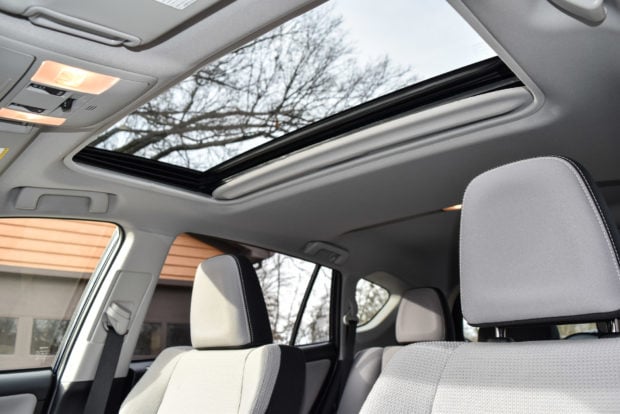 The battery power is located in the rear of the vehicle, which means the RAV4 hybrid has slightly less cargo room than the gasoline only option. Still, at 35.6 cubic feet of space with seats upright, it's impressive. Fold the rear seats flat and that cargo expands to 70.6 cubic feet, which again is only slightly less than the 73.4 cubic feet of the non-hybrid. There's rear access through a hands-free height-adjustable power liftgate. Simply swing your foot near the bumper with key fob on you, and it will open.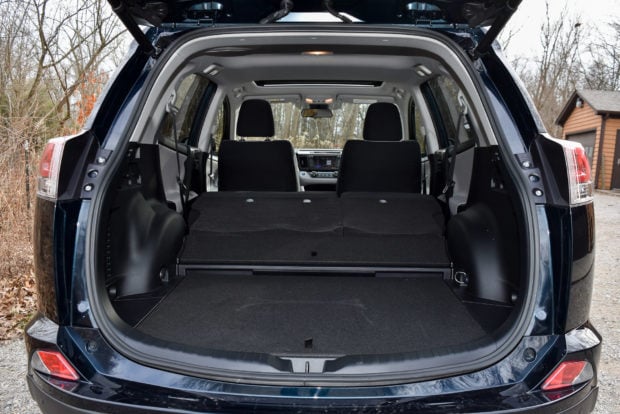 There are three trims for the RAV4 Hybrid: XLE, SE and Limited. My tester was the base trim XLE which has plenty of features including 17-inch wheels, moonroof, and sensor-based safety features including collision alert, lane departure and blind spot monitoring. Options installed included the aforementioned power liftgate and upgraded audio system with the 7-inch touchscreen. Starting price of the RAV4 Hybrid XLE is $29,030. My tester had a final MSRP of $31,995. The top-of-the line Limited trim can exceed $34,000. Pricing for the Hybrid models is about $2200 more than the equivalent gasoline-only RAV4 models. However, some of those extra costs are recouped through the segment-leading fuel economy.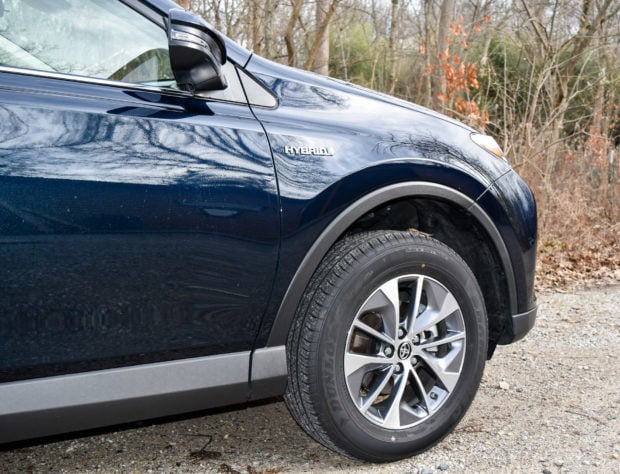 The 2017 RAV4 Hybrid is ideal as a daily driver for smaller families. As a utility vehicle, it's versatile and will have less trips to the pump than its competitors. With AWD, ample cargo and passenger space, it excels in the crossover space. It won't be thrilling, but this vehicle will thrive for families.
Source:: 95 Octane