By Paul Strauss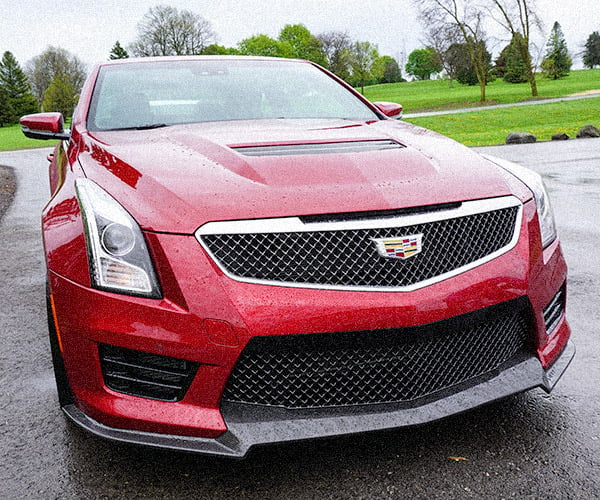 Ever since it was announced, I've been excited to drive the new Cadillac ATS-V. After all, I really loved the
Ever since it was announced, I've been excited to drive the new Cadillac ATS-V. After all, I really loved the everyday ATS and this one has a 464 horsepower twin-turbo V6 and is track ready from the factory. What's not to like?
Out of the gate, the ATS-V looks awesome, adding an aggressive new fascia that's more sharply defined than the ATS, with a honeycomb grille, a carbon fiber hood, and a dramatic front splitter that and an integrated rear spoiler that help reduce lift. The car rides on special 18″ V series aluminum forged wheels, wrapped in sticky Michelin Pilot Super Sport tires. Whether you choose the coupe or the sedan model, performance is identical.
What makes the ATS-V really sing is its 3.6L twin-turbo V6 under the hood, which puts out an impressive 445 lb.-ft. of torque. The engine produces a satisfying baritone exhaust note, which is pushed out through the car's quad exhaust pipes.
When in Sport or Track modes, the sound is most enjoyable, otherwise, it quiets down to a more family friendly sound.
Shifting is done with either an 8-speed automatic with paddle shifters, based on a repackaged version of the Corvette Stingray's extraordinary gearbox, or a 6-speed manual for those who prefer a 3-pedal setup. Since I could never out-shift the 8-speed, I prefer that for raw performance and daily driver convenience, but the manual certainly is a rewarding experience if you want a more visceral driving experience.
Driving the ATS-V is immensely enjoyable, with tight and responsive ZF electric power steering and excellent grip in the corners. Ride dynamics are surprisingly comfortable for a car of its power and handling ability, thanks in large part to Cadillac's Magnetic Ride Control adaptive suspension, which constantly adjusts to driving conditions. Cadillac also stiffened the body of the car by about 25%, which makes it even more confidence instilling than the already great ATS. Body roll is virtually non-existent. And with all the horses burbling under the hood, it's nice to know that the Brembo performance brakes can stop the ATS-V on a dime.
The inside of the ATS-V is largely reminiscent of the classy, yet sporty ATS, though the Recaro performance seats are a nice upgrade and offer excellent, adjustable bolstering for your sides, back and rear end. These are seats that work just as well on a track as on a long road trip, and are heated for cold winter days. Other details include carbon fiber and aluminum trim, along with a leather wrapped-steering wheel, and sueded trim pieces on the leather seats. Active noise cancellation helps keep things quiet in the cabin.
You'll also get Cadillac's touchscreen CUE infotainment system, a rear vision camera, front and rear parking sensors, wireless smartphone charging, and a 4G LTE Wi-Fi hotspot. For track enthusiasts, go for the track performance package, which includes a data recorder which can record video of your laps and overlay your performance data onto it.
The ATS-V is a true driver's car. It's powerful, handles incredibly well, and offers a great connection to the road. Best of all, it can go straight from the dealership to the track, and handles the open road like a champ.
Source:: 95 Octane