By Paul Strauss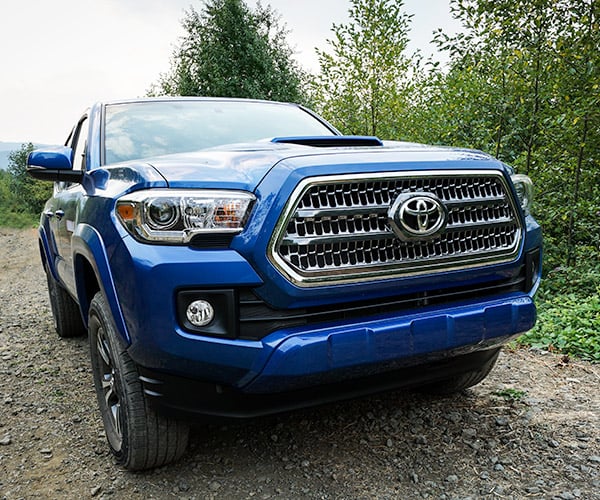 Toyota has been making some of the most durable and off-road worthy pickup trucks for as long as I can remember. The truck I think is at the sweet spot of their product line is the Tacoma. While the Tundra is great for hauling and towing huge loads (like
Toyota has been making some of the most durable and off-road worthy pickup trucks for as long as I can remember. The truck I think is at the sweet spot of their product line is the Tacoma. While the Tundra is great for hauling and towing huge loads (like Space Shuttles), the Tacoma is a great all-around ride for both carrying everyday things and having fun.
Sporting ruggedly athletic new looks, the 2016 Tacoma lineup consists of the entry-level SR and SR5 models, the TRD Off-Road and TRD Sport and luxury-oriented Limited. All variants can be had in either a 4×2 or 4×4 configuration, with a 6-speed automatic or 6-speed manual gearbox, and in either an extended cab or double cab. The TRD 4×4 trucks with automatics are by far the most popular of the Tacoma series, and those are the models I recently took on an off-road adventure through the woods outside of Seattle.

The TRD models can be readily identified by not only their badging, but from their square-latticed dark chrome grille and large overfenders. Both models get a 120V/400-watt AC outlet in the bed, pushbutton ignition, a 7.2″ touchscreen multimedia system, backup camera, and Qi wireless charging too. Toyota's two-pronged strategy with the TRD models is to offer a robust off-road truck, and a more sporty model for those who won't spend quite as much time in the dirt. The Sport model trades some visual upgrades in exchange for fewer off-road features.
No matter which Tacoma model you choose, you get a built-in GoPro mount so you can capture your adventures. This is an inexpensive, but brilliant move on Toyota's part to appeal to its core audience.
The TRD Sport gets a big honking hood scoop, 17″ alloys, color-matched overfenders, and a suspension system that's been tuned for sportier handling than the Off-Road model.
Both TRD trucks are quite capable of handling rough and rugged roads, but the TRD Off-Road gets Crawl Control, an electronically-controlled locking rear diff, and a Multi-terrain Select capability to optimize traction on a variety of road surfaces.
The TRD Off-Road has black overfenders, 16″ two-toned alloy rims, wrapped in chunky Wrangler tires with Kevlar sidewalls to help them handle whatever you throw at them. Given the fact that the two models start at the same price, I'd opt for the Off-Road, if only for the tires and Crawl Control, which proved indispensable on the steep and slippery hills of our test course.
Toyota invested what had to be a small fortune to carve out its own custom off-road course at the site of an 1,800 acre disused coal mine in the town of Black Diamond, Washington. The route consisted of miles of loose gravel roads, tight turns through dirt and trees, and a couple of daunting, steep hills – the first one, dubbed "Double-Drop" consisted of two rough-paved 40-degree grades.
I first climbed this obstacle with the TRD Sport, sans Crawl Control. I set the truck to 4-Low mode and dropped it into 1st gear, then set about my business. While the truck definitely needed a little encouragement, it made it up and down the hills without breaking a sweat – though it required constant regulation of acceleration and braking by yours truly. Switching to the TRD Off-Road's Crawl Control system took care of everything but the steering, automatically calculating how much power and braking to send to each wheel both up and down the hill.
The next obstacle was a longer, similarly steep hill, but this one was made of loose dirt with lots of ruts. They weren't about to let me take a brand new truck down there without Crawl Control, so the TRD Sport was off-limits for this one.
I stopped at the top of the hill, the Tacoma's suspension providing a good deal of travel between the chassis and the ground, with the left rear tire floating. It was time to head down the hill, trusting the lives of myself, an off-road guide and two other journalists to the high-tech hill management system. I let go of the gas and the brake, and away we went. The temptation to assist was great, but the system needed no such coaxing. Sure, it made a cacophony of MRI machine-like pulsating sounds along the way, but it brought us safely to the bottom of the hill. All I had to do was steer and trust.
I ended my off-road adventure at a challenge called "The Boneyard" – a treacherous quarry filled entirely with large, craggy boulders. This place would surely make mincemeat of lesser vehicles, but the TRD Off-Road handled it with aplomb.
Again, Crawl Control came in handy here, along with setting the Multi-terrain Select to "Loose Rock." While it was arguably the bumpiest ride I've ever taken in my life, the truck, its occupants, and its tires all came through with flying colors.
Of course, if you're buying a pickup, you're probably not spending 100% of your time off road. Toyota recognizes this and invested heavily in making the cabin of the Tacoma one of the best in the industry.Their efforts clearly paid off. Toyota says there was a reduction of 43% in noise, vibration and harshness compared to the outgoing model.
By changing the windshield to acoustic glass, adding numerous silencer pads, seals, and other tweaks, driving in the Tacoma is as quiet and comfortable as a luxury sedan. I was shocked how peaceful it was for a truck, and the sheer lack of road and wind noise was a real treat. While these and some mandated safety changes increased the overall weight of the truck a bit, a 12% reduction in drag and improved engine efficiency actually helped to increase fuel efficiency by about 10%.
I found the TRD Off-Road's suspension and tires to be a bit harsher on bumpy roads than the TRD Sport. However both models are perfectly fine on the highway and regular streets, and you only really notice the difference on potholes and other challenging roads at speed. If you expect to be doing most of your driving in the city, I suppose the Sport has a slight edge here, but I still vote for the Off-Road for overall capability. I'm also a sucker for orange and black vehicles.
The Toyota Tacoma is an extraordinarily popular truck with adventure seekers, and after my time behind of several of them, I can totally understand why it is. With the latest iteration, the truck is not only durable and good looking, but it can handle pretty much any challenge you can throw at it, and does it with a quiet and comfortable cabin. Buyers won't have to wait long to get their hands on the 2016 model either – with the first trucks hitting dealerships early this September.
Source:: 95 Octane