By Gigi Leonard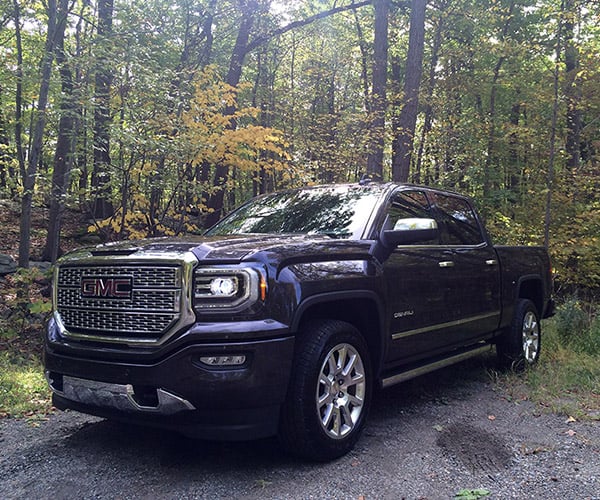 Have you ever had a dream that was so vivid that when you wake up, you feel like you're still in it? This just happened to me – the other morning I woke up from a dream about pick-up trucks. Not just any random pick-up truck, though – a really high end, unlikely, luxurious truck. A vehicle that was of the utmost utility, but that didn't really feel like a truck at all. After languorously letting my mind explore this idea in my state of being half awake, I realized I was dreaming of specifics, thinking about the recent trip I took with GMC to New York City. I was thinking about the 2016 Sierra Denali.
Denali represents the top range within the GMC brand. It is the jewel in their crown, and represents 25% of all GMC sales. Their enthusiasts are sophisticated and tech-savvy, which makes design extremely important to the brand. It was easy to see that reflected in the truck as I approached it for my test drive. The first thing I noticed was how bold the exterior was, and how, oddly enough, it fit into the urban environment despite its enormity. There is a real presence about this vehicle. The first detail that struck me was the gleaming chrome grille, which sat in between the distinctive C-shaped LED headlights and matched nicely with the shiny 20" wheels.
Then when I opened the door, a power articulating assist step elegantly appeared, quickly and quietly to help me climb up into the cab. The step has a neat trick up its sleeve too – it can move backwards to provide easy access to the front of the bed too.

I admired the luxury of space inside and the subtly elegant color palette as I spread my stuff out, because who here among us doesn't travel with a bunch of devices? I felt comfortable relaxing in the vented leather seats while checking out the digs. It's a chill paradise in there. There's a ton of interior storage (think hanging file folders in the center console), 4G LTE and of course a wireless phone charger, an 8" screen for the IntelliLink system, and multiple places to charge devices. This truck is meant to be shared, and whoever gets to do that would be able to spread out and enjoy it like a boss too.
After my interior observations, I got on the road, and was pleasantly surprised to realize that you could have heard a pin drop in the cabin. The noise deflection and damping is excellent, and that's because of two things: there's a woven polyethylene (which resembles fabric) lining the wheel wells, for noise reduction, and there's Active Noise Cancellation in the model with the 6.2L engine. To be specific, that vehicle (the one I was in) has a 6.2L Gen 5 small block V-8 engine – a similar base engine to the Corvette – with 420 hp and 460 lb-ft of torque. Not too shabby; it's the most powerful engine in its class.
Really, the thing of it is that this truck just felt good to drive. It handled responsively in winding turns, was easy to manage on steeper grades and had plenty of power to advance when inclines became more noticeable. The ride was made even more easy due to Magnetic Ride Control – dynamic shocks that can "read" the road, and then change the amount of response depending on road conditions. The Sierra Denali is safe too – for 2016, GMC is offering Forward Collision Alert seat vibrators, which indicate if you are approaching the car in front too quickly, Intellibeam headlamp control to monitor high beams in oncoming traffic, and Lane Keep Assist to gently manage the steering wheel to keep you in the right place at speeds over 35 mph.
If all that isn't enough, let's not forget that this guy is absolutely built for both work and pleasure. If you are so fortunate to have a big toy to play with on weekends, the Sierra is more than capable of towing it. The maximum payload rating is 2,070 pounds and the max trailering rating is 12,000 pounds on the 2WD with the Z82 package.
If you want something practical yet well-appointed with compelling design details, put the 2016 Sierra Denali on your list. It's a great vehicle for people who want to be immersed in beauty, comfort and utility. I don't think I know anyone who doesn't want that dream.
Source:: 95 Octane