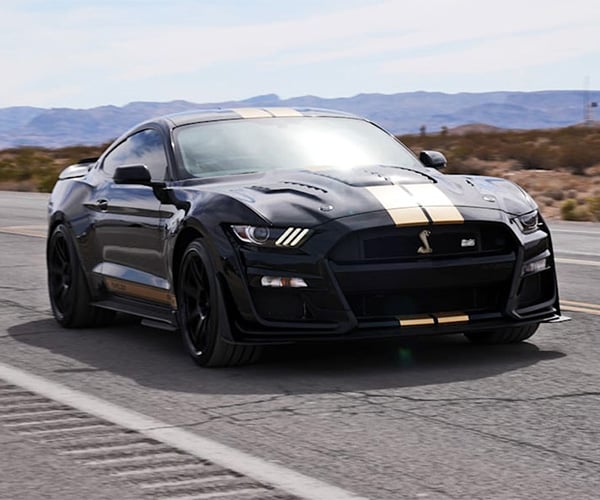 Hertz is marking the return of its Rent-A-Racer program from the 60s. The rental car company will be renting a car called the GT500-H, built by Shelby American based on the Shelby GT. Shelby upgrades the stock Ford GT 500 supercharged 5.2-liter Predator V8 from 760 to 900 horsepower.
The car has aluminum forged mono-block wheels, performance tires, and a lightweight carbon fiber hood that trims 30 pounds from the stock unit. Only 25 of the GT500-H will be produced, and driving will be limited to 70 miles per day before hitting a $0.75 per mile overage charge. That means you can only drive for about an hour before the mileage charges add up. We don't yet know how many Hertz locations will have the cars for rent and when they will be available.
It's unclear what other restrictions will be placed on those who rent these vehicles, but considering how much power the cars have and how unlikely drivers will have been trained in performance driving, there are sure to be significant insurance requirements.
In addition to the GT500-H coupe, Hertz will rent Mustang GT-H fastback and convertibles, packing Ford's 5.0-liter naturally-aspirated V8 making 450 horsepower, staggered 20″ wheels, all-weather Michelin tires, and Shelby styling.
Source:: 95 Octane