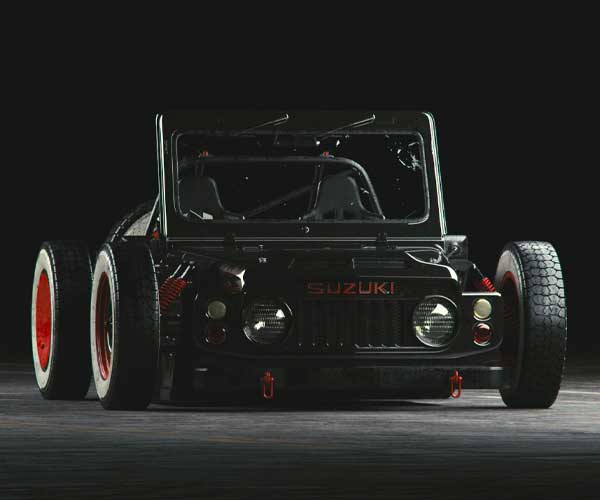 Suzuki automobiles weren't sold in the United States for all that long before the brand left the market. Back in the late 80s and early 90s, untold numbers of 16-year-olds wanted to own a Suzuki Samurai. Outside the States, Suzuki has offered its Jeep-like Jimny for a long time, and the most current model is one of those vehicles that I really wish we could get here.
The vehicle in the images here is a 1977 Suzuki Jimny converted into a rat rod by les83machines. It reminds me a lot of early hot rods that would've been built in Southern California. The vehicle is a long way from its off-road routes and looks like a car meant for the racetrack, complete with racing seats and a rollbar.
Other than the images, there are no details available about the vehicle, mostly because it's a computer-generated concept design. The exposed suspension is very cool, and we would expect that it would ride on some sort of air suspension if it were a real vehicle. It's so low to the ground as to be impractical to drive in the images. We presume that it would be able to lift up to get enough ground clearance to operate.
[via Uncrate]
Source:: 95 Octane